In remembrance of Sir Fazle Hasan Abed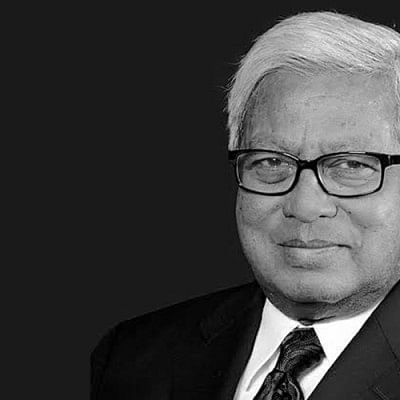 December is the month of victory. We fought for our flag, our land, and our independence. We celebrate it every year. This December, however, is a little different, as it marks the first anniversary of the passing of Sir Fazle Hasan Abed. This year in December, we are also celebrating the life and work of a leader of new Bangladesh.
Much has been written over the past 12 months about the legacy of Abed bhai, as we fondly called him. Sir Fazle will be remembered for many of his deeds and contributions, which transcend beyond the borders of Bangladesh. He was a true trailblazer. "There is no layer and sub-layer of our societal make up which has not been touched by Abed's work. He is the principal architect of the massive transformation that has taken place in Bangladesh society since liberation", wrote Nobel Laureate Professor Muhammad Yunus.
He founded the Brac organisation with a few of his close friends in 1972. From a small organisation he nurtured it to become the world's largest non-governmental organisation (NGO). As he (and I) wrote back in 1989, "When Brac was started in 1972 we thought that it would probably be needed for two to three years, by which time the national government would consolidate and take control of the situation and the people would start benefitting from independence. But as time passed, such a contention appeared to be premature. After 16 years, we feel that we have not yet outlived our utility and need to do more and more". And he continued to do "more and more" until his last breath.
He was an institution builder par excellence. Even I, who spent a long 42 years with the organisation and with him, would not be able to list all the institutions that he founded. One of his greatest legacies which I dare to say, is most likely to live for hundreds of years, is the Brac University. The university opened its door in 2001 and in less than two decades, it has become one of the top private universities in the country. Sir Fazle invested his time and energy to make it an institution of excellence in higher education, not only in Bangladesh but for the region. He always believed that the quality of universities in a country is a good marker of development of the society, and as such, he wanted to make sure that Brac University offered the best quality education. In doing so, the university has invested in attracting the best of students and faculty, not only from Bangladesh but internationally.
While undergraduate education is the lifeline of a university, (post)graduate education makes it perfect as an institution of learning and knowledge generation. Brac University has several such institutions such as the Institute of Education, Institute of Governance and Development, and School of Public Health. They are autonomous and some are already financially self-supporting.
Brac is a pioneer in initiating large scale programmes in health that have benefited millions of people over the years. These include primary healthcare, training of community health workers, promotion of oral rehydration solution, immunisation against common diseases, women's and reproductive health including family planning, treatment of tuberculosis, eye care, nutrition, water sanitation and hygiene (WASH) and so on. Many of these programmes have been hailed as path-breaking with enormous impact on the health of the people of Bangladesh and across the world. In implementing such programmes, Brac acknowledged the dire shortage of trained leaders in public health. One of Sir Fazle's dreams was to build a school of public health. After overcoming bureaucratic hurdles, Brac University was able to launch such an institution in 2004. James P Grant, the Executive Director of Unicef for 15 years, was a great visionary. During his time, Unicef initiated many programmes that changed the way the world looked at child health. His persistent promotion of the famous Child Survival and Development Revolution is variously credited for the significant decrease in child mortality in different parts of the world. Grant was a good friend of Bangladesh and of Brac. In recognition of his contributions, Sir Fazle decided to name the new institution as the James P Grant School of Public Health (the School).
Although the School formally started in 2004, the groundwork was done from a much earlier stage. A feasibility study was done. One of the reasons he encouraged me to take on a Visiting Professorship at Columbia University's Mailman School of Public Health in New York was to learn how a modern school of public health functioned. During my two years' residence at Columbia, I came in close contact with a host of relevant experts. With Dean Allan Rosenfield's active support, I organised several workshops on different issues related to the future institution, drawing on experts from Columbia and other universities in the USA. We also formed an international advisory group for the new school headed by Allan Rosenfield himself. Sir Fazle attended a few of these workshops as well which further demonstrated his deep interest and commitment to the School. When Brac received the Gates Global Health Award in 2004, he donated the entire award money to the School, thus forming its first endowment.
In addition to my role at Brac as its Deputy Executive Director, he asked me to take the helm of the School as its founding Dean. It was a big honour, but an onerous task as well. One of the first things I did was organise a conference in Dhaka where we invited leaders in public health and public health education from across the world. Sir Fazle himself attended the entire two-day conference. Here, the professors and other leaders representing institutions like Harvard, Columbia, Johns Hopkins, London, Uppsala, Cape Town, Makerere, and Hanoi lent their full support. The Dhaka-based ICDDR,B also enthusiastically came forward to become an active partner in this endeavour. Such support from Bangladesh and overseas were critical given the shortage of public health faculty in the country. This helped us to launch the Master of Public Health (MPH) programme from as early as January 2005. We wanted to make this programme unique from other existing MPH programmes. One of the principles we adopted was the "problem-based experiential learning". In this, the students would not only attend class-based teaching, but also be exposed to the villages and urban slums so that they are able to learn from real world experiences. In the 1980s, the Rockefeller Foundation had supported several schools of public health in different parts of the world for promoting experiential learning, which they called "public health schools without walls". The learning from that initiative was very useful for us in innovating new ways of teaching-learning. The other principle we have been practicing is the promotion of peer learning by making the class as diverse as possible. As such, half of our student body is represented by women, half are non-medical graduates and half are international students. We have seen to our amazement how students learned from each other.
The School has been a great success. Many of the graduates have gone on to earn PhDs from elite institutions such as Harvard, Columbia, John Hopkins, and London. The Bulletin of the World Health Organization listed the Brac School as one of the top six institutions in the world practicing community-based learning. 
The James P Grant School of Public Health is also unique as it promotes research by its faculty and students—a rare combination of teaching-learning and knowledge generation. In 2019 alone, the School's faculty had published 56 research papers in peer-reviewed international scientific journals and 43 Op-eds in popular media.
The last time Sir Fazle visited the School was on December 1, 2018. This was a sentimental occasion for me personally, as he formally launched a scholarship programme for women doing MPH in the School, that was financed by the sale of the only landed property my family possessed. He had full appreciation for the gesture because, as he said, "the donating family is not rich".
It has been a long year since he departed. Perhaps too long. Much of the time since he passed, we have spent fighting the coronavirus. We don't yet know where or when it will end. But we do believe that this journey would have been different, perhaps somewhat easier, had Abed Bhai been amongst us.
Ahmed Mushtaque Raza Chowdhury is an Adviser to Brac James P Grant School of Public Health, BRAC University and Convener to Bangladesh Health Watch (BHW).