How late can a Late Lateef be?
I am not sure who came up with the expression Late Lateef; perhaps it was given to some poor soul named Lateef who just couldn't be on time for anything (I can totally relate), but it definitely is a dominant cultural trait in this country and displayed abundantly in practically every sphere of life. Hence the term has stuck on representing that unique concept called "Bangladeshi Time" (BT), which, ironically, in real terms happens to be 10 hours ahead of Eastern Standard Time and six hours behind GMT. 
Seriously though, we all know that to a significant number of Bangladeshis, "time" is relative. When the invite says "7pm," it is perfectly normal to arrive an hour or two late, because it is very likely that if you do turn up at exactly the time stipulated, you will find the hosts still pondering on their wardrobe for the evening, and your timeliness will prove to be quite inconvenient, if not a nuisance. It's a little tricky, however, if invited by an expatriate with little or no initiation into the quirkiness of BT, or those fellow Bangladeshis who have acquired the colonial expectation of punctuality; for these people, 7 pm is 7pm – not 8:45 or 10pm. 
Thankfully, these days even the most extreme forms of tardiness can be blamed on the soul-sucking traffic jams in Dhaka – so much so that hosts actually look guilty when you turn up late with a traffic sob story, and will even apologise for dragging you all the way just for some chit-chat and a bite to eat.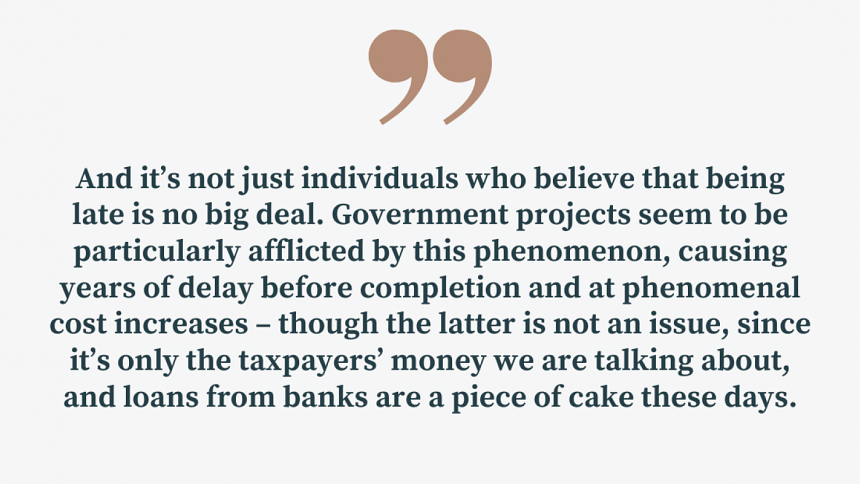 Although being "fashionably late" is a Western concept of a person arriving late (a maximum of 10 minutes to half an hour) to an event to show one's superior social status and just how busy and important they are, in Bangladesh it has been stretched to curious limits. For most guests of honour at seminars, inaugurations or book launches, if they are VIPs, being on time is unthinkable. The norm is to arrive at least an hour later than the stipulated time, while the other guests and participants huff and puff with exasperation and then speak well over the allotted time. This serves to ensure that everyone in the room knows exactly how valuable their time and presence are.
And it's not just individuals who believe that being late is no big deal. Government projects seem to be particularly afflicted by this phenomenon, causing years of delay before completion and at phenomenal cost increases – though the latter is not an issue, since it's only the taxpayers' money we are talking about, and loans from banks are a piece of cake these days. Intriguingly, the years of delay is caused by a plethora of unexpected inefficiencies, such as faulty engineering drawings, weak project documents, not enough people to prepare the development project proposals, the absence of regular meetings of the two major committees responsible for monitoring the said project, not choosing the right contractors, including non-professionals in the committees, and problems in land acquisitions – to name a few. The boring reasons for the delays include a lack of coordination among the implementation bodies and the absence of transparency and accountability. All this was unearthed by a study by the Implementation Monitoring and Evaluation Division (IMED), which is a government body with this tongue twister of a name. Imagine that, even the government is befuddled by the level of tardiness of its own projects that have budgets of thousands of crores of taka, but not enough to employ enough personnel to write up project proposals and do professional drawings. A conundrum, indeed!
Another extreme display of Late Lateefism can be amply found in the case of public procurement, especially of medical equipment. Take the X-ray machine that has not been switched on since 1995 at a health complex in Kulaura (Moulvibazar). The facility had 50 beds, but there was no one who could operate the X-ray machine for the last 25 or so years, so patients have had to go to a private clinic and bring the reports back to the health complex. The Daily Star correspondent who unravelled this mystery in 2019, also found a doctor in the emergency department telling a man who had injured his foot to get an X-ray done from outside. 
Similarly, according to a 2020 report in this daily, a 20-bed hospital in a remote union of Sunamganj district was found to be sitting idle because the authorities had not yet recruited doctors, nurses, etc because of "bureaucratic" tangles. Instead of medical care, the hospital was providing a hangout place for gamblers and junkies while transforming its grounds into an open garbage dump. 
Such stories of "lateness" can be found all over Bangladesh, and particularly in the case of the health sector with expensive, much-needed equipment becoming show pieces, such as the state-of-the-art ambulance with ICU support costing Tk 1.5 crore, sitting pretty in a garage of Rajshahi Medical College Hospital for two years; the authorities did not have the time to recruit the staff to make the ambulance operational. Apparently, this was because of Covid. Mind you, this report was done in 2021, during the pandemic, and having this life-saving equipment up and running would have done its job: save lives.
As mentioned before, lateness is a relative term – what is late for one may not be so late for another. When a company like Bapex (Bangladesh Petroleum Exploration and Production Company Limited) sends letters to prospective jobseekers for a vacancy after a mere eight years, should this be considered a tad late? Especially, considering that the candidates who had applied have, in these eight years, moved on with life: finding new jobs, getting married, having children as well as growing older and crossing the age limit given in the advertisement? Perhaps the officials responsible had sleepwalked into a time warp, where they were stuck for eight years. Perhaps they were just incorrigible Late Lateefs. 
Aasha Mehreen Amin is joint editor at The Daily Star.