IS or al-Qaeda link not found
Cops claim, say 14 of 26 'radical' Bangladeshi workers linked to Ansarullah Bangla Team; confusion remains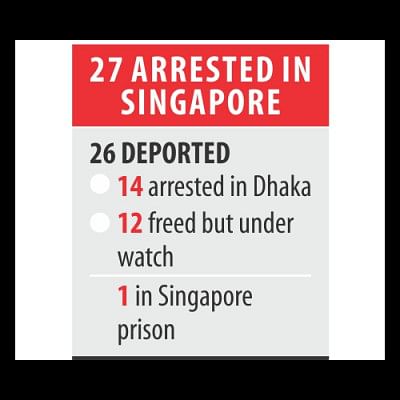 The 26 Bangladeshis, who were deported from Singapore allegedly for being members of a terror cell, have no links to Islamic State or al-Qaeda, according to police in Dhaka.
But 14 of the returnees have links with banned local outfit Ansarullah Bangla Team (ABT) and its detained spiritual leader Jasim Uddin Rahmani, said a top DMP official.
According to detectives, militant group ABT, which emerged in recent years, follows the ideologies of al-Qaeda in the Arabian Peninsula (AQAP). The organisation was earlier termed the "closest relative" of al-Qaeda.
Singapore home ministry in a release on Wednesday said 27 Bangladeshi construction workers were arrested between November 16 and December 1 last year.
Of them, 26 have been deported to Bangladesh while one is still in Singapore prison for attempting to leave Singapore illegally after learning of his fellow members' arrests, the release read.
The Straits Times of Singapore wrote on Wednesday that investigations found the group, which had been meeting since 2013, supported the armed jihadi ideology of terrorist groups such as al-Qaeda and Islamic State.
Quoting the country's home ministry, the newspaper further wrote that some of them had considered waging armed jihad overseas, but they were not planning any terrorist attacks in Singapore.
Breaking of this news by the Singapore media led to confusion as it was learned that detectives in Bangladesh arrested 14 of the 26 returnees on December 21 and silently produced them before a Dhaka Court with remand prayers. The other 12, who returned on different dates, were allowed to go to their families.
But in an apparent unusual practice, none of this was disclosed to the Bangladesh media.
In the case statement, police mentioned that the 14 were arrested near Abdullahpur Bus Stand under Uattara Purba Police Station.
However, officials in the DB wishing anonymity said they arrested the militant suspects soon after their return at Hazrat Shahjalal International Airport following information from the Singapore authorities.
Monirul Islam, joint commissioner of Detective Branch at Dhaka Metropolitan Police (DMP), said the 27 Bangladeshi workers were followers of Jasim Uddin Rahmani, convicted war criminal and Jamaat-e-Islami leader Delawar Hossain Sayedee and Indian Islamic preacher Zakir Naik.
They used to gather at Angullia Mosque near Mostafa Market in Singapore after prayers, listen to the recorded sermons of the three and have discussions.
The joint commissioner, who was briefing journalists at the DMP media centre yesterday, also said before travelling to Singapore, the Bangladeshis were not linked to any militant outfit.
S 
He also said some of the 27 workers, who went to Singapore two to eight years ago, are followers of Jamaat-e-Islami.
"We detained all the 26 and questioned them. We found that 14 of them have links with Jasim Uddin Rahmani and Ansarullah Bangla Team," Monir said.
He further said the 14, now arrested, had sent some funds for Qawmi Madrasa based-Islamist organisation Hefajat-e Islam and for the release of Jasim Uddin.
Meantime, questions have been raised about the release of 12 others though they were among those who have been deported for, what the Singapore authorities say is, "supporting armed jihad ideology of terrorist groups such as Islamic State (IS) and al-Qaeda".
Monir said, "We did not find any militant link against 12 others. So, we allowed them to go to their families, but they are under close watch."  
Replying to a query, he said no other Bangladeshi was deported for militant link from any other country.
Meantime, the media in Singapore continue to run follow-ups widely on the arrest of 27 Bangladeshi workers.
"Some even distributed leaflets calling for the establishment of an Islamic caliphate, according to Bangladeshi workers interviewed who knew some of them," says a report of The Straits Times under the headline "Radicalisation of Bangladeshi workers arrested under ISA dates back to 2013".
Among themselves, they circulated videos of radical preachers as well as footage put out by supporters of terror groups like the Islamic State in Iraq and Syria (ISIS).
The members donated money to outfits linked to these groups, the newspaper wrote.