Healthcare in the time of Covid-19
What can Bangladesh do?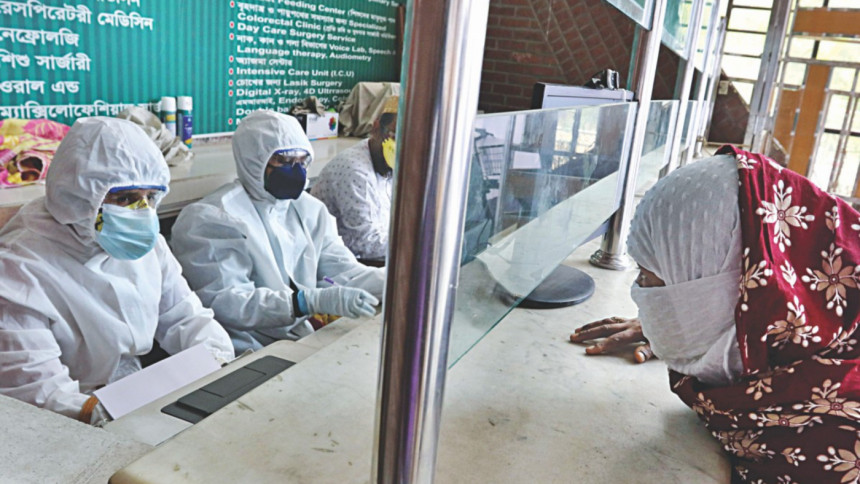 Throughout the world, governments of various countries are taking extraordinary measures to deal with the crisis created by the COVID-19 pandemic. Cross-country evidence shows that governments that adopted the most extreme measures most promptly were the ones most successful in reducing the number of new cases and deaths. The scale and speed of the pandemic have proved that there is no way to contain the spread of the coronavirus without strict social distancing. The experience of Italy shows that the self-quarantine method cannot be operationalised effectively and thus does not work.
The Communicable Diseases Prevention, Control and Eradication Law, 2018 of Bangladesh was signed before the discovery of COVID-19. So there is no mention of the disease in the law. But in view of the present situation, the government needs to immediately issue an official gazette recognising COVID-19 as a communicable disease. Once such a declaration is made, there will be a legal ground for regional or countrywide lockdowns under Section 11 of the law which states that access to and movement within infected areas may be restricted or prohibited.
The COVID-19 wave has showed how unprepared the world is in terms of managing its health and economic implications. Worse, no country has enough medical preparation and support for tackling COVID-19. As of March 25 evening, the coronavirus has affected 197 countries and territories around the world with at least 413,467 confirmed cases, 18,433 deaths, according to the World Health Organization (WHO). The number of affected countries is increasing every day and the number of cases is multiplying. 
Bangladesh is no better than other affected countries in preventing the coronavirus pandemic. The existing healthcare infrastructure and the available medical equipment are not adequate even in ordinary situations, let alone in facing the coronavirus. The COVID-19 pandemic has put our health sector to the ultimate test. Medicare facilities for the common citizens are extremely limited. According to Bangladesh Bureau of Statistics (BBS), as of 2017, there was one hospital bed for every 1,196 individuals in the country (BBS, 2019). Data from the Bangladesh Health Facility Survey 2017 shows that among the healthcare facilities in Bangladesh, 5.1 percent had emergency transport, 21.5 percent had alcohol-based disinfectants, 27.5 percent had medical masks, 28 percent had all basic equipment, 34.5 percent had lab facilities, 43.1 percent had regular electricity, 55.1 percent had soap and water, 83.7 percent had paracetamol oral suspension, 86.3 percent had thermometer, and 90.1 percent had improved water source, as of 2017.
Apart from the lack of infrastructure and equipment, healthcare facilities in Bangladesh are also not staffed with adequate numbers of healthcare service providers. As of 2018, there was one registered physician for every 1,581 individuals in the country (BBS, 2019). The Bangladesh Health Facility Survey 2017 also shows that among the healthcare facilities in Bangladesh, 28 percent had specialists, 59.1 percent had general practitioners or medical officers, and 79.7 percent had nurses, as of 2017.
The level of healthcare awareness among the general population was also found to be very low in Bangladesh. For example, the WHO recommends washing hands frequently and thoroughly with soap and water in order to kill viruses such as the coronavirus that may be on people's hands. According to Bangladesh's National Hygiene Survey 2018, only 15 percent people were aware of the need for washing hands using soap and water before feeding a baby, 36 percent people were aware of the need for washing hands before preparing or serving food, 40 percent people were aware of the need for washing hands before eating, and 55 percent people were aware of the need for washing hands after defecation.
In order to address the health emergency posed by COVID-19, a range of short and longer term measures are required in the healthcare sector.
In the short term, public health awareness messages must be communicated more clearly and frequently. Wide dissemination of information on the nature of the disease and its health impacts has to be ensured. People are yet to comprehend the full horrors of COVID-19. There has been initial neglect from the relevant policymakers in taking this seriously and taking immediate action. People were not informed about the importance of good hygiene and sanitisation practices, living in self-isolation after returning from abroad or having cold, fever and cough symptoms, and above all, maintaining social distance since the outbreak of the virus. Unfortunately, many policymakers seemed to be in a state of denial at the initial phase. However, we have now observed far more seriousness on the part of the government. Drastic steps have been taken for movement of people and moving towards a wider lockdown.
Second, the current situation demands more allocation for addressing the pandemic immediately. Resource allocation should be increased in a focused and targeted way. New financial channels from foreign sources to support health-related actions should be mobilised. These should include a flexible procurement system for medical supplies. The government's move to extend tax rebate on imports of all essential medical supplies required for confronting the COVID-19 challenge is commendable.
Third, given the limited number of hospitals, necessary make-shift healthcare facilities should be arranged at district and upazila levels. Of course, these should be adequately equipped for treatment and health support.
Fourth, all medical colleges, nursing institutions and other health establishments and voluntary organisations should be mobilised to extend their support towards addressing the COVID-19 emergency. However, they should be adequately provided with personal protective equipment (PPE). It may be emphasised here that health professionals are equally vulnerable to COVID-19. Italy is a case in point, where the highest number of doctors died compared to other countries due to the shortage of essential medical supplies and equipment. 
In the longer term, sufficient investment in the healthcare sector is critical. Unfortunately, years of neglect of this sector by the policymakers has left it in a poor state. The healthcare system faces multifaceted challenges including lack of public health facilities, scarcity of skilled workforce and inadequate financial resource allocation. The WHO estimates that as of 2016, out-of-pocket expenditure on healthcare in Bangladesh was 71.9 percent of the current personal expenditure, which is the highest in South Asia.
While we observe a huge investment in physical infrastructure, soft infrastructure has always been neglected in the country. Thus, allocation for health as a share of total budget has fallen from 5.1 percent in the budget of FY2019 to 4.9 percent in the budget of FY20. Since 2017, the share of health budget as percent of the Gross Domestic Product (GDP) has remained merely at 0.9 percent level. This is even lower than the target of 1.12 percent of GDP set out in the Seventh Five Year Plan of Bangladesh. Finally, global cooperation is essential for public health. In poor countries with high population density, a pandemic can have unprecedented impacts on the people's health and livelihood. It can worsen the poverty situation and lower the human development situation. The COVID-19 experience shows that no country can fight such a crisis alone. Therefore, all countries should come forward to collaborate to overcome this deadly disease.
Dr Fahmida Khatun is Executive Director, Centre for Policy Dialogue. Syed Yusuf Saadat is Senior Research Associate, Centre for Policy Dialogue.