Declining trust in democratic institutions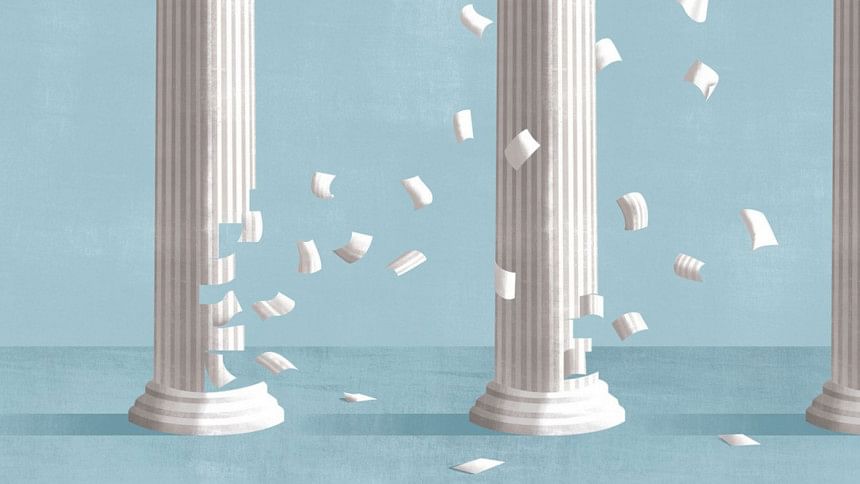 The Chief Election Commissioner of the Bangladesh Election Commission (EC) has made it clear that we have an electoral system that is in many ways performing better than that of the United States. He said that there is no such commission in the US and that it can count votes within minutes, while the US takes weeks. In fact, President Donald Trump could take lessons on how to win an election from us. Indeed, we have a unique EC that is performing quite differently than that of other democratic countries in the world.
In a democracy, institutions play a critically important role in upholding the constitution, safeguarding its people and protecting their rights. Although there is no universally accepted definition of democracy, equality before the law, rule of law and political freedom can be characterised as its most important features. Famed political scientist Larry Diamond defined democracy as consisting of four key elements—a political system for choosing and replacing the government through free and fair elections; the active participation of the people, as citizens, in politics and civic life; protection of the human rights of all citizens; and a rule of law, in which the laws and procedures apply equally to all citizens.
This definition makes it clear that democracy must hold free and fair elections, that the rights and liberties of its people are protected by the constitution and laws, and last but not least, every citizen is equal before the law and has equal access to the legislative process. Well, these are just theories. If we take a close look at democracies around the world, the government does not always stand by its people. Of course, exceptions are there, but governments generally tend to remain in power either through a constitutional process or by treachery. This is where democratic institutions come in, to play the "check and balance" role and stop government from abusing their power.
Do we have such institutions in Bangladesh? We have institutions like the EC, National Human Rights Commission (NHRC) and Anti-Corruption Commission (ACC), among others, which are critical for a meaningful and functioning democracy. But are they performing in line with their constitutional and legal mandate?
For years, the weakness of these institutions has been widely documented by the media, academics and policymakers. It has become a significant issue primarily because they are failing to serve the people. This has happened not because they are underdeveloped, but because they have not been able to act independently.
In recent months, the EC presented the country with several by-elections that witnessed the lowest voter turnout in living memory. In almost all cases, the candidate from the ruling party secured a sweeping victory amid low voter turnout—as low as 5.28 percent in some places. Commenting on this, one key government official said that even if one voter casts a vote, it would be participatory. The EC has thus chosen to disregard one of the very basic principles of democracy—peoples' participation in elections.
The cases of two lawmakers, one from old Dhaka and another from Lakshmipur, have recently created strong debates on whether an institution like the ACC is performing in line with its mandate as well. Even after being convicted of corruption, the Dhaka lawmaker managed to evade justice, thanks to years of inaction from the ACC, which failed to move the case in the Appellate Division. The mammoth corruption cases in Covid-19 related procurement is also another example of the ACC's failures. In fact, there are very few examples in which the ACC acted on its own. In almost all cases, it acted only after the press reported it.
The NHRC also does little beyond basic fact-finding and submitting annual reports to the President. It has a limited mandate in investigating human rights violations, particularly those committed by law enforcing agencies. The members of the selection committee are largely composed of government appointees, and high officials of the commission are either retired bureaucrats or work on deputation. The Global Alliance on National Human Rights Institutions (GANHRI) assessed the NHRC twice, in 2011 and 2015, on how compliant it is with the Paris Principle—the international benchmarks against which national human rights institutions (NHRIs) can be accredited by the GANHRI. The NHRC was accorded a "B" status as it did not fulfil the six main criteria NHRIs should have. It will not be unjust to say that the NHRC's limited mandate to investigate human rights violations by law enforcing agencies has made extrajudicial killings a regular practice in the name of maintaining law and order in Bangladesh.
Apart from these public institutions, civil society as an independent institution plays an important role in shaping democracy. The effectiveness of public institutions also largely depends on the existence of a strong civil society. It is pertinent to mention that the birth of Bangladesh was first theorised by civil society in the 1960s. They played an important role in shaping governance policies until the assassination of Bangabandhu Sheikh Mujibur Rahman in 1975. Civil society was then sidelined until the fall of the military regime in 1990. From 1990 to 2006, civil society more or less had the scope to participate in the institutionalisation of democracy. Sadly, civil society thereafter was sidelined by the military-backed caretaker government, which created mistrust between the political parties and civil society. While the mistrust still exists, a section of civil society has taken the political stand of blindly supporting the government.
It is undeniable that these institutions are closely linked to the proper functioning of a democracy. If these institutions could work independently and if leadership could be developed within civil society, creating the conditions for a reemergence of trust between government and the governed, it would go a long way towards sustaining democracy in Bangladesh. The success of these institutions would depend on the increased participation of citizens in the political process—letting them share their views and concerns, thus making them a partner in governance. Under international law, the UN human rights covenants and the Constitution of Bangladesh, the government is obliged not only to create institutions dedicated to the advancement of democratic principles and human rights but also to allow them to work without any kind of interference and influence.
National commissions that have a clear mandate of upholding the constitution and democratic principles must work in line with their mandate so that they do not serve anyone but the citizens, and so that no government can bend the constitution to suit its own interests.
Meer Ahsan Habib is a communication for development professional.
Email: [email protected]