Can BNP really put up a good fight?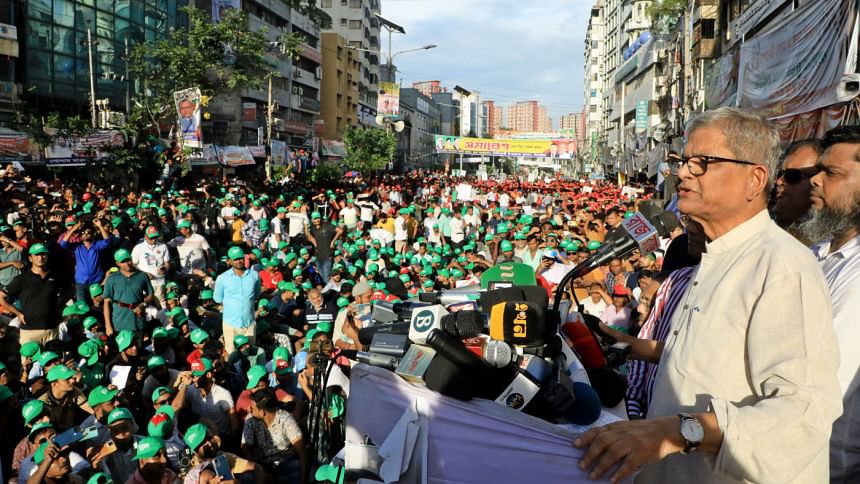 One cannot help but note the strange twist of fate in which the BNP finds itself in almost the same position as Awami League did in 1996. Back then, Awami League had demanded that BNP resign and hand over power to a caretaker government to oversee elections. BNP refused and doggedly went ahead with the elections. Awami League mounted a crippling street campaign and BNP relented and agreed to amend the Constitution to allow a caretaker government before it stepped down after just 12 days in office. BNP's half-hearted assembly at Dhaka's entry points on July 29, 2023 – the day after a huge rally in front of its central office – was slightly reminiscent of Awami League's campaign of laying siege on the capital, grinding life to a halt, in 1996. Even a section of the bureaucrats was openly coopted through the Janatar Mancha, which was probably the beginning of systematic politicisation of the bureaucracy.
Elections were held under the caretaker government in 1996, 2001 and 2008; in 2011, Awami League cancelled that provision through another constitutional amendment, and now keeps repeating that the election will be held according to the constitution. The suggestion that BNP's demand is unconstitutional conveniently ignores that, in statecraft, political legitimacy always triumphs over constitutional legitimacy. But political legitimacy does not emerge by itself. It must be convincingly illustrated from different social and political spheres. It must be demonstrated from the streets, visibly and volubly.
This is a game that is almost intrinsic to Awami League's DNA. The party has campaigned on the streets since before Bangladesh's independence, with the six-point movement and the non-cooperation movement leading up to the 1971 Liberation War, to name just a couple. When it comes to waging a popular campaign on the streets, Awami League is a veteran and a master of the game. In contrast, BNP is a novice and does not have the organisational wisdom or the cunning such a movement would require. The two times it won an election convincingly were when it did not have to fight for a conducive environment to begin with. It was already there in 1991, since all the parties had agreed to have a caretaker government, and in 2001, thanks to the 13th amendment, BNP did not have to worry about levelling the playing field before the elections.
After its landslide victory in 2008, Awami League conveniently removed the caretaker government provision from the Constitution through another amendment and ensured that the party would remain at the helm during elections. BNP's bid to boycott the next election in 2014 and thereafter destabilise the country through a vicious and bloody campaign of fire bombs on public transport did not work. In fact, it backfired, resulting in hundreds of deaths, thousands of injuries, and a frustrated electorate. BNP's lacklustre participation in the 2018 election was doomed, given Awami League's robust groundwork. In fact, the elections were so well engineered – with Awami League winning 302 seats and BNP just seven – that it became a matter of embarrassment even for the AL hawks.
Since 2008, as Awami League systematically decimated BNP into a ghostly shadow of the formidable party it had appeared to be after the 2001 elections, BNP has not really spoken to the people. Most of its campaigns have been on issues that concerned partisan interests rather than those that concerned the people.
Now, BNP is in a dilemma. Boycotting the election will not pay off, as it found out in 2014. Joining the election could result in another thrashing like that of 2018. That there is popular support for BNP, largely because of a strong anti-incumbency factor, is a fact. But then, BNP would have to wage a sustained campaign to bring about an atmosphere that allows popular support to be reflected on the ballot. BNP's failure to whip up frenzied popular support that would lend credence to its demand for political legitimacy, as opposed to Awami League's apparent pledge for constitutional legitimacy, is not that surprising, either. The party was born under the protection of the government and founded by a military strongman who was himself the president – rather similar to Ershad's Jatiya Party. It did not go through the test of fire as did Awami League, and has not shown the mettle for a taxing campaign. From its inception, BNP has been an amalgamation of anti-Awami League elements, without a distinct ideology. To make matters worse, the party appears to be held hostage by a presumptive crown prince who believes his only deserving ransom is a premiership of Bangladesh while he wiles away his time in London.
Since 2008, as Awami League systematically decimated BNP into a ghostly shadow of the formidable party it had appeared to be after the 2001 elections, BNP has not really spoken to the people. Most of its campaigns have been on issues that concerned partisan interests rather than those that concerned the people. It is only recently that BNP started addressing issues like prices of essentials, energy crisis, and so on and has been able to attract large attendance in its rallies and party programmes. It appeared to have gathered momentum in its campaign in December last year, only to lose it soon after. And without a concrete set of pledges that speaks to the heart of the people, BNP's one-point campaign to get the ruling regime to resign will keep falling on its face, or stumble on at best.
Along the way, Awami League will do its best to get BNP off balance and off its track. Its numerous fronts, like the Jubo League and the Chhatra League, will be deployed as distractions. There will be counter programmes and snares. Then there will be the league of sycophantic civil servants who will dine them, and leak pictures of luncheons to the press. There will also be viral social media posts. All of it derail BNP's campaign, and it would be foolish to expect an open field. BNP will have to claw its way in. It has to be ready to take all of it in stride and be nimble, too. On the streets, the ruling party is a far more evolved political organism than the opposition. But, as it appears, BNP finds itself utterly out of depth against Awami League's guile and savvy.
Tanim Ahmed is a freelance journalist based in Dhaka.