Why this cruelty to an ordinary citizen?
Authorities must respect people's right to protest, prevent police excesses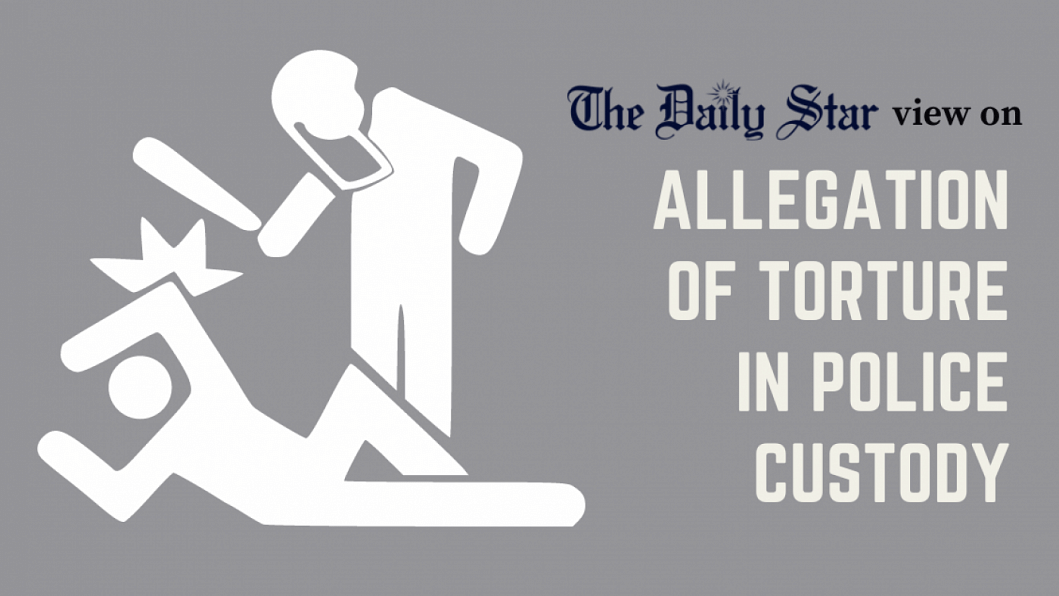 Just when the government seems to have scored a point in its fight against US sanctions on Rab, with a visiting US official praising progress in reducing extrajudicial killings, it is painful to learn of an ordinary citizen facing extrajudicial excesses in the form of police torture. Allegedly, Md Mostakim, who last week was arrested for protesting a hike in kidney dialysis fees at the Chattogram Medical College and Hospital, was beaten mercilessly while in custody. The goal, apparently, was to teach him a lesson for "disrespecting" the officer-in-charge of the local police station when protesters were dispersed in front of the hospital.
In photos published by a national daily, his left leg is seen covered in bruises. Mostakim alleged that he had been beaten for 15-20 minutes by a cop before he secured bail on Sunday. The very nature of the case in which he and others were implicated – for "obstructing government work and attacking police", despite himself being a victim of assaults even on the protest site – smacks of excesses. The Human Rights Foundation, which fought for his bail in court, has appealed to the Inspector General of Police to take action against the policeman involved in custodial torture, and also demanded that the case be transferred to Rab, PBI or CID.
One side-effect of this incident is that an important issue like the increase in subsidised dialysis fees for the poor has been pushed into the background. This could be a reference point for how subsidy reductions in various sectors are becoming a trend, pushing up the cost of living. This could be an example of how people's out-of-pocket healthcare expenses are rising while government spending on public health is declining, despite promises to the contrary. Instead, it has become a case of power abuse and intimidation, using legal tools or official badges. Such excesses are precisely why the very name of police still conjures up feelings of dread in citizens.
The fact is, despite recent efforts to paint a picture of accountability within security agencies, the latter remain largely unaccountable, especially when it comes to violations of political rights, including the right to protest and peaceful assembly. While the government may use the excuse of permission given to opposition political parties for protest rallies to defend its democratic freedom record in the country, the truth is, it doesn't come without haggling or, for ordinary activists and protesters, a threat of violence and legal repercussions – with police often deviating from established practices to handle street gatherings.
It goes without saying that when legitimate grievances are suppressed this way, it only leads to further shrinking of civic space. It leads to further resentment and frustration. We urge the authorities to respect people's right to protest and address their grievances. They must ensure that no excesses occur in handling protests or in police custody, especially when Bangladesh is trying to mend its image in this regard. As for Md Mostakim, the case against him and others should be withdrawn, and the allegations of torture by police should be properly investigated.