The pattern of violent confrontation must stop
The ruling party must adopt a more mature and restrained strategy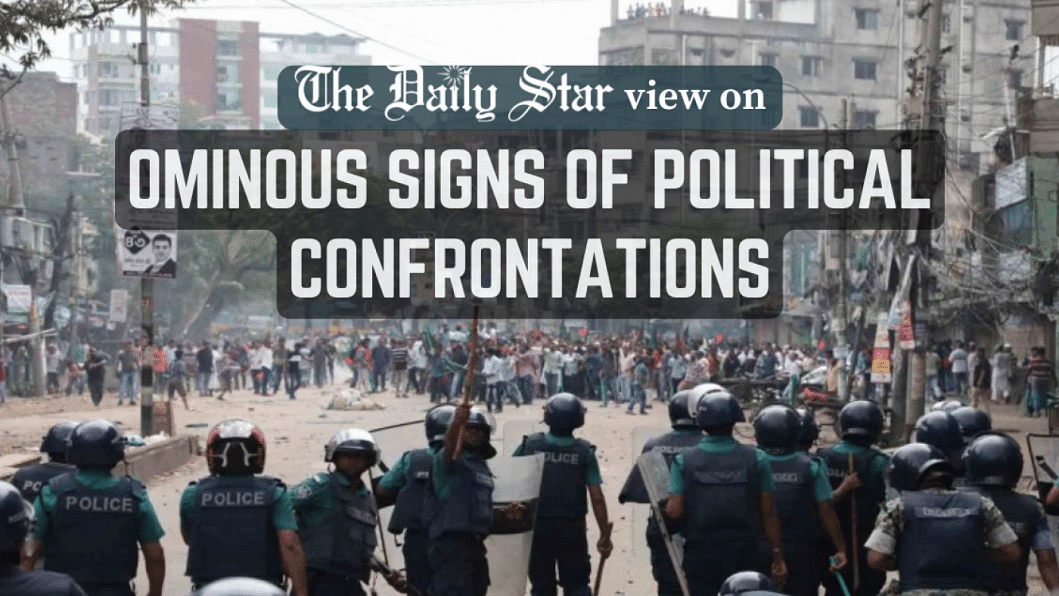 The spate of violence that we are seeing as the general election approaches gives the impression that the ruling party has no intention of allowing its main political rival to hold any programme without coming under attack. Unfortunately, the ruling party activists are taking full advantage of having police and administration on its side. These are ominous signs and create a sense of unease among the people.
The recent incident in Cumilla has left 15 BNP members injured, two with gunshot wounds. According to witnesses interviewed by this daily, the BNP was holding a committee meeting when Awami League and Jubo League men swooped on them. It is frightening that guns were involved and that two BNP members were wounded. Surprisingly, police have claimed that they did not find any evidence of gunshots being fired. And, as usual, the AL rejected all the allegations raised by the BNP, claiming that it was the latter who had attacked the former's peaceful rally.
But why is it that various wings of the AL have to hold "peaceful rallies" every time the BNP has a programme? That, in itself, can easily lead to confrontations. Over the last one year, we have witnessed time and again how activists associated with the AL and its wings have scheduled their rallies and processions on the same day as those of the BNP. Meanwhile, law enforcers have arrested thousands of BNP activists and supporters after rallies. Last month alone, about 11,000 leaders and activists of the BNP and its front organisations were sued in 16 cases filed in Dhaka and seven other districts over clashes between supporters of the opposition party, and the Awami League men and police personnel.
Is this going to be the pattern of our politics in the next few months? Will the main opposition party continue to be attacked or incarcerated every time it holds a political programme? It is the government's responsibility to ensure the safety of all its citizens – even those who are their political rivals. That is how a democracy works, with the ruling party, which yields all the governing power, morally and constitutionally obliged to exercise maximum restraint when it comes to dealing with the opposition parties. By allowing its affiliated organisations to create a volatile situation while using its state machineries to legally constrain the opposition, it is hard to see how the ruling party is creating a level playing field in the run-up to the election. Can the general people then be blamed if they have misgivings about how fair or free the upcoming election will be?