15 BNP men injured in 'AL attack' in Cumilla
2 have gunshot wounds; crude bomb explodes during Chhatra Dal procession in Sylhet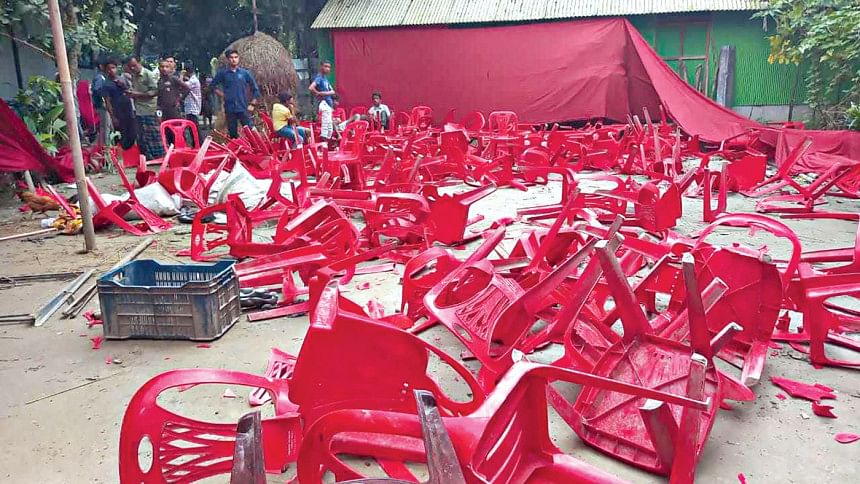 At least 15 BNP leaders and activists were injured, including two with gunshot wounds, in an attack allegedly carried out by Awami League men in Cumilla yesterday.
Local Swechchhasebak Dal leader Monir Hossain and Jubo Dal leader Firoz Ahmed were shot during the attack, said Mafizul Islam Khandaker, member secretary of Belghar union BNP.
They were admitted to Comilla Medical College Hospital, he said, adding that doctors said they were out of danger.
The clash ensued at Goyarbhanga Bazar in Belghar North Union around 2:00pm when AL and Jubo League men brought out a procession, at which time the BNP was also holding a committee meeting.
Witnesses said AL and Jubo League men led by upazila parishad Chairman Kamrul Hasan and upazila AL Organising Secretary Ayatullah attacked the BNP programme venue.
As tensions mounted, they traded gunfire, leaving over 15 BNP men injured.
BNP leaders alleged the house of local BNP leader Mofijul Islam in Undania village was vandalised and looted.
The party planned a committee meeting at Mofijul's house with BNP leader Manirul Haque Chowdhury as chief guest.
However, AL rejected the allegations and blamed BNP men for attacking their peaceful rally.
Moreover, Upazila AL President Kamrul Hasan claimed at least 10 of their men were injured.
Hanif Sarker, officer-in-charge of Lalmai Police Station, claimed police did not find any evidence of gunshots being fired at the scene.
In a statement issued last night, BNP Secretary General Mirza Fakhrul demanded prompt arrest and punishment of the AL activists who carried out the attack.
He called it part of the government's "grand scheme" to intimidate the BNP through violence ahead of the next general elections.
Meanwhile, in Sylhet, there was a crude bomb blast near the city's court point area around 4:00pm, when BNP's student wing, Chhatra Dal, was bringing out a black-flag procession.
BNP leaders said they immediately detained the suspected bomber and handed him over to police.
The detainee was identified as Abdul Kadir Jilani, 25, from Sunamganj.
Sylhet police said they were probing the incident, and no case has been filed yet regarding the blast.