No end to the sufferings of highway travellers
Latest robbery shows the lack of security of bus passengers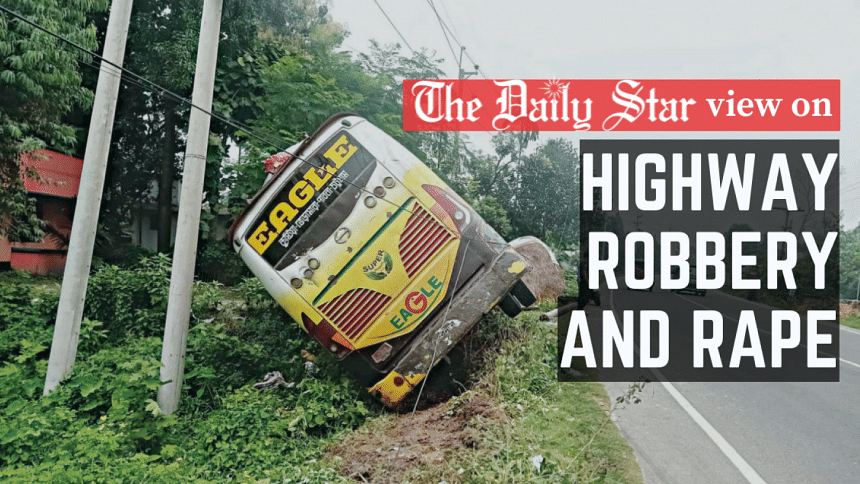 We are horrified to learn about an incident of robbery and gang-rape inside a moving bus that took place on the Dhaka-Tangail highway in the early hours of Wednesday. Reportedly, the Narayanganj-bound bus of Eagle Paribahan from Kushtia, with around 25 passengers on board, reached the Hatikumrul intersection of Sirajganj when about a dozen men with backpacks got on the bus, posing as passengers. At one point, they pulled out sharp weapons from their bags, blindfolded, tied and gagged the crew members and passengers, and robbed them all. More shockingly, they then gang-raped a female passenger.
The incident has, once again, exposed the lack of security of passengers using public transport to travel outside cities or between districts. Only last January, a physician of a Tangail hospital, along with other passengers of a bus, were robbed on the Dhaka-Rajshahi-Chapainawabganj route. They also suffered torture at the hands of the robbers. Besides robbery, sexual harassment and rape of women passengers inside moving buses have also become quite common. One may recall the gang-rape and murder of Rupa Khatun, a law student in Dhaka, inside a Tangail-bound bus which still haunts us. It is not that women are unsafe only on long-haul buses; they also regularly suffer sexual violence inside city buses too. In fact, the number of women facing sexual harassment inside public buses is pretty high, as studies have repeatedly found. Only last week, a female student described how she jumped off a moving bus in Dhaka to save herself from sexual predators posing as crew members. The situation is extremely worrying.
As regards the latest incident, it is evident that the bus crew members had no awareness of the possibility of highway robbery. They didn't care enough about the safety of passengers either. Why would they take passengers from the middle of the road after midnight without any inspection whatsoever? And where were the highway police at the time of the incident? We urge the government to arrest all the culprits and punish them as soon as possible.
As it is, our roads are already unsafe as crashes continue to claim lives in large numbers. The addition of risks like robbery or sexual harassment speaks volumes about the total chaos and anarchy that prevail in the transport sector, thanks to the inaction and mismanagement of the road authorities. We urge the government and transport authorities to take preventive measures to ensure the safety of commuters from both inside and outside threats, especially at night.