Gang robs bus, rapes passenger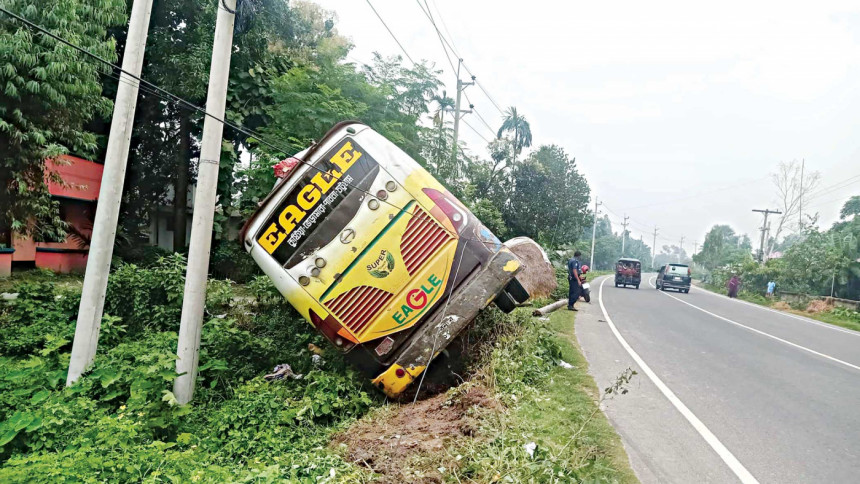 Robbers raped a woman and took away all the passengers' valuables after taking control of a bus on the Dhaka-Tangail highway early yesterday.
They also injured many of the passengers with sharp weapons, police said.
The 30-year-old woman has been admitted to a hospital in Tangail, said Mazharul Amin, officer-in-charge of Madhupur Police Station.
There were 24-25 people beside the crew on board the bus of Eagle Paribahan which was heading for Narayanganj from Kushtia, he added.
Quoting witnesses, the OC said 10 to 12 young men with backpacks got on the bus as travellers at Hatikumrul intersection in Sirajganj near midnight.
When the vehicle reached the Natiapara area of Basail, Tangail, they pulled out sharp weapons and asked the driver to stop.
They then blindfolded, tied and gagged the crew and passengers of the bus and started driving.
The robbers then took away the money, gold jewellery and other valuables from everyone and raped a woman, leaving her injured, the OC said.
Around 3:30am, they left the bus with its right wheels in the air by the Tangail-Mymensingh highway at Roktipara in Madhupur, Tangail, about 60km away from where they took control of the vehicle.
Informed by locals, a team from Madhupur Police Station later rescued the victims.
A passenger of the bus filed a case with the police station, the OC said, adding that police were looking for the suspects.
Asked whether the crew members could be involved in the racket, the OC said the investigators would take them in custody if they find a link between them and the crime.