Have a safe and joyous Eid
Eid comes at trying times but together we can forge ahead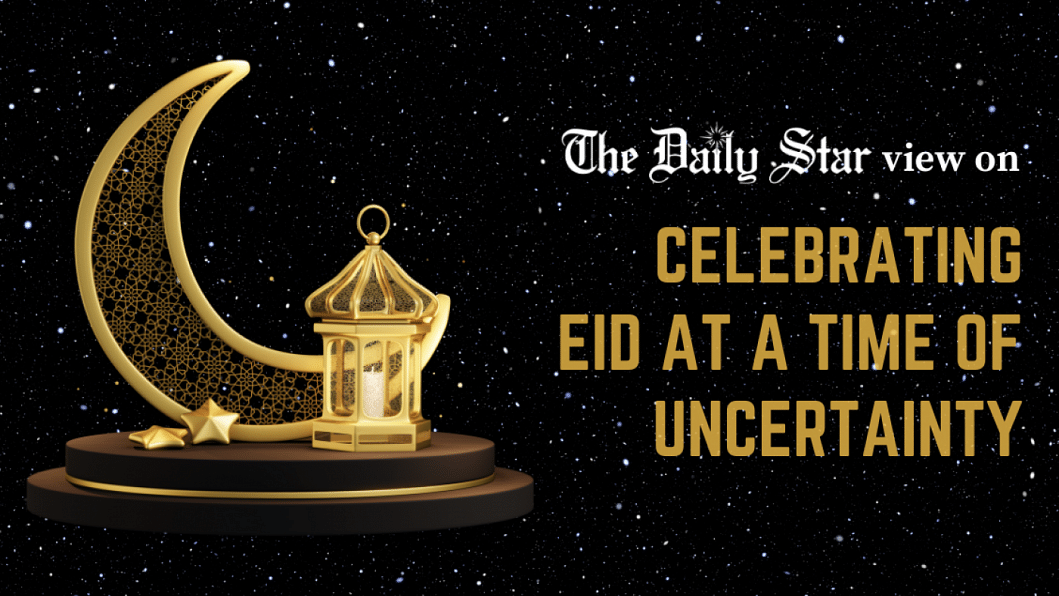 It is that time of year again, a time that brings to an end a month of fasting, spiritual dedication and reflection. A time that brings communities and entire countries together. A time of feasts and family bonding. As we prepare to embrace this moment – Eid-ul-Fitr will be observed on Saturday – things are falling into a predictable pattern. To celebrate Eid with their loved ones, tens of thousands of people have already left Dhaka on trains, buses, and launches. Reportedly, it has been mostly hassle-free so far, although, in the mad rush for home, some gridlock is to be expected along with some trouble getting tickets. We hope that all this will be kept to a minimum, and relevant government agencies will do their job properly.
This Eid, however, comes under less-than-ideal circumstances. Long-held concerns over high food prices have remained unaddressed, or ignored, causing suffering for a vast majority of the population. For Dhaka-based traders, the situation has been particularly grim. Although shopping markets are drawing heavy footfalls, the effect of the devastating fires in two popular markets for retail or low-end customers will cast a long shadow over the community. The incidents in Bangabazar and New Super Market – coming within the space of 11 days – together damaged about 4,000 shops. And like in the past years, while remittance inflow saw an increase thanks to expatriate workers ahead of Eid-ul-Fitr, many workers at home, particularly those in the garments sector, will go back without wages or Eid bonuses. According to an estimate, as of Wednesday, over 32 percent of RMG factories in seven industrial zones – including in Ashulia, Gazipur, Narayanganj, and Chattogram – are yet to pay bonuses to their workers.
These issues and others may ruin the festive mood for poor households and those with fixed income. Every Eid in Bangladesh also comes with the additional threat of precious lives being lost in road crashes. There is an irony in the fact that we talk about people streaming out of the capital without much hassle, as they did last year too, only for us to be likely slapped with a long list of crash victims at the end of the holiday. Historically, Eids are when most road crashes occur. Last year, for example, highway travels during the extended Eid-ul-Fitr holiday between April 25 and May 8 resulted in the deaths of 376 people. With the relevant authorities still in a state of denial about the true extent of danger on our roads, one cannot help but worry if the same scenario will be repeated this time. We urge the authorities to take all measures necessary to ensure the safety of travellers.
Heading into the Eid holiday, however, we want to focus on the brighter side of things as well as the lessons of the holy month that we can hopefully carry forward. As a nation, the lesson that will most benefit us is that of giving generously (to those in need of help) and working together for the greater good of society. We wish everyone a safe and joyous Eid.
Eid Mubarak!