Dried-up Teesta continues to haunt farmers
Bangladesh needs to find a realistic solution to a persistent problem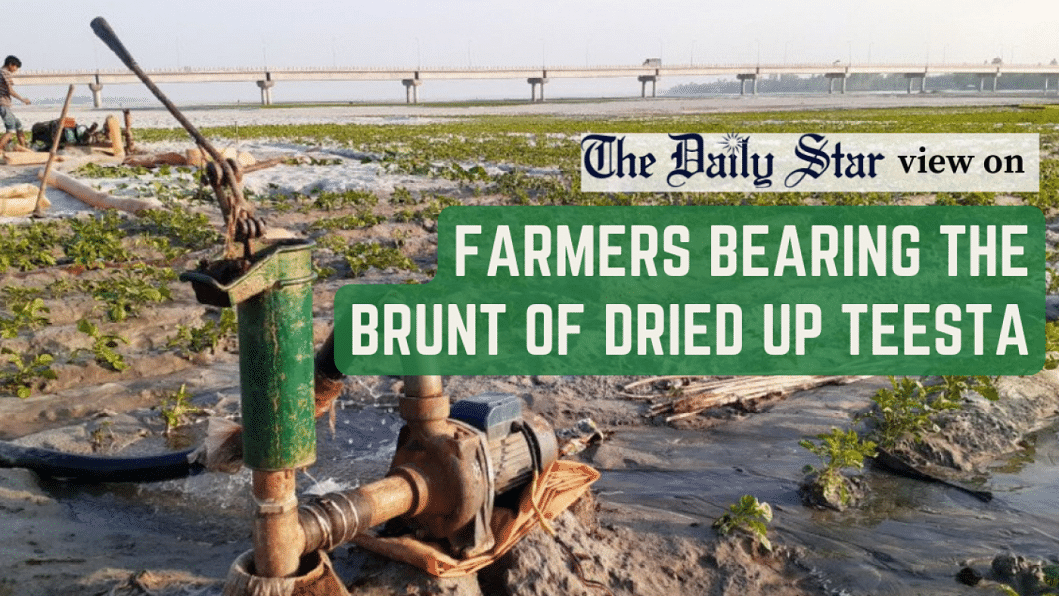 We are concerned for the thousands of farmers who depend on the flow of water in the Teesta River for their livelihoods. Only a couple of weeks ago, farmers could rely on the Teesta's water flow for their farming activities. Now, however, as this newspaper reported on Friday, the mighty waterbody has completely dried up in many places of Lalmonirhat. As a consequence, many farmers in different char areas of the district, who cultivate various crops on the sandy char lands, are being compelled to use diesel-run shallow machines to irrigate their croplands. This, of course, is pushing up the production costs of farmers who can afford to set up such machines, while others do not even have that luxury, making farming impossible for them. 
According to the Lalmonirhat Department of Agriculture Extension (DAE) deputy director, about 20,000 farmers in different upazilas are growing various crops on vast char areas along the Teesta and Dharla rivers. These farmers have managed to change their fates by growing potatoes, maize, pumpkins, and other crops on sandy land. This crop production would cost little if there was enough water flow in the Teesta river. The flow, however, is not enough because the riverbed is full of silt, and it seems the river has been divided into five or six narrow channels. 
Lalmonirhat's Patgram Upazilla is the entry point of the Teesta into Bangladesh. But India has built an irrigation barrage at the Indian side of the Teesta, specifically the Malbazar Town in Jalpaiguri. The Teesta Barrage, unfortunately, is working as a blockade and diverting the water. As a result, the Bangladeshi portion of the river tends to dry up. Authorities from India and Bangladesh have held talks about the river situation with practically no results. The drying up has been so severe that farmers are cultivating pumpkins in the dried-up land. As an additional concern, the natural biodiversity and the ecosystem of the area are also at risk. 
Given the circumstances, it cannot be emphasised enough how important it is for Bangladesh to find a sustainable solution to the long-drawn-out Teesta water sharing saga with India. Despite decades of negotiations and numerous promises from our Indian partners, the Teesta water sharing agreement between Bangladesh and India is nowhere near being settled. We understand the primary reason for this has been the complex domestic politics in India. However, Bangladesh cannot be its victim forever and watch its farmers continue to lose their livelihoods because of it for decades on end.