We must nurture a pluralistic culture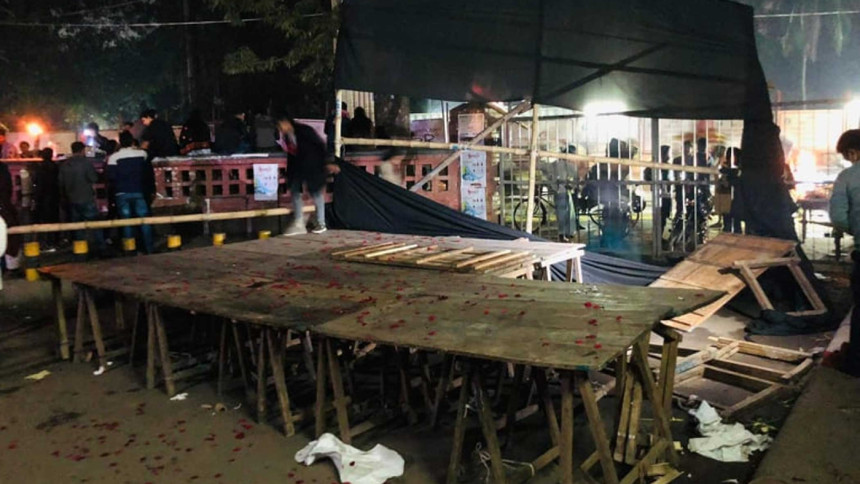 On January 12, 2022, the Teacher-Student Centre (TSC) of Dhaka University should have been swaying to the soulful melodies of Qawwali. All preparations had been made for a concert, and approvals taken from relevant authorities. The university students' Qawwali band, "Silsila," along with prominent Qawwali and folk artistes Nadim Ehtesham Reza Khan and Sheikh Fahim Faisal, were supposed to perform at the concert. But it was not to be—in the evening, a group of miscreants swooped on the venue and ransacked it, injuring the organisers, guests, and a journalist in the process.
This unfortunate incident has, once again, brought to the fore the debate over Bangladesh's growing problem of suppression of diversity and the shrinking spaces for liberal thoughts. Since the attack, the social media has been flooded with speculations regarding what triggered it. Some tried to paint it through an extremist lens. Some questioned the place of Sufi culture in our society. Some went on to suggest that it had been organised to revive the usage of Urdu as a major language, alluding to the 1952 Language Movement to highlight the stark contrast. Some pointed to the growing intolerance towards minority voices and diversity in the country, which could have triggered this incident as well. All of these aspects need to be thoroughly scrutinised during the investigation into the incident.
There is no denying the presence of extremist groups in the country, who cultivate support to grow their ranks by either appealing to our religious sentiments against the so-called un-Islamic practices, or at times—as seen recently—by evoking our Bengali nationalism, trying to "other" diverse groups. Those who pointed to the so-called incongruity of Sufi practices within the fabric of our Muslim-majority society to justify the attack on the Qawwali concert, are either ignorant or in denial of the wealth of diversity that underpins our cultural identity.
And those who, evoking nationalist thoughts, suggested that Qawwali should not be performed in our country should not overlook the intertwining ideologies of Sufi mysticism and Lalon's teachings. Many of the core values of Sufism coincide with Lalon's philosophy, one that advocates love for the divine, purification of the soul, and harmonious and peaceful coexistence of individuals, irrespective of their caste, creed or religion. For us Bengalis, Baul songs mean far more than just words laced with soulful music. The philosophies and messages these songs carry form an integral part of our Bengali nationalism that promotes communal harmony and adds to our diverse character as a nation. And we take immense pride in the pluralistic, secular mosaic of the social fabric we have inherited.
And the groups that tried to justify the attacks, suggesting a Qawwali concert could restore Urdu as a major language, are not presenting a rational argument, because one concert cannot change the cultural heritage of a nation. The historical dislike of many for anything that is related to our past oppressor or their culture is understandable—after all, memories of the genocide are still vivid in our collective memory. However, discouraging a cultural practice—that, too, so violently—is simply not acceptable.
Qawwali, once a very popular artistic expression in the sub-continent, has seen a decline in interest in Bangladesh since the country's independence, as many did not patronise it because of the language. On the other hand, many conservative Islamists have cornered the Qawwali artistes for their Sufi practices, which they term "un-Islamic." Despite there being Qawwalis written in Bangla, this is an art form we are on the verge of losing.
However, this is not how it should be. After 50 years of independence, Bangladesh is a shining example of inclusive progress, where the nation and its people have fought and overcome myriad challenges with their unity and innate resilience to become one of the fastest growing economies in the world. One of the drivers of this growth has been our secular character.
As we graduate from the Least Development Country (LDC) status, it is time for us now to open up to the world further. Confident as we are with inclusive growth and achievements, we must learn to embrace different cultures, which will only broaden our horizon and give us new perspectives. We can learn Chinese, French, Russian, Arabic and any other language we want in order to be better able to learn their cultures, and this is especially important in this age of global value chains, given our growth aspirations.
And as we aspire to grow as a regional powerhouse—not just in economic terms, but to flourish as a centre for culture and learning—we should also learn Persian, Urdu, Hindi and Sinhala, among other languages, for effective cultural exchanges.
Bangladesh is known and respected around the world for its secular, inclusive and syncretic nature, where people from all religions, races and ethnic backgrounds coexist in harmony—where cultural diversity forms an essential part of our social fabric. Ours is a nation born without a silver spoon, yet over 50 years, we have matured into a shining beacon of inclusive progress, outstripping our more privileged peers in the process. All and sundry has cited our incredible resilience as the key ingredient of this journey.
Our pluralistic, polyphonic society lies at the heart of this resilience. By making our tolerance threshold vulnerable, we risk not just undermining decades of our progress, but subverting a value that makes us who we are.
Tasneem Tayeb is a columnist for The Daily Star. Her Twitter handle is @tasneem_tayeb