China's shift to high-tech: Can Bangladesh keep up?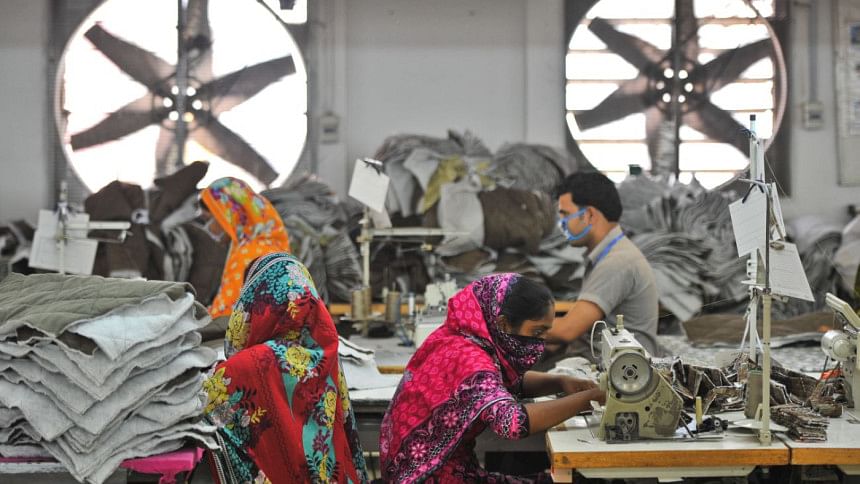 China remains the undisputed global giant in the textile and apparel industry. Its share of global apparel export is about 37 percent while the share of Bangladesh, the second largest readymade garment exporter in the world, is only about 6 percent. So, it is completely understandable that the actions of China will obviously influence the competitiveness of the other manufacturing hubs like ours.
To begin with, China's extensive material base is unparalleled. We still cannot provide a vertical supply chain and are still heavily dependent on imports of raw-materials. China has a long history of manufacturing and is constantly investing extensively in highly efficient and specialised ports, roads, bridges and services to support the movement of goods.
Our reliance on low wages for competitive advantage may soon be offset by inferior infrastructure and low worker productivity. Chinese workers are not only more skilled and experienced, but are also far more productive.
We often hear in many discussions that Bangladesh's apparel industry has a huge opportunity to avail from China shifting to high-tech industries. How authentic is this belief? A deeper dive into the present dynamics of China's apparel industry will give us an idea on how to retain our competitiveness, rather than to remain complacent.
China is aggressively pursuing technological advancement as a core driver for retaining its competitiveness. With the Chinese central government eager to push China's manufacturing sector up the value chain and looking to shift from "made in China" to "created in China", indigenous innovation is spurring. For example, Bealead Automatic Machine Co., a Chinese-based automation company, devised a system that increases the efficiency and reduces the labour component of the duck feather filling process into jackets, partnering with North Face, Moncler and Adidas.
The automated feather filling machine reduces the number of workers from five to two. The two workers require training to operate the machine and an additional technician to maintain it. In this case, investment in a single automated feather filling machine costs USD 33,000. With the average wage of a worker in China being USD 491, the company can recover the investment made in about one-and-a-half-years.
In a recent McKinsey survey of 130 companies across sectors, it was found that close to 80 percent of Chinese manufacturers expect that their company's competitiveness will increase with Industry 4.0 (current trend of automation and data exchange in manufacturing technologies), compared to just 57 percent of US respondents, 50 percent of respondents in Germany and 54 percent of companies in Japan.
The Digital Capability Center in Beijing is a model factory. By providing a centralised location for developing ground-breaking solutions, supporting clients at each stage of their transformation journey, and offering customised training modules, the Digital Capability Center in Beijing aims to help manufacturers in China realise the vision put forth in China's "Made in China 2025" policy. Moreover, a Digital Technology Showroom has been established in China by McKinsey in partnership with Tsinghua University, one of China's leading academic institutions. The Center showcases cutting edge digital tools for end-to-end value chain transformations, provides a safe test-bed for piloting digital technologies, and hosts experiential training for capability building.
The Digital Capability Center is a one-of-a-kind facility, tailor made for China, which showcases technology, provides training, and develops innovative solutions. Manufacturers can quickly learn how to put digital operations and smart manufacturing to work in their companies and see noticeable improvements in innovation and efficiency.
Like many other industries that have been disrupted with technological and digital advances and the changing consumer expectations that comes with it, our fashion and apparel industry is "ripe for disruption". A recent survey by McKinsey and Business of Fashion states that volatility and uncertainty is here to stay. The "forever connected" consumer, with shifting loyalties to brands — seeking alignment of their purchase with their deeper values — is much more difficult to please and unpredictable.
"Omni Channel", "Instant Fashion", "See now, Buy-now", "Rapid Virtual Prototyping", "Smart fitting rooms enabled with RFID and Augmented Reality", "Virtual Reality Fashion Shows", "Gender Neutral Fashion lines", "Modest Fashion", "Ethical and Sustainable Innovation", "Smart Wearables like the Google and Levi's Project Jacquard Denim Biker Jacket", are some of the top themes that our industry is seeing as a response to mechanisation of the retail end of the value chain.
With all this change happening at the buyers' end of the apparel value chain, can the supply chain remain unaffected? Will changing expectations not put similar pressures on the supply end of the line? Like China, do our industry leaders and policymakers have a vision to set up such digital capability and innovation centres in Bangladesh, to lead our nation towards a "Made in Bangladesh 2021 or 2041" policy? Can we sustain our industry by supplying commodity items in the longer run? Do we have a strategy?
I want to leave readers with these questions and mention that these are what need to be addressed to retain the leadership of Bangladesh in the race of global apparel manufacturing business during the next era of Industry 4.0.
---
Mostafiz Uddin is the Founder and CEO of Bangladesh Apparel Exchange (BAE) and Managing Director of Denim Expert Limited.
---
Follow

The Daily Star Opinion

on Facebook for the latest opinions, commentaries and analyses by experts and professionals.
To contribute your article or letter to The Daily Star Opinion, see our

guidelines for submission

.
---