Panamagate takes Nawaz Sharif down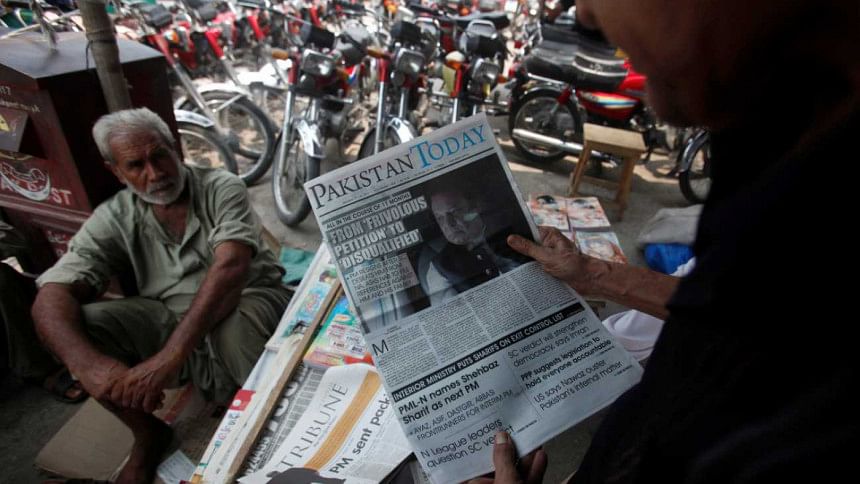 Pakistan Supreme Court ousted Prime Minister Nawaz Sharif from office on July 28, 2017. This is not the first time the court threw a sitting prime minister out of office. In 2012 Prime Minister Yousaf Raza Gilani met a similar fate. Besides, Pakistan's presidents have on several occasions in the past dismissed incumbent prime ministers. Interestingly, since independence none of the 18 civilian prime ministers of Pakistan has been able to complete full term. 
Nawaz's detractors have been celebrating the court verdict. But is it really a triumph for the people of Pakistan? There are completely opposing viewpoints with some calling it independent judiciary in a democracy while others trashing judicial activism describing it as the death knell of democracy. 
It was a sad day for the powerful Nawaz Sharif and his family. Pakistan Supreme Court disqualified Sharif from office over undisclosed assets held outside Pakistan by his scions. The court also ordered criminal probe as the family could not account for its vast wealth. 
It all began on April 3, 2016, when the infamous "Panama Papers" were leaked to the press. The papers were brought to light by the International Consortium of Investigative Journalists (ICIJ). To recall, there are some tax havens around the world where thousands of shady offshore companies dealing with murky businesses are registered, away from the eyes of law enforcers, e.g. British Virgin Islands, Panama, Bahamas, Seychelles, etc. The ICIJ revealed 11.5 million secret documents from Panamanian law firm Mossack Fonseca containing confidential attorney-client information of several thousand offshore entities. The documents showed how Mossack Fonseca clients were able to launder money, dodge sanctions, and avoid taxes. Eight offshore companies were reported to have links with the Sharif family. 
Panama Papers revealed that Sharif's three children owned offshore companies and assets, which were used to acquire luxury apartments in London. Sharif did not declare income from these companies. Allegations of corruption have been haunting the Sharif family since 1993. Sharif's sons and daughter vehemently denied the allegations saying the leaks were a "distortion of information." Two days after the revelations Sharif announced that he was ready to form a judicial commission to probe his family's finances. He, however, did not form any commission.  
Imran Khan's Tehreek-i-insaf (PTI) has doggedly led the Sharif-ouster campaign from the forefront organising street agitations and attempts to blockade the capital. After PTI's repeated pleas to the Supreme Court, the chief justice finally agreed in November 2016 to hear the case of allegations of Sharif's financial impropriety.  
On February 23, 2017 the court concluded the hearing without passing any judgment. On April 20, 2017 the Supreme Court ordered formation of a six-man Joint Investigation Team (JIT) to probe whether Sharif and his family members had amassed wealth beyond their known sources of income. The JIT formed on May 5, 2017 was to complete the investigation and submit the final report to the special bench of the court within 60 days. The JIT included members from ISI, Military Intelligence (MI), National Accountability Bureau (NAB), Securities and Exchange Commission of Pakistan (SECP), and State Bank of Pakistan (SBP). On July 10, JIT submitted a 275-page report to the Supreme Court. The court then resumed hearing on July 17. Finally, after lots of drama, the court on July 28 came up with a verdict disqualifying Nawaz Sharif from holding public office. The court also ordered the Election Commission of Pakistan to de-notify Nawaz Sharif from his National Assembly seat.   
Parliament is unlikely to be dissolved as the next election is scheduled for 2018. Shahid Khaqan Abbasi, who held the portfolio of Petroleum and Natural Resources, has been made interim prime minister for the next 45 days. Abbasi shall have no difficulty in getting the vote of confidence as Sharif's Pakistan Muslim League (Nawaz) has 209 seats in the 342-seat Parliament. Sharif actually wants his younger brother Shahbaz Sharif to succeed him. But Shahbaz, who is currently Chief Minister of Punjab, has to become member of parliament before he can become prime minister. 
However, it would be naïve to politically write off Nawaz Sharif after this episode. He has been a political phoenix—every time rising from oblivion. He first became prime minister in 1990, but was dismissed by President Ghulam Ishaq Khan clearing the way for the then opposition leader Benazir Bhutto to become prime minister. Then when he became prime minister for the second time in 1997, his tenure was cut short by General Pervez Musharraf's bloodless coup in 1999. After spending seven years in exile in Saudi Arabia he returned to Lahore in November 2007. Sorting out the embargoes imposed by the court, Sharif again became prime minister for the third time in June 2013.  This tenure also met a similar fate.
Many believe that the powerful military was behind Sharif's ouster. However, the military is unlikely to take over as it enjoys immense powers from behind the democratic façade, controlling nuclear-armed Pakistan's foreign policy and above all Pakistan's relations with arch-rival India and Afghanistan. Nawaz Sharif was perceived to be willing to slowly normalise relations with Delhi, but because of ISI he could not move ahead. To that extent Delhi will be watching closely how the situation develops in Islamabad. 
Sharif's ouster is seen by many as a moral victory for Imran Khan's relentless campaign against corruption. "Pakistan has won today," Khan said while congratulating the nation and thanking the Supreme Court. With PML(N) on the back foot a new political realignment will now be getting underway for the next election in 2018. Whether Imran Khan can cash in on Sharif's predicament will be clear in the next election.
---
Mahmood Hasan is former ambassador and secretary.
---
Follow

The Daily Star Opinion

on Facebook for the latest opinions, commentaries and analyses by experts and professionals.
To contribute your article or letter to The Daily Star Opinion, see our

guidelines for submission

.
---