A simple, straightforward reading of South Asian history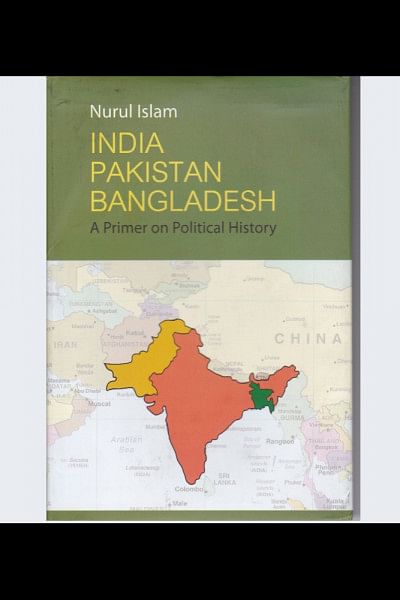 Dr Nurul Islam has been a towering presence in the intellectual landscape of Bangladesh. He has graduate degrees from Harvard, and held prestigious fellowships at Oxford, Cambridge, LSE, Yale and the Netherland School of Economics, was Professor and Chair of Economics at Dhaka University, and the author of about 29 books of some scholarly heft and influence.
He has also stepped out of the "ivory tower" and been an "engaged intellectual" deeply involved in the swirl of events and arguments that eventually led to the independence of Bangladesh in 1971. Also, as the first Deputy Chairman of its Planning Commission (1972-75), he accepted the responsibility of providing the policy frameworks and initiatives that were expected to lead his country towards greater material prosperity and social justice.
Internationally, he has been associated with several UN organised bodies, and served in the editorial boards of various international journals. Over the last several decades he has been Assistant Director General at the Food and Agriculture Organization in Rome, and then Senior Policy Advisor at the International Food Policy Research Institute (where he is currently Research Fellow Emeritus) in Washington.
But more than anything else he is a man of letters, a Renaissance Man of eager curiosities, eclectic tastes, refined sensibilities, and astute judgments. Age may have slowed him down a little (he is 90 now), but his mind is as sprightly and nimble as ever, and his sense of history, politics and the human condition remains rich and keen. The current book testifies to his intellectual sophistication and moral clarity.
However, this is unlike most of the technical treatises and policy briefs he had written previously, or memoirist narratives he has penned lately. This is a simple and straightforward reading of history relevant to the political evolution of South Asia.
But of course, no history of South Asia can ever be simple or straightforward. History here is multi-layered, multi-textual, multi-vocal. Dr Islam navigates through this tricky terrain with considerable understanding, deftness and integrity.
The story Dr Islam narrates is well known. It starts with the arrival of the British in India and the incorporation of "natives" into the sinews of the colonial project. The variable response of the Hindus (eager) and Muslims (turning away, and inward) led to educational and employment opportunities for the first, and comparative backwardness and stagnation for the second. The two communities gradually bifurcated in terms of their own demands, ambitions and identities which ultimately led to the division of the country in 1947.
Dr Islam ponders whether this was unavoidable, or whether some of the misperceptions among the communities, the egos and short-term interests of leaders, the pressures of immediacy and mass mobilisations, the hasty rejection of some thoughtful proposals (e.g., the Cabinet Mission Plan) and so on, may have contributed to its inevitability.
However, the Pakistan that was created, with two "wings" of the country separated not only by thousands of miles of Indian territory, but also by linguistic, cultural, demographic, ecological and economic differences, and united merely by the idea of a common religion was, as the author points out, "more a concept than a country". It would be a challenge for any statesman to sustain. Unfortunately, the country did not have leaders of that vision and ability.
Cultural callousness, political unfairness, administrative arrogance and, most importantly, systematic and obvious economic discrimination, created legitimate grievances and resentments, and fed the logic of autonomy and separatism in the East. Dr Islam himself, with several other scholars, presented the argument of increasing and unacceptable economic disparities with rigour, confidence and moral authority, and became associated with the struggle. The book contains two appendices written earlier by him detailing some of the relevant issues and urgencies relating to the "two-economy thesis" and the "six-point movement" led by Bangabandhu in the 1960s.
Bangladesh became independent in 1971. Dr Islam writes about the challenges not only created by the sheer devastation of the war, but the return of millions of refugees, a crumbling infrastructure, weak governmental institutions, internal tensions, and a fluid international environment.
Bangabandhu announced, and the constitution codified, four fundamental guiding "principles" of the state. But while nationalism and democracy were "dictated by the logic of the independence movement itself", the concepts of socialism and secularism were more complex and amorphous, and became subject to gradual compromise and dilution. Sadly, democracy was also abandoned later and, when reinstated, demonstrated some "illiberal tendencies".
He notes that Bangladesh's progress has been "checkered…uneven…non-linear". The situation in India and Pakistan has not been much better, and all of these countries have departed from their original orientations and commitments and are struggling with increasing economic inequalities and the muscular presence of religiously driven forces. He also laments the fact that the cooperation between the three countries with such a long common history, and facing very similar problems, has not been particularly reassuring.
The strength of the book is not its erudition, analytical novelty, or theoretical richness. It is a slight and slender book (only 93 pages in demy octavo size paper), written as a "primer…for the young and non-specialist". However, it is informed and elegant, its tone and insights are eminently reasonable, and its poise and balance most refreshing and exemplary.
One only wishes that his copy editor had been a bit more prompt and diligent (minor mistakes in spelling, grammar and dates can be distracting), and that the author had written more extensively about the 1,313 days between Bangabandhu's heroic return in 1972 and his dastardly assassination in 1975. He had a ring-side seat, as well as a scholar's detachment. If only Leila (the granddaughter to whom this book is dedicated, and whose persistent questioning about the country's history had initiated this project), had pressed him a bit more about this critical period in our history, and not allowed grandpa to get off so lightly.
Ahrar Ahmad is the Director-General of Gyantapas Abdur Razzaq Foundation.