SHIFTING IMAGES
The Age of Intolerance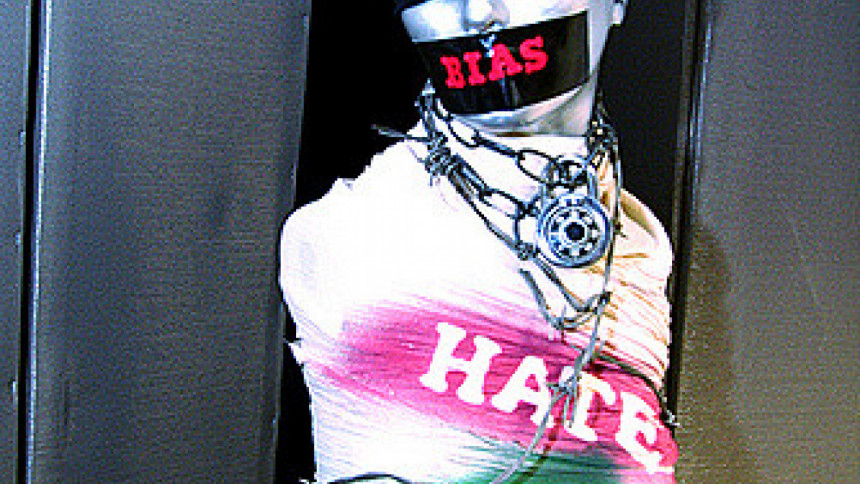 In the sixteenth century, Polish astronomer/scientist Copernicus formulated a model of the universe that put the sun at the centre of the solar system. This was a revolutionary moment in the history of human civilisation -- the model, known as the heliocentric model, negated the previous notion that the earth was at the center of the universe and thus challenged the centuries-old, well-entrenched concepts propagated by theologians and astronomers. The Roman Catholic Church issued a decree suspending Copernicus' theory as "against the scriptures" and convicted another great astronomer/scientist Galileo Galilei's suspicion of heresy for supporting the heliocentric model. It was 200 years later that the works of Newton and other scientists brought the Copernican debate to a closure proving his theory to be correct. Subsequently, the Church accepted the Copernicus model.
This was not only an intellectual leap forward in the understanding of the laws of the universe, but a paradigm shift from earlier scientific and theological beliefs. Since then, science and technology have made tremendous progress. But why is it that human beings have not evolved commensurately in terms of moral values and principles? It is true that the institutions of free market and the liberal democratic state have enabled us to reach unprecedented achievements in knowledge, life expectancy and affluence. Scientific and technological discoveries have virtually freed us from the boundaries of space and time. But they have failed to free us from the basic instincts of bigotry, intolerance and vengeance. Our contemporary world is characterised by conflicts, religious fanaticism, racial abuse and socio- economic injustices. Each year, thousands are mercilessly killed, discriminated against and marginalised only because their beliefs do not conform to those of their detractors.
A few examples may illustrate this phenomenon more concretely. In Bangladesh, several secularist writers, bloggers, academics and activists have been brutally hacked to death over the last three years. The heinous acts were purportedly committed by religious extremists, determined to eliminate citizens who they believe challenge their orthodox beliefs. In the United States, Donald Trump, the presumptive Republican presidential candidate, publicly spews hatred against ethnic and religious groups and recent immigrants. His hate rhetoric has reinvigorated Islamophobia, ethnic discrimination and racial tensions. We have also seen on our screens "peace loving" Buddhist monks in Myanmar killing unarmed Rohingyas and pillaging their villages. 
Unfortunately, globalisation and improved access to information have failed to promote tolerance/acceptance for diverse ideas, customs and faiths. Instead the internet and social media are being employed to inflame religious sentiments and recruit extremists to radical causes. It is indeed sad that despite all its contributions to humanity, the progress of science and rational thought has failed to provide human beings with a moral compass. Science tells us how and why but has not helped us change our attitudes to become more compassionate to our fellow humans.
Technology has given us power, but has not guided us as to how to use that power for creating a more balanced and harmonious world.
About five hundred years ago, Copernicus and his followers transcended the barrier of religious dogmas and prejudices and gifted the world with an idea that challenged hard-core beliefs. In the 16th Century, Martin Luther shook the foundations of the Catholic faith by questioning its basic tenets and publicly protesting against its rituals. The Protestant Reformation was in fact aided by technological advances in the establishment of the Gutenberg printing press, which ensured the rapid dissemination of reformatory ideas in Christianity. Similarly, the free discourse of religion during Emperor Akbar's reign (1556-1605) inculcated tolerance and led to harmony amongst his subjects belonging to different faiths. It is ironic that today, hundreds of years later, we are stuck in a mind warp where people are killed for raising questions about their religious practices and traditions. Unfortunately, prejudice and bigotry have taken control of our better instincts and extremist acts and killings are often committed for a so-called "sacred cause" or in the name of high ideals.
Reason alone will not win this battle. Nor will scientific theories, discoveries or invocations of words like "freedom" and "democracy."And, all the military interventions in the world will not stem the escalating violence. We need a generation of dedicated leaders and educators who embrace the world in its diversity, promote multiculturalism and interpret sacred texts with maximal generosity. At a fundamental level, the real clash today is not between civilisations or religions, but between the good and evil in man. It's time for another Copernican revolution -- one that aims at toppling well-entrenched biases and beliefs and emancipating the human mind.
The writer is a renowned Rabindra Sangeet exponent and a former employee of the World Bank.