Neither 'isolated' nor tolerable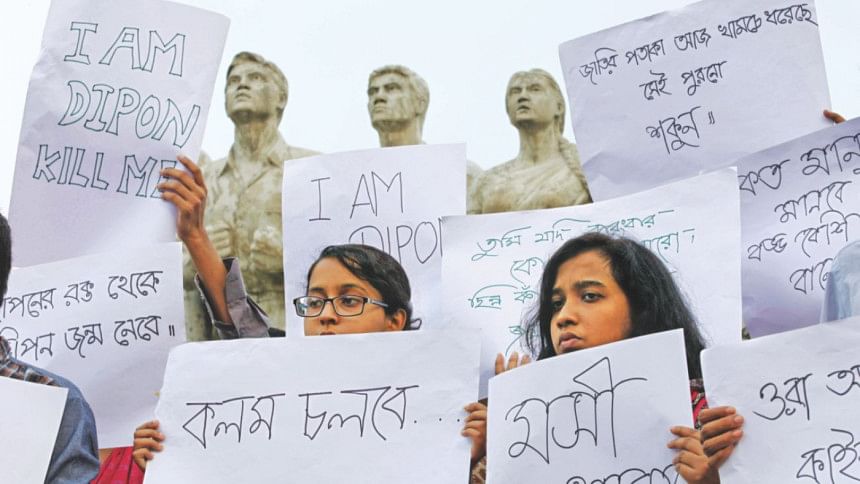 The free thinkers, mainly of my generation and immediate younger generation, are under the machete. This year we lost secular writer Avijit Roy, bloggers Washikur Rahman, Ananta Bijoy Das, Niladri Chowdhury Niloy and publisher Faisal Arefin Dipan. It's too much of a loss to bear within seven months. Whether the killers are Al-Qaeda appointees or Ansarullah Bangla Team or something else, the reality is, free thinkers of our time are under systematic attacks and the state is well aware of that. In fact, it is no longer a national issue; it is now well covered by international media.
To put this year's incidents into further perspective, it might be noted that this serial killing trails back to 2013. Blogger and Shahbag Gonojagoron Moncho activist Shovon Haider Rajib was hacked to death, allegedly for his "atheist writing", in February 2013. Also hacked to death were Jagat Jyoti Talukdar and Zia Uddin Jakaria, organisers of Gonojagoron Moncho, Sylhet and Arif Rayhan Deep of BUET the same year. 2013 was a dark year for Bangladesh, and for free thinkers. Besides mindless killings, bloggers faced brutal attacks - Asif Mohiuddin, Sanaur Rahman and Tanmoy Ahmed Moon are a few who survived those attacks. 
However, after the latest incidents of October 31, the synchronised killing of Faisal Arefin Dipan, the publisher of Jagriti Prokashani and the brutal attacks on Ahmedur Rashid Tutul, the critically injured publisher of Shuddhoswar, and bloggers Ranadipam Basu and Tareque Rahim, the nation expected at least some countenance of guilt from our home minister for the failure to stop these gruesome killings and attacks. Instead, we had to hear his humdrum statement, "Yesterday's attacks are isolated incidents and such attacks also occur in other countries of the world." As a citizen of Bangladesh, I felt dumbfounded reading this ludicrous comment.
We all know by now that both Dipan and Tutul published slain secularist writer Avijit Roy's books, and for that, they had been under threat for a while. They informed the police and sought protection. The orchestrated attacks on both of them at two different bookshops on the same day prove that the incidents were not isolated, but rather very much part of a systematic process of cleansing free thinkers from this country, which the home ministry failed to address. 
The attack on secular bloggers, writers and cultural activists are neither isolated nor unexpected. The killers declared their names first, and then started killing one by one. In fact, as the home minister, he should know more than anybody how not only the bloggers, but also the secular intellectuals of the country are under threat. There have been several hit-lists circulated in the name of Ansarullah Bangla Team; interestingly in one of those lists his name is also listed. Knowing all this, how could he say that the attacks on October 31 were 'isolated incidents'? 
If we focus on the other side of the coin, we find the home ministry's massive failure to deal with the cases. We hear of arrests of some culprits now and then, but there have been no convictions yet. After more than two years, Shovon Haider Rajib's case is just now beginning to move. Washikur Rahman's killers were caught red-handed at the murder scene by the people nearby, but we do not know the end result. We do not know the updates of the other cases. Professor Ajoy Roy sought justice addressing the Prime Minister directly, but there are still no results. 
Under these gruesome circumstances, when the home minister mentions the fresh attacks as 'isolated' and infers through international comparison that the number of murders is at an acceptable level, then one may read that either he did not pay enough attention to the whole situation or he wanted to hide his  failure by putting less importance on it. Either way, I read his comment as a denial of his responsibility of the whole situation, which only strengthens the killers' enthusiasm. This helps us to understand why Professor Abul Kashem Fazlul Haque, father of Dipan, does not demand trial of his son's killing and why Bonya Ahmed, wife of Avijit Roy, also does not seek retribution.
However, it's not only the home minister who has hurt us with his comments. We have had to endure another series of comments, which illuminates the government's attitude on the entire issue. Particularly, AL Joint General Secretary Mahbubul Alam Hanif's comment came as a further blow for the wounded heart of Professor Haque. Mr Hanif, however, apologised. The government has failed to save the lives of free thinkers, and to show a minimal level of decency. 
Though Professor Haque expressed firmly that he does not have much faith in the law and justice system of the country, bloggers and activists have expressed the same sentiment by leaving the country in silence. Many have submitted their application for asylum in different consulates. Today, the publishers burnt books to protest the killing and attack on publishers.
I know, the situation is dire. Bangladesh has not come to this point in a day or a year. The politics of manipulating the religion card and the denial of responsibility of the state to ensure citizens' basic rights have put the country in a situation, from where there is no immediate return. However, I would like to see some urgent actions by the government to protect free thinkers, bring the culprits to justice, and improve the overall law and order of the country. In parallel, attempts should be made by thinkers, educators, cultural activists and progressive fronts to spread the ideas of tolerance for free thinking and acceptance of diversity of opinion. To paraphrase Raymond Williams, a Long Revolution is needed.
The writer is Professor, Department of Mass Communication & Journalism, University of Dhaka.