Opinion: arresting for traffic rules violation is a crazy idea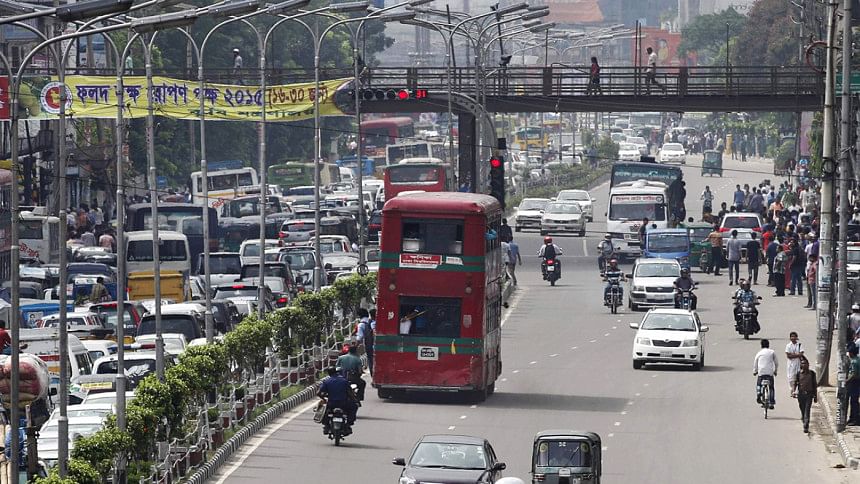 In a country where corrupt practices dominate traffic rules and laws, the Bangladesh Road Transport Authority (BRTA) has prepared a draft law under which police would not require any warrant to arrest anyone for violation of traffic rules.
This strange draft law does not have any provision for spot fining, and empowers uniformed officer to arrest anyone for committing an offence.
Police lodge around 70,000 cases a month and there is a huge backlog of cases. Will this new law, if passed, help the situation?
Does the move mean that the existing law with provision of fining and confiscating licenses are not enough to ensure discipline on the roads?
Let us ask the BRTA and the police, is there no law against driving through the wrong side? If there is one, have they ever fined the ministers and so-called VIPs and even the cops for driving on the wrong side? Have they ever fined the Dhaka University buses for such driving?
Have the police tried effectively to stop motorcycles from using footpaths? This is illegal and there is also a specific ruling from the High Court asking the cops to stop this malpractice.
What has stopped the cops from taking actions against public buses and minibuses from stopping anywhere and thus wrecking havoc on other vehicles on the road? What has barred the cops from stopping people from wholesale jaywalking?
We would also like to know how many public transport drivers and helpers have been arrested and tried for reckless driving and consequently killing people 'accidentally'? How many drivers with fake licenses have been put behind the bars or given any other form of punishment?
We have seen that the drivers of same buses that behave like maniacs on the main city thoroughfares to behave like good boys once they enter the cantonment area. People there also do not jaywalk. Cars do not use wrong lanes. Once they are inside the cantonment, which of course is not crowded like the main city, they fear the traffic police. And they don't necessarily arrest you for everything.
Then comes the vital question — what is the moral ground for executing the same punishment for different offences? How can a jaywalker be as bad as a reckless killer driver? How can a person parking at a wrong spot be committing the same level of crime as the person who is driving in full gear from the wrong side posing as a very important person?
There are already too many laws to enforce traffic rules. Unfortunately, our cops themselves do not practice them. We see traffic police facilitating wrong side drivers over right side drivers. We see traffic police take bribes and let go offenders.
Why not address these issues? Why not enlighten our traffic police, "VIPs", public transport owners and operators and lawmakers about the existing laws and make them understand why stringent enforcement of the law is enough to bring back discipline on the roads.
We believe that there is no need for new laws. The simplest way is to give cops the honour and respect for doing their job by refraining from proving to them how important we are once we are caught red-handed for rules violation.