Tailback of Dhaka-Mymensingh highway extends to Banani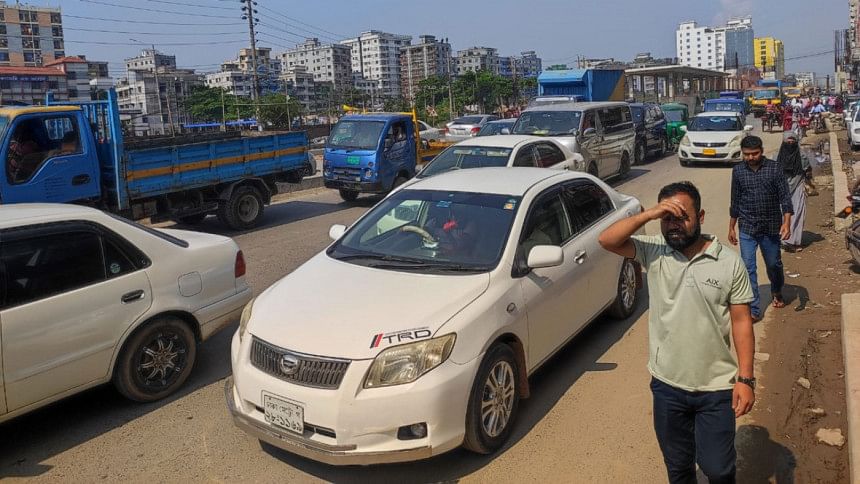 Commuters using the Banani-Gazipur route are facing immense sufferings due to traffic congestion created on the Dhaka-Mymensingh highway since this morning (October 26, 2022).
The tailback has stretched out till Banani in Dhaka as a result of the highway's traffic. Passengers on that route, including office workers, are suffering the most.
Eyewitnesses said as the day progresses, the line of vehicles are getting long from 5am. Traffic congestion has been created from Tongi's Millgate on the Mymensingh-bound lane to Banani and Tongi's Board Bazar on the Dhaka-bound lane.
Talking to our Gazipur correspondent near Tongi Station Road around 8:30am, Nuruzzaman, a private job holder said, "Due to traffic congestion, my car has been standing at the same point since 7am. I was supposed to be at work by 8am, now it's 8:30am. I'm not sure if I can go to work today. On this highway, you're bound to get caught in traffic. I am unable to move forward or take a U-turn to return home."
"The roadside drain has been overflowing. Additionally, as the BRT project progresses, the road from Abdullahpur to Chandana Chowrasta in Gazipur has become a little bit narrower. The suffering is now a regular routine for commuters," said Humayun Kabir, a local of the Board Bazar area.
Under the condition of anonymity, a police officer at Abdullahpur traffic police box said, "Potholes on the roads have been filled with water due to the daylong rain on Monday (October 24, 2022) due to cyclone Sitrang. The holes grew larger as wheels of the moving vehicles are falling into them. As a result, a long tailback has been created."
BRT project's director, Mohirul Islam, said, "If the work of the project is completed by November, there will be no more suffering."