In memory of a loud, brilliant, hilarious lady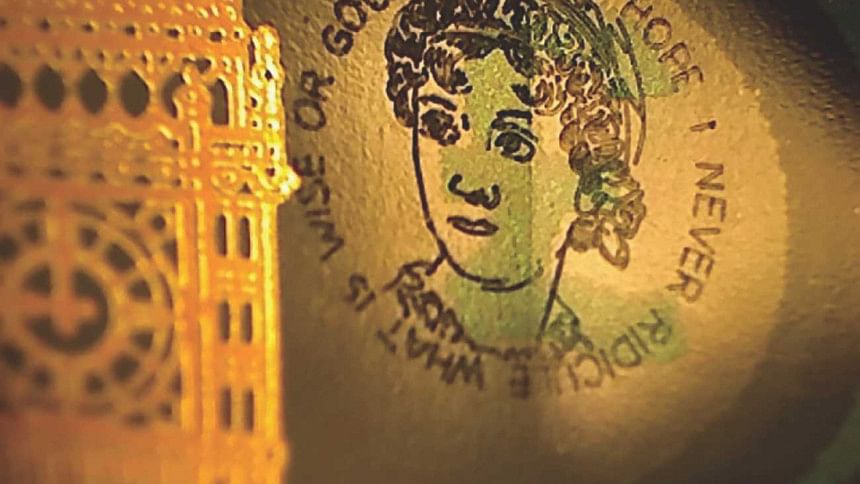 It was a truth universally acknowledged that a single woman of good breeding must be in search of a life led in humble anonymity. And then there came a woman who turned these conventions on their heads, by recording them, and making history out of the first few words of this paragraph. 
Jane Austen wasn't a storyteller. She was a perfumer; a chronicler who bottled the nuances of Regency English society with such fun and finesse that their fragrance lingers in the air even in this part of the woods – in messy, humid Bangladesh – 200 years after her time. We keep going back for the subtle, sparkly gems scattered across her writing. The slightly raised eyebrow. The imperceptible snicker. The tongue-in-cheek observation of a Victorian maiden who notices the faux pas and hypocrisies of a delightfully self-important society. 
Jane Austen is revered in the Western world for the romantic exoticism she provides in her portrayal of late 18th century England. Here, though, that same writing holds up a mirror, reflecting the idiosyncratic norms, pitfalls and victories that are basic elements of the Bengali society. Most of her stories start with a young woman who has a problem. That problem can only be solved by marriage. It's almost like the entire Jane Austen oeuvre resides in the mind of Mrs. Bennett, neighbour to the "poor nerves" that are as much a character as Lydia Bennett in Pride and Prejudice. In Mrs. Bennett's Austenland, all young women must be pretty, graceful, skilled in the matters of the household, and interesting in just the right amount to retain the attention of the young men of good breeding in want of a wife. This project of securing the perfect husband includes several crucial steps. The Boy and Girl must meet in a ball where, while they waltz in the centre of the room, the mothers and chaperones watch from the side lines, mentally collecting details that are to be cross-examined at great length once the event is over. The Boy and Girl must then decide, in the span of a single dance plus (at max) a few family dinners and/or rides around town, whether they are passionately in love enough for the families to start exercising their bragging rights. Cue music for Here Comes the Bride. A misstep in any of these stages, leading to the eventual failure of the Marriage Project, can be cause for monumental mourning – as in the case of the initial broken pairings of Elizabeth and Mr. Collins, and Jane and Mr. Bingley in Pride and Prejudice, or Marianne and Willoughby in Sense and Sensibility. In Persuasion, Anne Elliott is convinced by her guardian Lady Russell to break her engagement to Captain Wentworth for reasons of social inequality, a decision that leaves both characters in misery until they are older and mature enough to rekindle their connection on their own. Substitute the balls with "dawat"s and the dancing for small talk and exchange of food, and the entire setting of an Austen novel becomes the life of every young girl of marriageable age in Bangladesh ("special circumstances" notwithstanding). 
This marriage-mania wasn't entirely superfluous, though. In the England of Austen's novels, women's rights were extremely limited, if at all present. Whatever property or income they inherited or earned would be absorbed by their husbands, who could even stop them from seeing their own children. The only way for a woman to reclaim her property was through widowhood. The danger of these bindings was brought to the fore in the infamous case of Caroline Norton, who was stuck in a marriage with an unfaithful, violent man who beat her even in her pregnancy. When she tried to get a divorce, her husband George Norton "held her children hostage" and eventually stopped paying for child support after a trial that left Caroline's social standing in tatters. But through her writing and her fight for freedom, Caroline's case helped bring about the Child Custody Act of 1839 and the Matrimonial Act of 1857 – years after the time of Austen's heroines. Such were the societal constraints of Jane's female characters that made it crucial for them to make the right choice in marriage. In this context, Mrs. Bennett's panic over her husband's property passing into the hands of a distant cousin, and her insistence on marrying her daughters off to eligible bachelors, seem a lot less superficial than at first glance. 
Modern day Bangladesh, for all its faults, is free of such repression of women's rights, at least on paper. Letting eligible bachelors slip through our hands is not a matter of life and death anymore; neither can social isolation completely ruin our lives, should we choose to live our lives by our own whims. So when I read Jane Austen now, her witty mockery of social hypocrisy seems to be aimed not at Regency England, but the Bangladesh of today. The mirror in her writing I mentioned earlier, therefore, should do a little more than remind us of our own lives. It should push us to think about why we can relate to Jane Austen's world so easily. Why our thoughts, our social expectations and interactions, and our very existence so perfectly match those of people who lived nearly 200 years ago. It's fun, sure. But isn't it a bit worrying?
Women in Jane Austen's time weren't allowed a lot of leeway. Literary circles were so strongly male dominated that the first page of Austen's first published book, Sense and Sensibility, didn't have her name. "Written by 'A Lady'", it said. These same restrictions caused other writers like the Bronte sisters and Mary Anne Evans (who we know as George Eliot) to take up pseudonyms throughout the 19th century. 
Yet, Jane Austen's stories, in so many intricate ways, seem to challenge these limitations set on the lives of women of that era. Emma Woodhouse of Emma is a force to be reckoned with, commander of the household she lives in with her father, puppeteer of the social circle she spins and adjusts to her heart's content. Contrary to popular norm, Mr. Knightley moves into her house when they eventually get married. The Dashwood sisters of Sense and Sensibility highlight, through the contrast in their personalities, how one needn't be the perfect demure maiden to find love. And most interestingly Elizabeth Bennett, despite her fame as a strong female character, highlights the liberal bent in her oft-ridiculed mother through the innate sexism that she (Elizabeth) harbours. While Elizabeth and almost everyone else is scandalised that Lydia would deign to run away with a man she loves and then actually find happiness in that marriage, Mrs. Bennett is the only person who is excited for her daughter; the only person to "rail bitterly against the cruelty of settling an estate away from a family of five daughters, in favour of a man whom nobody cared anything about" (Pride and Prejudice). 
It is these little things that make Jane Austen a hero. She noticed the flaws around her, the small and the big, and blew them up for the world to see with razor-sharp cheek and precision. All the while, held back by the limitations of her time while concocting stories that would resonate for decades to follow, she made sure everyone knew who she was – a lady. 
Sarah Anjum Bari is a member of the Editorial department, The Daily Star.