CHINA: A worthy trade partner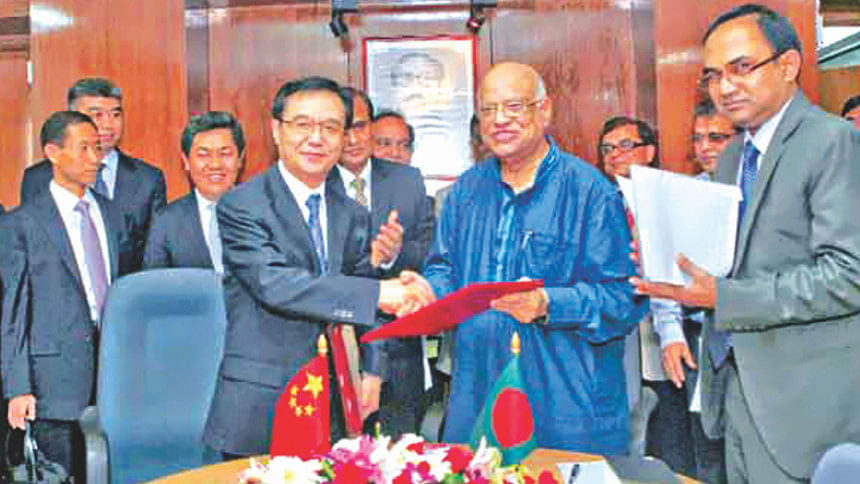 The recent visit of Chinese Commerce Minister Gao Hucheng to Dhaka no doubt reinvigorated the existing bilateral relations, laying greater emphasis on boosting trade and commerce between the two friendly countries. Gao Hucheng is a politician and has been the Commerce Minister of China since March 2013. He formerly served as the Vice Minister of Commerce and Vice Chairman of Guangxi Zhuang Autonomous Region. Experts consider Gao as a competent technocrat and tenacious negotiator with an understanding of Chinese political system.
The visit to Bangladesh by such an important minister can be termed as coming one step closer to a neighbour, as China's foreign policy now gives more emphasis on developing good relations with the countries in the neighbourhood. A high level visit like this has surely given the much needed personal touch and helped discover more avenues for increasing trade and commerce and further improving the already existing friendly relations. Such visits also point to the fact that Bangladesh is being taken more seriously now by our larger neighbours than ever before, as it has become quite clear to them the benefits good relations with the country would bring for their own people. These countries now recognise Bangladesh's potential to graduate from a middle-income country to a high-income one within the next decade, as technology will speed-up the pace of development by that time.   
It is good news that Commerce Minister Gao Huchen termed Bangladesh a development partner and said that China was interested to invest substantially in various projects. For example, China will build the Bangladesh-China Friendship Exhibition Centre in Purbachal on the outskirts of the capital and it has offered 15 to 20 billion dollars in soft loan to Bangladesh, to help expand the railway network across the country.
On her part, Bangladesh Prime Minister Sheikh Hasina announced allocation of land in Chittagong's Anwara upazila for establishing a Chinese Economic and Industrial Zone. She further said that her government will set up 22 special economic zones to facilitate such investments. She reiterated that Bangladesh and China have enormous potential in developing joint venture industries. What is worth noting is the announcement of our prime minister that Bangladesh would invite the Chinese president and premier to the celebrations marking 40 years of diplomatic relations between the two countries this year.
 A glimpse from the past would reveal the basis of the claims of Bangladesh-China friendship. According to a Chinese Embassy source, China-Bangladesh trade volume reached a record high of $10.3 billion with a growth rate of 21.9 percent in 2012, 10 times that of 2002.  The same source reveals that the accumulated investment (including investmenta from Hong Kong and Taiwan) in Bangladesh EPZ reached $1.42 billion at the end of 2013, providing jobs for more than 76,000 Bangladeshis. A growing number of Bangladeshi businessmen are now conducting business in China.
Our export record to China so far looks healthy and encouraging. According to media reports, we exported goods worth $746.19 million in 2013-14, which is a 63 percent increase year on year. In July 2010, China offered a zero-duty benefit for exports of 4,721 types of Bangladeshi products. What might surprise many is that China is likely to be our next big garment export destination. According to Export Promotion Bureau, garments export to China rose by 73.48 percent year on year to $241.37 million in FY 2013-14. In the last fiscal, in July-December period, Bangladesh earned $136.5 million, with 24 percent growth year on year.
According to a RMG sector leader, our garment export to China can cross $1 billion in a year or two. Besides readymade garments, there is tremendous potential for boosting export of our jute, leather and leather-based goods to China.  Agriculture products could also be added to our list of exports to China soon.
China believes that because of strong support from Bangladesh, the initiative of the Bangladesh-China-India-Myanmar Economic Corridor could make substantial progress. Many mega projects and six friendship bridges in Bangladesh have been built by China, and the seventh is under way, including the prestigious Padma Bridge. Many other mega infrastructure projects are progressing with Chinese funds and technical support.
The potential of developing two-way traffic with China in terms of business and socio-cultural exchange is immense. The government surely deserves kudos for being able to forge friendship with a worthy partner like China, standing tall and on equal terms.
The writer is Special Supplements Editor, The Daily Star.