CCTV shows UK girls en route to Syria
CCTV pictures have emerged showing three UK schoolgirls on the Turkish leg of what is believed to have been their journey to join Islamic State in Syria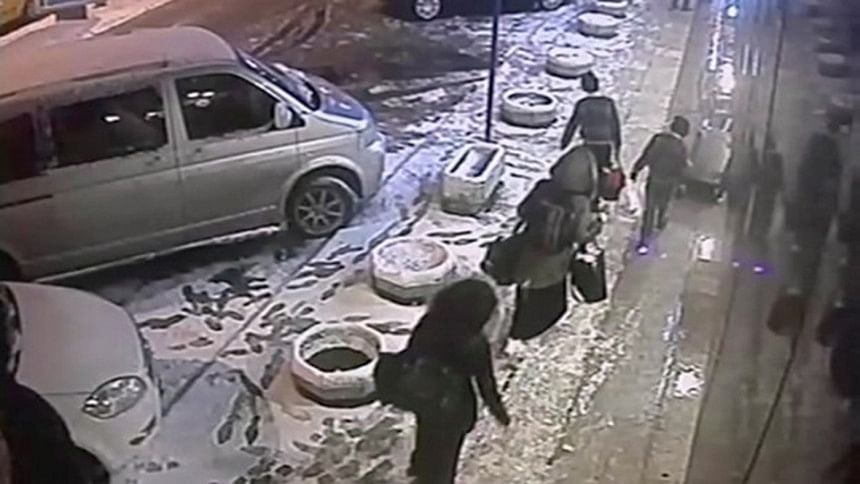 CCTV pictures have emerged showing three UK schoolgirls on the Turkish leg of what is believed to have been their journey to join Islamic State in Syria.
Shamima Begum and Amira Abase, 15, and Kadiza Sultana, 16, flew from London to Istanbul on 17 February.
The images show them waiting at Bayrampasa bus station later that day.
Scotland Yard believes the Bethnal Green Academy students are now in Syria. They are thought to have been met at the border by IS militants.
The BBC understands that the girls waited in the offices of two bus companies at the station, before taking a bus to Urfa, close to the Syrian border, on 18 February.
From there, they are thought to have been driven to a border crossing point by people smugglers.
Time codes on the CCTV images suggest the girls were at the bus station, which is on the European side of Istanbul, for nearly 18 hours.
The five images were taken between 20:27 local time (18:27 GMT) on 17 February and 13:22 (11:22 GMT) on 18 February.
They had flown from Gatwick to Turkey after telling their parents they were going out for the day.
The girls' families have made a number of emotional appeals for them to return home.
'PICKED UP IN CARS'
But sources have suggested the three girls, all described as "straight-A students" at their east London academy, entered Syria near the Kilis border crossing five or six days ago.
BBC correspondent James Reynolds in Gaziantep, south-east Turkey, has been told by a man claiming to be a people smuggler that the girls were driven to the Syrian border.
The man, who called himself Ali Kathem, said the teenagers then walked the few steps into Syria.
A group of waiting IS men "immediately picked them up with cars", he said.
Turkey's Deputy Prime Minister Bulent Arinc has said officials would have taken "necessary measures" to intercept the girls had they known about them earlier.
Scotland Yard has denied taking three days to inform officials in Turkey about the girls' planned journey.
It said it had started working with Turkish authorities a day after the girls went missing.
They had been studying for their GCSEs. A fourth girl from the school is believed to have travelled to Syria in December.
The school has denied the girls could have been radicalised there.