ICC CRICKET WORLD CUP 2015
Australia ward off Sri Lanka scare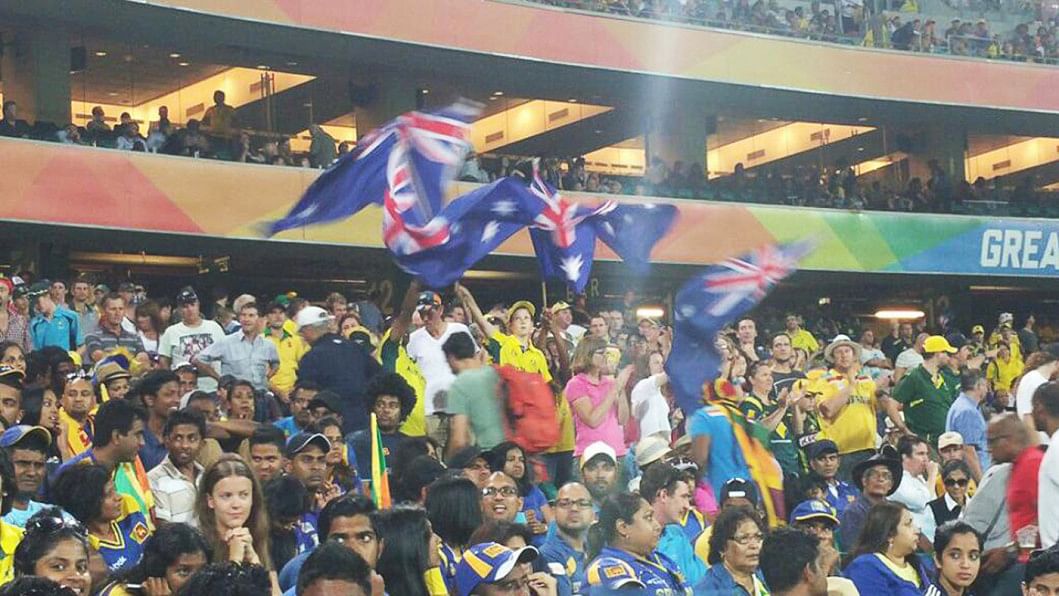 MATCH 31: AUSTRALIA VS SRI LANKA
Australia
376/9 (50 Overs)
Sri Lanka 312 (46.2 Overs)                    Australia won the match by 64 runs
Warding off a brave Sri Lankan fight, Australia emerged on top after a fiery game of high scoring cricket at Sydney in the ICC cricket World Cup 2015 today.
Sri Lankan fans would feel they were in for a chance to chase down mammoth total of 376, had Dinesh Chandimal not retired because of what appeared to be a hamstring injury.
Choosing to bat first, Australia piled the staggering total with help of a string of contributory knocks and an explosive maiden century of Glenn Maxwell.
After the loss of both openers reasonably early, Steven Smith, 72, made the revival 134-run partnership for Australia with Michael Clarke, 68, after choosing to bat first.
Blistering strokeplay by Glenn Maxwell, 102, and Shane Watson, 67, and a gale from Brad Haddin, 25 from nine balls, took Australia to what will be a lot to chase for Sri Lanka.
Lasith Malinga was the bowler of the day who took two wickets for 59 runs in his 10 overs. Thisara Perera claimed two wickets, while Angelo Mathews, Seekkuge Prasanna and Tilakaratne Dilshan took one wicket apiece.
Coming in to chase, Tilakaratne Dilshan, 62, stood up to the Aussies and exploded all over the ground after the early fall of Lahiru Thirimanne. Kuamar Sangakkara's 104 fanned belief in their fans that Sri Lanka can make it.
However, in the end, what appeared to be a crucial point of the match was the retirement of Chandimal from play, after what the Lankans could hold on no longer.
James Faulkner took three wickets for Australia with Mitchell Starc and Mitchell Johnson claiming two each and Shane Watson taking one for himself.
Australia Team
AJ Finch, DA Warner, SR Watson, MJ Clarke (C), SPD Smith, GJ Maxwell, JP Faulkner, BJ Haddin (wk), MG Johnson, MA Starc, XJ Doherty
Sri Lanka Team
HDRL Thirimanne, TM Dilshan, KC Sangakkara (wk), DPMD Jayawardene, AD Mathews (C), LD Chandimal, WU Tharanga, NLTC Perera, S Prasanna, SMSM Senanayake, SL Malinga