What's choking private airlines?
"Due to the high price of jet fuel in Bangladesh, our airlines cannot compete with the foreign airlines."
Poisoned chalice -- is what sums up best Bangladesh's aviation industry.
On paper, it has all the ingredients to be a money-spinner: a unique geographical location that allows it to serve as a transit hub for passengers coming from the Middle-East and Europe to the Asia Pacific, a constantly growing pie of upwardly mobile population and an economy that is staking its claim in the global scheme of things.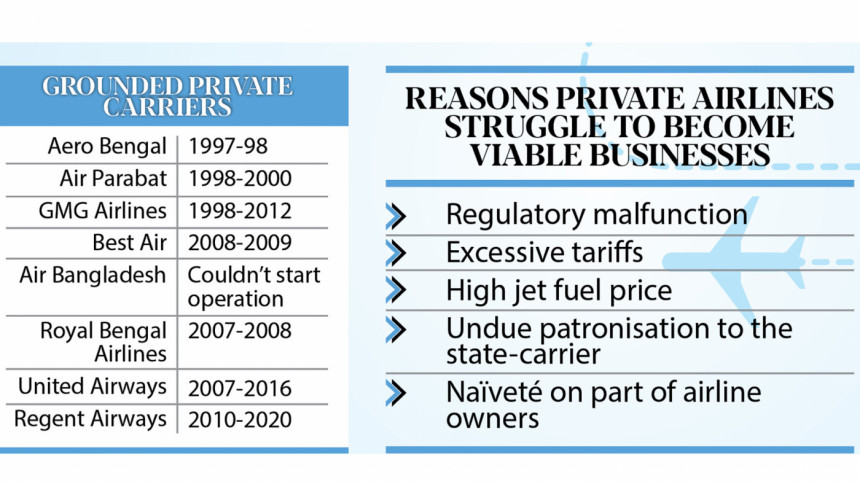 Since 2000, air passenger foot count increased at an average annual rate of 9.1 percent, according to data from the Civil Aviation Authority of Bangladesh. In 2000, 1.3 million opted to travel by air. In 2020, that number heaved to about 6 million.
And yet, in that time, five private carriers came and went, with the existing two barely staying afloat.
"It is a great remorse that the main vehicle of aviation growth that is the aviation operators are beset with neck-deep problems and difficulties in policy execution regime," said an industry veteran on condition of anonymity to speak candidly on the matter.
The Daily Star spoke with a host of industry stakeholders and aviation experts to learn why a potentially lucrative industry has become a poisoned chalice and a picture emerged of regulatory malfunction, excessive tariffs, high jet fuel price, undue patronisation to the state-carrier Biman Bangladesh Airlines and naïveté.
"Here is a vital challenge -- when a private airline has to survive against a government-supported airline in a grossly imperfect competition, the chances of its survival are slim," said MA Momen, a former chief executive officer of Biman and Regent Airways, a subsidiary of Chattogram-based Habib Group.
For starters, to keep aircraft in shipshape at all times, it needs to be serviced regularly and its parts need to be replaced as and when the need arises.
Logic would suggest that the airliners should keep spare parts handy to not disrupt the flight schedule.
And this is where the private operators lose the game to Biman, which has been afforded a bonded warehouse facility as well as a hangar at the airport.
For private airlines -- which operate with a small fleet -- this means a long wait for the spare parts to arrive from abroad and taking the aircraft out of commission until then.
"Biman can quickly change spare parts for its aircraft, but we need to wait for months to import those," said Imran Asif, a former CEO of Regent Airways, which operated from 2010 to 2020.
And even while importing, private airlines have been dealt a bad hand.
While the policy is conducive and business-friendly, the problem arises during the customs clearance for the imported spares parts at the Dhaka Customs House, according to industry stakeholders.
The aircraft and aircraft spares that fall under HS Code 8803 and engines at HS Code 8407 are importable at zero duty.
An aircraft consists of myriads of parts and sub-parts grouped under various heading based on functionality and commonality, all of which are listed in the Illustrated Parts Catalogue (IPC).
But the general explanatory notes under XVII-8803-1 does not contain all the parts listed in IPC. Subsequently, genuine aircraft parts are taxed between 15 to 150 percent, according to industry stakeholders.
The Daily Star obtained a list from operators of their part imports, which denotes how the policies are misinterpreted.
There are multiple numbers of generators used in the aircraft, said to be high-value items. These are taxed under general purpose use generators (HS code 8502.12) at 26.2 percent instead of HS Code 8803.
The aircraft cockpit is equipped with various types of LCD panels and computer displays, all of which are high-value items.
"Here is a vital challenge -- when a private airline has to survive against a government-supported airline in a grossly imperfect competition, the chances of its survival are slim."
These are often arbitrarily taxed about 34.4 percent as well as the corresponding value-added tax under the HS 8528.52.10 code applicable for ordinary LCD television and computer displays.
The rules say that those should be cleared on zero-tax under HS Code 8803.
Documents obtained by The Daily Star show a traffic collision avoidance system transceiver of invoice value $154,000 was taxed at 26.2 percent, a generator of invoice value $40,744 at 37 percent and a strobe light at 127 percent.
"These examples are just the tip of an iceberg," the industry veteran said.
In reality, there is hardly an example that an operator could clear an aircraft part import at zero tax as outlined under HS code 8803.
"Operators face countless hurdles in releasing the imported spares on very flimsy ground and opaque logic, losing valuable time in the process. This puts an operator in an unbearable financial burden," the industry veteran said.
Subsequently, the Aviation Operators Association of Bangladesh (AOAB) called for a clear directive to cease such arbitrary and whimsical practice of taxation.
"When there is doubt, reference to the IPC should be made," the IPC said.
To compound matters, a 5 percent advance tax (AT) has recently been imposed on the import of aircraft, engines and spares.
"This additional tax burden is unbearable for otherwise cash-strapped airlines," he said.
Not just that, an operator needs to send thousands of parts abroad each year for servicing, overhaul and repair and those are taxed again during the re-import.
Aircraft are grounded for sudden unserviceability of critical parts, which are termed as aircraft on ground (AOG).
While the global practice of imports and clearing of AOG imports is 24 hours, in Bangladesh it takes weeks, causing great operational and financial losses to the operator.
Subsequently, the AOAB called for the clearing of the AOG imports in the shortest possible time and ideally following the global practice.
The existence of a bonded facility will not only ease the life of an operator in such a situation; it will also relieve the volumes of workload in the customs house, the AOAB said.
Besides, worldwide parts trading is done on advance payments through the telegraphic transfer of funds but in Bangladesh, the only mode of payment is through letters of credit, said Mofizur Rahman, managing director of Novoair, one of the two private airlines still in operation.
"Sometimes, it takes months to obtain permission for import and export. How do you keep aircraft serviceable with such limitations?"
Other than the bonded warehouse facility, Biman also gets monetary assistance from the government.
The amount of money needed to keep an airline running is colossal, according to Momen.
"Our aviation business enthusiasts hardly take into account the enormity of capital intensiveness to run an airline."
While a syndicated loan of a hundred crores of taka would suffice, such resources are beyond the reach of airlines as they have not earned the credibility that banks demand, he said. 
But Biman faces no such problem as the government acts as its bank guarantor, said a top executive of US-Bangla Airlines, the other functional private carrier, on condition of anonymity.
"We want a level playing field between Biman and the private airlines," he added.
Then there are regulatory roadblocks such as the high rates of surcharges, aeronautical, landing and parking fees and prohibitive jet fuel prices.
GMG Airlines, United Airways and Regent Airways are vivid examples of private operators that had to ground their fleet as the surcharge dues piled up, according to aviation analysts.
Regent Airways, the latest private airline to cease operations, owes Tk 283 crore in surcharge, United Airways Tk 355 crore and GMG Airlines Tk 368 crore, according to data from the CAAB.
"Once you fall into a backlog with the surcharge payments, there is no chance for you to turn around. The surcharge is a major reason why the airlines are struggling," the industry veteran said.
The annual surcharge imposed by CAAB is 72 percent, whereas in India it is 12 to 18 percent, in Pakistan 2 percent, in Singapore 8 percent, in Oman 10 percent.
Subsequently, Rahman, also the secretary-general of AOAB, demanded that the government fix the surcharge at a reasonable rate by cancelling the monthly rate of 6 percent.
The aeronautical, landing and parking charges are very high compared with the other countries in the region.
For instance, Indian airlines do not have to pay any landing or parking fees for aircraft with 80 or fewer seats, according to Rahman.
The aeronautical and non-aeronautical charges in Bangladesh are seven times higher than in India.
When Regent Airways was introducing the Dhaka-Singapore and the Dhaka-Kuala Lumpur route, both the airport authorities had offered to waive all charges for a whole year as a gesture of goodwill as well as a strategy for long-term business, according to Momen.
"We have not practised such even for our homegrown aviation entrepreneurs," he said.
Subsequently, Rahman called for rationalising the charges to help the airlines to sustain themselves.
Quizzed about the high rates of surcharge and the aeronautical and non-aeronautical fees for which many airlines were forced to cease their operation, M Mafidur Rahman, chairman of CAAB, said the government will extend all-out support to the private airlines so that they can sustain and the country's aviation sector can flourish.
Still, if the high jet fuel prices are not addressed, the local airlines cannot have a proper shot at sustainability.
About 40 to 46 percent of the operating costs of an airline is comprised of jet fuel, according to Rahman.
And all airlines in Bangladesh pay a higher price for jet fuel compared with their global competitors, according to Momen.
The price per litre of jet fuel in Bangladesh is $0.69, in contrast to $0.5 in Malaysia and India, $0.49 in Singapore, $0.51 in Qatar and Thailand, $0.53 in Oman, and $0.58 in China.
On top of the high jet fuel price, the local airlines have to pay 42.62 percent VAT on fuel for domestic routes, according to Rahman. In contrast, the VAT is less than 6 percent in Myanmar and India.
Since October last year, the state-owned Padma Oil, the lone supplier of jet fuel to airlines, hiked the prices seven times.
Besides, when the global crude oil price comes down to less than a half, the local airlines cannot reap the benefits as the prices charged to them remains unchanged, according to Momen. "This monumental blunder needs to be focused upon," he said.
"Due to the high price of jet fuel in Bangladesh, our airlines cannot compete with the foreign airlines," said Kazi Wahidul Alam, an aviation expert.
The CAAB chief begs to differ.
"Different private airlines were compelled to shut down their operations over the years due to their wrong marketing polity, faulty planning and mismanagement," he said.
Many entrepreneurs enter the airline business to make a profit within a few years.
"But they will have to understand that the aviation business is not like the other types of business," the CAAB chairman added.
M Mahbub Ali, state minister for civil aviation and tourism, acknowledged that the high surcharge and high import duty for spares were one of the reasons why the airline industry is facing hardship.
The ministry will sit with the finance ministry to address the issue.
"Without the approval of the finance ministry, we won't be able to reduce the rates of those charges. But, there are 99 other reasons for which different airlines were forced to shut down their operations over the years."
When asked to elaborate, Ali, who assumed the role in 2019, said: "The airlines business is not like the other types of business. India is doing business all over the world in different sectors. But its national airline, Air India, became bankrupt. Not only in India, but different airlines across the world also ceased to operate in recent years."   
On October 8 last year, Air India, which racked up losses of about $9.5 billion, was sold to Tata Sons for $2.4 billion.
Asked what the government is doing to overcome the hardship the local airlines are facing, Ali said the present government is providing all kinds of support to the industry. 
He however declined to elaborate on ways the government is supporting the sector.
But the CAAB chairman and Ali's proclamations do have some legs.
ATM Nazrul Islam, an aviation expert who worked with different private airlines, said the defunct airlines had ineffectual marketing policies as well as wrong aircraft and route selection.
Aviation companies mainly fail due to improper planning and lack of market analysis, he said, citing the example of GMG Airlines's procurement of a 540-seater Boeing 747 aircraft to serve the commercially unviable Dhaka-Dubai route as a case in point.
The Boeing 747 procurement was one of the reasons for GMG Airlines's downfall, while United Airways's fleet of 11 was disproportionate for the number of routes it operated, according to Momen.
"You don't have to be a rocket scientist or a Joseph Stiglitz of economics to run an airline. The wisdom and practices of a corner shop owner are fairly adequate to run an airline -- fly where you can make money and give up the routes where you experience bleeding," he added.
It is, perhaps, with this frame of reference that two new private carriers -- Air Astra and Fly Dhaka -- are taxing for take-off this year.
Air Astra has received the no-objection certificate (NOC) from CAAB and is now awaiting the air operator certificate, according to Asif, its CEO.
Fly Dhaka is yet to get the CAAB's AOC, said its MD Anisul Islam Mahmud, also a Jatiya Party lawmaker.