Bangladeshi expats in Iraq confined, tortured, extorted by syndicate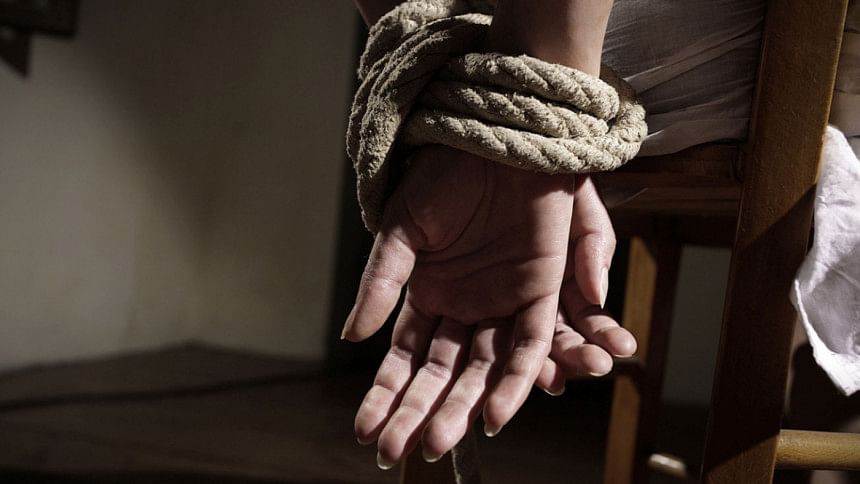 Inside the torture cell, when there was no water, urine was offered as a substitute.
No one was allowed to go to the toilet. There wasn't any food. Torture came in phases every day. Bodies left on the floor with their limbs tied was a constant, and so were electric shocks.
With tears rolling down his eyes, Kurigram's Rafiqul Islam narrated the ordeal of his younger brother Nazrul Islam, at the hands of a "human trafficking syndicate" in Iraq. Nazrul was in their "torture cell" for over a month.
Rafiq said he only managed to free his brother after paying Tk 2.20 lakh to the traffickers, for which he had to sell land in his village.
The story began four years ago, when Nazrul set out for Iraq, paying Tk 4.6 lakh. Once there, he started working as a restaurant staffer in Baghdad.
Recently, Nazrul got in touch with some Bangladeshis living in Iraq, who told him that they can arrange for the lucrative "Akama" (work permit) and a job in a madrasa, but only if he accompanies them.
In January this year, he finally went with them.
"For two days, we found his cell phone switched off," said Rafiqul. "Finally, there was the dreaded phone call on my 'Imo' app. On the other side, my brother was crying," he told The Daily Star yesterday.
"Save me brother," Nazrul cried out.
At first, his captors asked for Tk 15 lakh for Nazrul's release, Rafiqul said.
Fortunately, the family managed to negotiate a lower amount. "They released Nazrul after we sent them the agreed amount on a mobile financial service number in Bangladesh," he said.
Released from captivity, Nazrul informed his brother there were around five more Bangladeshis confined in that room of terror in Iraq.
On Monday night, using the transaction link, police's detective branch (Gulshan division) arrested two members of the syndicate, including an incumbent Union Parishad member from Dhaka and Faridpur.
The arrestees are Jashim Fakir (43), member of Faridpur's Ramkrishnapur Union Ward-6, and his brother-in-law Mahbub Hossain (23).
The arrestees and detectives said it was Jashim's younger brother Jahirul Islam, nephew Shah Alam, cousin Sultan and Rajbari resident Md Sihab who were running the torture cell in Iraq, trapping Bangladeshi expatriates by offering Iraqi work permits. They worked in co-ordination with Jashim and Mahbub in Bangladesh, who were tasked with collecting the money.
This newspaper compiled the info after talking to victims, arrestees when they were on their way to court and investigators.
INVOLVEMENT OF LOCALS IN IRAQ
Detectives said along with the four Bangladeshis leading the syndicate from Iraq, the syndicate also has local members.
To confine the victims, the syndicate rents out small rooms in the middle of the desert, under Kirkuk. However, though such rooms only cost around 20 dirham, they pay the owners over 100 dirham per month.
"We started our investigation after the Bangladesh embassy in Iraq forwarded a complaint to us. A single family is leading the torture cell, raking in a huge sum of money," Khalilur Rahman, assistant commissioner of DB police, told The Daily Star.
"We have found transaction details of Tk 31 lakh for the last one month by analysing the account history of the arrestees," said AC Khalilur.
TRAFFICKERS USE SPECIAL VEHICLES, NUMBERS FOR COMMUNICATION
Talking to The Daily Star, wife of another victim, Md Mainuddin, said his husband was lured in by the promise of a madrasa job and work permit.
Mainuddin was in Iraq since 2017.
"My husband first called me on January 6 and asked me to pay Tk 4 lakh. But he didn't make a video call," she told The Daily Star. This continued for three days. The captors never spoke to Farzana themselves.
"At one point, I told him I'll only send the money if you make a video call, which is when his captors allowed him to appear on camera for a 30-second call."
"When I saw him, he had injury marks on his eyes," she said.
"I paid around Tk 4.90 lakh to around a dozen mobile financing accounts, and another Tk 45,000 for my husband's journey from the desert to the city," said Farzana.
According to Farzana, the gang drove a special, "government-type" vehicle in Iraq.
JOURNEY STARTS FROM TRAFFICKING PEOPLE
Police said arrested Jashim was in Iraq for 17 months, during with he learned how to carry out the crime, investigators said.
The syndicate has been involved in human trafficking since 2012, with Jashim accused in two previously filed human trafficking cases. He even got arrested in 2019, said police.
Mashiur Rahman, deputy commissioner of DB police, said they first send people illegally to Iraq, charging around Tk 4.60 lakh, before imprisoning them and extorting money from them.
To send people there from Bangladesh, they resort to obtaining visiting visas. First, they send people to India then Dubai then Iran, and finally to Iraq, said DC Mashiur.
"We've come to know that several syndicates are active behind trafficking people and are looking for them," he added.