Video shows police shot black man over 60 times in US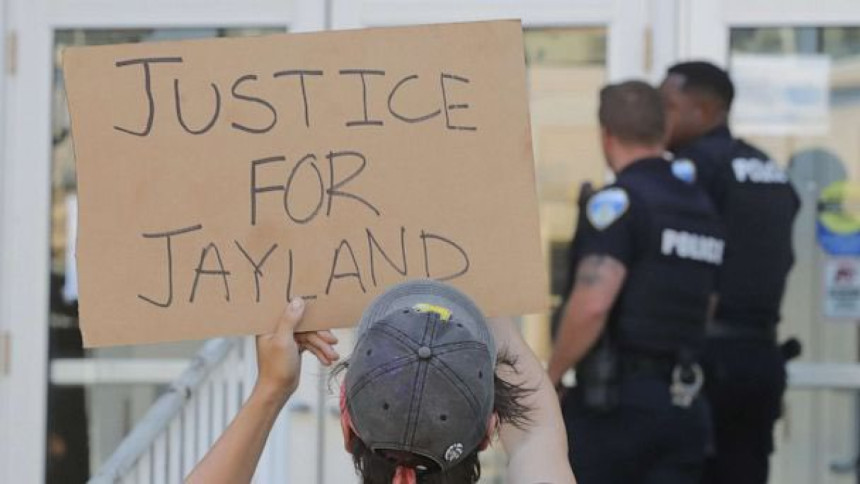 The video of a chase in Akron, Ohio, where a black man was shot dead after being hit more than 60 times by pursuing police, has been made public by US police.
Police said they believe Jayland Walker (25), fired the first shot during the June 27 night time traffic stop, which caused police to fear for their lives, reports BBC.
Police have claimed a pistol was later discovered inside Walker's car, despite the fact that he was unarmed when he fled from it.
Akron's mayor has requested locals to show patience as protests began. Seven of the eight officers who took part in the shooting are white, and one is black.
All eight have been placed on paid administrative leave. Walker's family attorney claimed that even after he was on the ground, the officers continued to fire, reports BBC.
After the clip was made public on Sunday, Mayor Daniel Horrigan said, "The video is heartbreaking and difficult to take in." While Akron police are conducting a separate internal investigation into whether officers violated departmental rules or policies, state attorney general Dave Yost vowed a "full, impartial, and expert inquiry" by the Ohio Bureau of Criminal Investigation.
The National Association for the Advancement of Colored People's president, Derrick Johnson, branded Walker's demise as "murder. Point blank".
On Monday, June 27, around 3:30am, Jayland Walker's vehicle was stopped for a regular traffic check. According to Akron Police Chief Steve Mylett, who was quoted by the Associated Press news agency, a shot was heard coming from the vehicle, and a traffic camera caught what seemed to be a muzzle flare, reports BBC.
An individual wearing a ski mask is shown on police body cameras exiting the vehicle and sprinting into a parking lot while being pursued by policemen for about 10 seconds before they open fire. As per authorities, one officer attempted to deploy a stun gun first but was unsuccessful.
According to Police Chief Mylett, Walker looked to be turning toward an officer in one still image and to be "moving down to his waist area" in another. He said that the third shot "captures a forward motion of his arm."
A bullet casing that matched the weapon was also discovered nearby, in addition to the pistol that was discovered on a seat in the car with a loaded magazine, police say.
Bobby DiCello, the victim family's attorney, claimed that officers shot Walker while he was on the ground then detained him before attempting to administer first aid.
The Walker family provided the following statement to CBS News: "Anger is okay. It's normal to feel angry. It is not violent. Let's maintain Jayland's life's dignity while requesting justice for him in a nonviolent manner."