US House rejects McCarthy for 5th time despite Trump plea for unity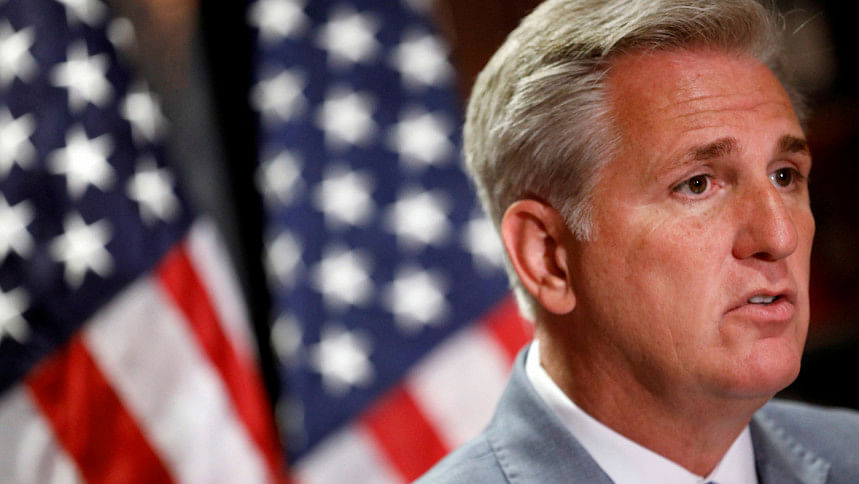 Republicans in the US House of Representatives struggled with a second day of division on Wednesday as a stubborn band of holdouts refused to back Kevin McCarthy's bid to lead the chamber, defying former President Donald Trump's call for unity.
Despite Trump's appeal, McCarthy fell short in a fourth vote for House speaker and was on track to lose a fifth vote as well, as roughly 20 Republicans on the party's right flank refused to back a candidate they saw as ideologically unreliable.
McCarthy, a congressman from California who has served as the top House Republican since 2019, weathered the first three failed votes on Tuesday. The last time the House failed to elect a speaker on the first ballot was 1923.
The leadership fight has provided a dismaying start for the new Republican majority in the House after the party managed to secure a slim majority in the chamber - 222-212 - in the November midterm elections. The internal struggle underscores the challenges the party could face over the next two years, heading into the 2024 presidential election.
McCarthy secured only 201 votes on Wednesday, as 20 Republicans voted for Representative Byron Donalds, a Florida Republican first elected in 2020, and one Republican declined to back a specific candidate. After McCarthy again fell short, the House moved toward holding a fifth vote.
"I think the path is very difficult right now for Kevin," Donalds told Fox News after the vote.
All 212 of the chamber's Democrats voted for their leader, Hakeem Jeffries.
With a fifth vote underway, many of those holdouts again voted for Donalds.
McCarthy said he ultimately will prevail, though it was unclear what path - if any - he had to secure a majority.
"The conversation will continue. We'll get there," McCarthy told reporters before Wednesday's vote.
Opponents said the leadership fight could drag on for weeks.
"It's worth taking a few days or a few weeks to get the best possible speaker," said Republican Representative Bob Good, one of the holdouts.
The vote is also a rebuke of Trump, who urged fellow Republicans ahead of the vote to set aside their differences.
"It's now time for all of our GREAT Republican House Members to VOTE FOR KEVIN," Trump wrote on his social media site Truth Social on Wednesday morning ahead of the day's voting.
Trump remains an influential figure among Republicans and is so far the only announced presidential candidate for 2024. Some in the party have blamed Trump for Republicans failing to win more House seats in the midterms.
Hardliners called on him to take another tack.
"The president needs to tell Kevin McCarthy, 'Sir, you do not have the votes and it's time to withdraw,'" said Republican Representative Lauren Boebert said, referring to Trump.
The weaker-than-expected performance in the midterm elections contributed to the House leadership crisis by leaving McCarthy dependent upon the support of a small group of hardliners in his party. That group wants greater control over leadership and more influence over the party's approach to spending and debt.
HOUSE UNRUDDERED
Republican control of the House could empower the party to frustrate Democratic President Joe Biden's legislative agenda. But the leadership standoff raised questions about whether the House will be able to meet basic obligations such as funding government operations, let alone advance other policy priorities ahead of the 2024 presidential election.
"This is not a good look," Biden said of the House leadership struggle, speaking to reporters at the White House. "It's not a good thing. This is the United States of America, and I hope they get their act together."
Trump paired his endorsement of McCarthy with a racist insult of Senate Republican Leader Mitch McConnell's wife. McConnell was due to appear on Wednesday with Biden in Kentucky to highlight infrastructure investments included in a bipartisan bill passed in 2021.
The House hardliners have blasted such legislative compromises, raising fears about the ability of Congress to prevent default when the federal government approaches its debt ceiling later this year.
POTENTIAL ALTERNATIVES
McCarthy's opponents on Tuesday selected conservative Representative Jim Jordan of Ohio as their candidate. Jordan backs McCarthy and said on Wednesday he has urged hardliners not to nominate him.
Incoming House Majority Leader Steve Scalise of Louisiana also was seen as a possible alternative for speaker.
Tuesday's session, which involved about five hours of failed votes, made Republicans a target of ridicule by Democrats. McCarthy drew only 202 votes on the final ballot before the House adjourned.
The right-wing rebellion ratcheted up frustrations among other Republicans, who said McCarthy's opponents were stalling plans to investigate Biden and his administration and advance legislative priorities on immigration, energy and other matters.
Some Republicans said continued obstruction could lead them to work with Democrats to elect a moderate Republican as speaker. Jeffries told reporters that Republicans had not approached Democrats about that option.