Ukraine 'will never forgive' Moscow
Says Zelensky on Bucha anniv; Russia rules out Ukraine halt despite Belarus' call for truce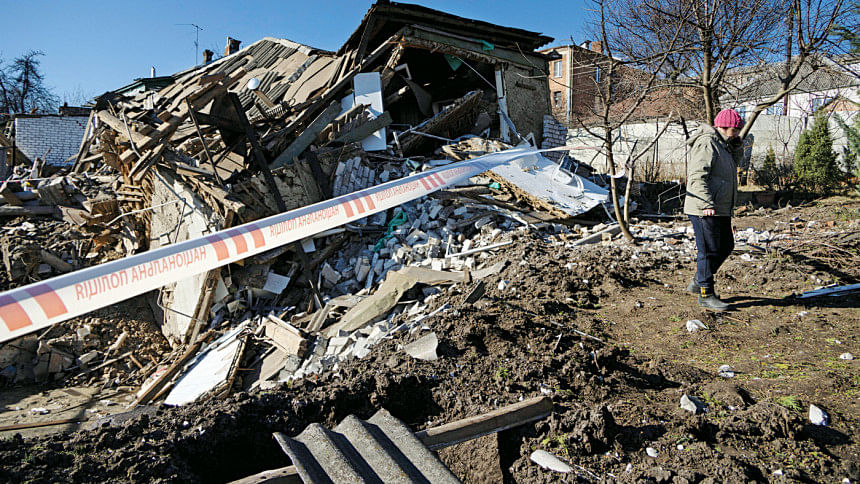 President Volodymyr Zelensky said yesterday that Ukraine would "never forgive" Moscow for its occupation of Bucha, a year after the town became a symbol of alleged Russian war crimes.
Russian forces pulled back from the commuter town northwest of Kyiv on March 31, 2022, just over one month after President Vladimir Putin ordered his troops to invade Ukraine.
AFP journalists on April 2 last year discovered the bodies of at least 20 people in civilian clothing, some with their hands tied behind their backs, lying in a street of the suburb.
Zelensky said Bucha had become "a symbol of the atrocities" committed by Russian forces, who have been linked to the extra-judicial killings of unarmed civilians in Bucha.
"We will never forgive. We will punish every perpetrator," Zelensky said in a statement on social media. "The battle for the foundation of the free world is taking place on Ukrainian land. We will definitely win. Russian evil will fall, right here in Ukraine."
Ukraine and its Western allies have accused Russian troops of war crimes after the discoveries, pointing to an abundance of footage and witness accounts.
Prosecutors in Kyiv say Russian forces killed some 1,400 civilians around Bucha and that they have identified dozens of Russian soldiers responsible. But Moscow denies the accusations, claiming the atrocities in Bucha were staged.
In Geneva, UN rights chief Volker Turk warned Russia's war in Ukraine had made severe rights violations "shockingly routine" and was distracting humanity from battling existential threats to its survival.
Belarus strongman leader Alexander Lukashenko, who is a close ally of the Kremlin, meanwhile urged Moscow and Kyiv to broker a "truce" in Ukraine and start negotiations.
The Kremlin, however, ruled out a truce in Ukraine. "Nothing is changing in the context of Ukraine," Kremlin spokesman Dmitry Peskov told reporters. "The special military operation is continuing, since this is the only way to achieve the goals that our country has today."
In Moscow, President Vladimir Putin yesterday signed off on a new foreign policy strategy aimed at countering the West's global "dominance" and naming China and India as key partners in future.
The document also described Russia as a "state-civilisation" tasked with defending what it called the "Russian world".
In Washington, President Joe Biden yesterday called for Russia to release Wall Street Journal reporter Evan Gershkovich, who is being held on espionage charges, while rebuffing a call from the paper's editorial board to expel Russian journalists from the United States.
Asked by White House reporters what his message was to Russia regarding Gershkovich, a US citizen, Biden said: "Let him go."
On the battlefield, at least six Russian missiles hit the eastern Ukrainian city of Kharkiv late on Thursday night, and officials are gathering details about damage and casualties, said regional governor Oleh Sinegubov.
"The enemy is attacking Kharkiv again. At least 6 'arrivals' have been recorded," Sinegubov wrote on the Telegram messaging app.
Preliminary information suggested that S-300 anti-aircraft missiles were responsible, he said.