Ukraine shoots down drones over Kyiv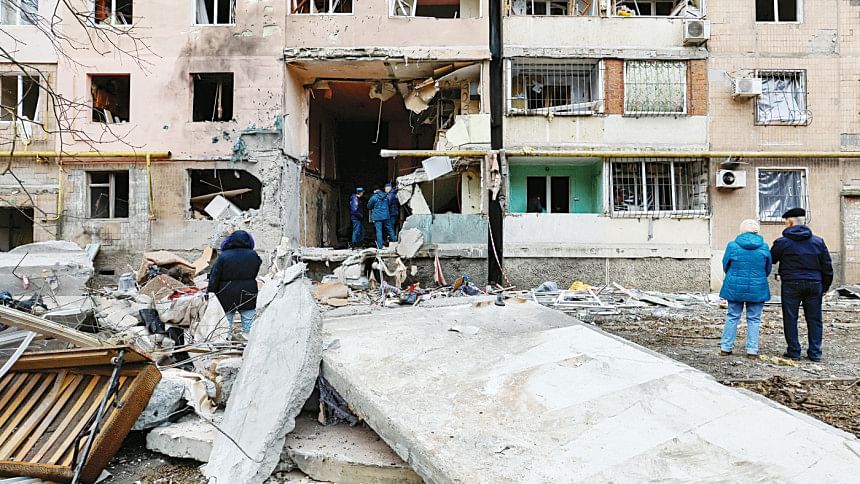 Ukraine yesterday said it had shot down a dozen Russian drones over the capital Kyiv, adding that there had been no casualties as a result of Moscow's latest aerial barrage.
Single-use drones were key to a series of attacks that Russia launched against Ukrainian infrastructure over the winter months, disrupting heat, water and electricity supplies to much of the population.
"In total, 12 enemy UAVs of this type were detected and destroyed by... air defence forces in the airspace of Kyiv," said the head of the city's military administration, Sergiy Popko. "There were no victims."
He said "a non-residential building caught fire due to falling UAV wreckage" and the fire had been extinguished.
The Ukrainian armed forces said that Russia had launched a total of 15 Iranian-made drones at the country overnight and that 14 of them had been destroyed, reports AFP.
Ukraine's President Volodymyr Zelensky said Russian troops were holding the Zaporizhzhia nuclear plant "hostage" and its safety could not be guaranteed until they left it, while his forces shut off the frontline town of Avdiivka as they planned their next move.
His comments followed a meeting with Rafael Grossi, the director general of the International Atomic Energy Agency (IAEA), at the Dnipro hydroelectric power station - northeast of the Zaporizhzhia plant on Monday night.
On the battlefield, Russian forces appear to be focusing on Avdiivka, 90 km south of the devastated mining town of Bakhmut.
A Moscow-installed official said yesterday that Russian forces are still edging forward in the shattered eastern Ukrainian city of Bakhmut, but British intelligence said a Russian tank division had suffered heavy losses in the nearby town of Avdiivka.
Denis Pushilin, the Russian-installed leader of the part of Donetsk region under Moscow's control, said most Ukrainian forces had been forced to pull back from the AZOM metals factory on the western side of the Bakhmutka river in the city.
His claims ran counter to Ukrainian and Western assertions that the situation in Bakhmut is stabilising and that Russia's winter offensive is faltering, reports Reuters.
In its daily update on the war in Ukraine yesterday, Britain's defence ministry said Russian forces had made only "marginal progress" in an attempt to encircle Avdiivka in recent days and had lost many armoured vehicles and tanks.
Russia's 10th Tank Regiment, taking part in the Avdiivka operation, was dogged by problems of ill-discipline and poor morale, and had "likely lost a large proportion of its tanks" it said.
In another sign of the pressure Moscow is facing, Russia said yesterday it had for the first time shot down a US-supplied GLSDB guided smart bomb fired by Ukrainian forces.
The Ground-launched Small Diameter Bomb, long sought by Kyiv to hit Russian command centres and supply lines, could double Ukraine's battlefield firing range.
Belarus's foreign ministry, meanwhile, said it had agreed to host the nuclear weapons in order to protect itself after years of "unprecedented pressure" from the West. It said the move did not contravene international non-proliferation agreements.
Ukraine and its Western allies have denounced the plan.