BSC gets $14.37m compensation for missile-hit Banglar Samriddhi in Ukraine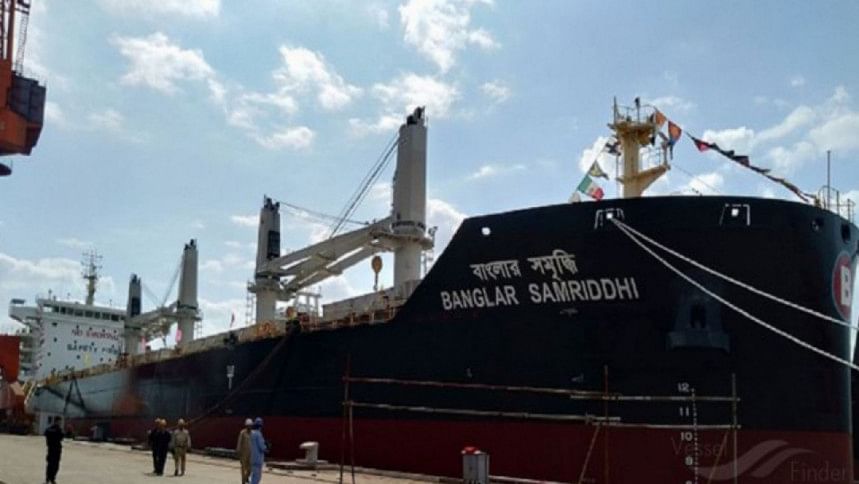 The Bangladesh Shipping Corporation (BSC) has been paid $14.37 million insurance claim for its damaged vessel Banglar Samriddhi hit by a missile in a Ukrainian port last year immediately after Russian invasion in Ukraine.
Sadharan Bima Corporation, the insurer of the ship, deposited the amount as compensation to a local bank account of BSC on March 21, according to a press release issued by BSC, reports our Chattogram staff correspondent.
The amount is equivalent to the market value of the ship, the release added.
The BSC bulk carrier Banglar Samriddhi got stranded in Ukraine as Russian invasion started soon after it anchored at the outer anchorage of Ukrainian port of Olvia on February 23 last year.
A week later the ship was hit by a missile on March 2 afternoon leaving its 3rd Engineer Hadisur Rahman killed and damaging its bridge room completely.
The government announced the vessel abandoned after evacuating all the rest crewmembers safely.
With the help of the Ministry of Shipping, Ministry of Foreign Affairs, and Bangladesh Embassies in Poland and Romania, BSC was able to bring sailors of the ship back to the country on March 9 last year, and could bring back the dead body of the deceased engineer Hadisur on March 14.
Accordingly, BSC sent a formal Notice and Abandon to the state-owned insurance company Sadharon Bima Corporation and also submitted a Constructive Total Loss (CTL) claim, read the press release.
BSC made an insurance claim of $22.48 million from Sadharon Bima Corporation.
As per the Blocking & Trapping Clause of the insurance contract, the BSC was paid $14.37 million in compensation, excluding insurance premiums, from the claimed amount, stated the release.