Sabalenka breaks thru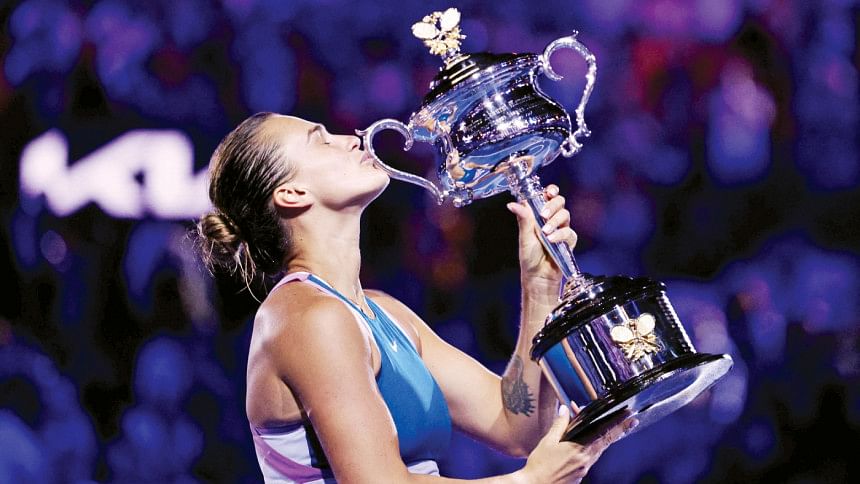 Aryna Sabalenka powered her way to a maiden Grand Slam title at the Australian Open with a 4-6, 6-3, 6-4 win over Kazakh 22nd seed Elena Rybakina on Saturday in a thrilling final.
With Russian and Belarusian players only allowed to compete as individual athletes without national affiliation at Melbourne Park due Moscow's invasion of Ukraine, fifth seed Sabalenka also became the first neutral athlete to win a major.
Success has followed a period of introspection and change for Sabalenka, who had often appeared to let her emotions halt her progress on the big stage, as she dropped her sports psychologist in pre-season. Sabalenka also worked with a biomechanics trainer to improve her cannonball serve, which tended to fail her in big moments in the past, and the results were evident before the year's first Grand Slam as she won the Adelaide International 1 title.
After finally securing her first Grand Slam on Saturday, she dropped to the floor in delight and then walked up to Rybakina's side of the court to hug her before embracing her emotional entourage in the players' box. Her coach Anton Dubrov was seen crying with joy at one point.
Afterwards, Sabalenka opined that she was playing a "boring" brand of tennis. The result: she has won all 11 of her matches this year and 22 of 23 sets.
"I wish I would be like that few years ago," Sabalenka said, smiling. "Finally I understand what everyone was looking for and asking for. I need to be a little bit boring on court. I was trying to less screaming after some bad points or some errors. I was just, like, trying to hold myself, stay calm, just think about the next point."
Rybakina, who triumphed at Wimbledon last year, came into the final high on confidence as the first woman since Jennifer Capriati in 2001 to beat three Grand Slam winners along the way after toppling Swiatek, Jelena Ostapenko and Victoria Azarenka.
Rybakina congratulated Sabalenka and acknowledged how hard her opponent had worked for her first major title.
"Hopefully we're going to have many more battles," she said. "I had goosebumps when everyone was cheering for us... I'm looking forward to coming back next year. It was an amazing two weeks for me and hopefully I'm going to have the same results and even better."