Sustainer of life or angel of death?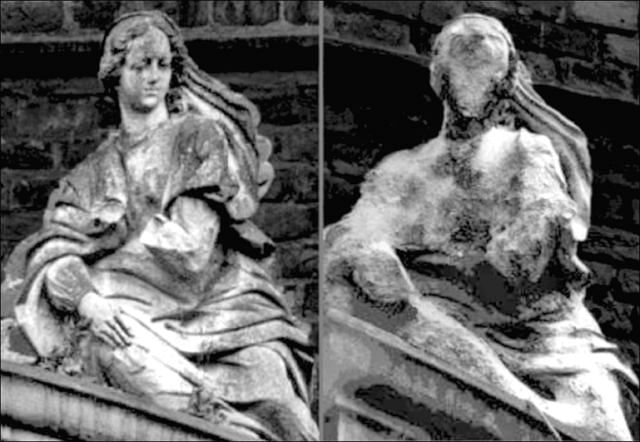 Nothing could be more refreshing and exhilarating to a Bangali than the cool breeze and pouring rain of the magical monsoon season. It is the season of thunder and lightning, of dark clouds opening up their "vaults for the thirsty earth."  It is the season of pathos and passion, of mirth and euphoria, filling our heart with emotions, nostalgia, and romance.
Despite the pristine beauty and boundless joy of the season, monsoon is also the harbinger of slow death and destruction of flora and fauna. With each drop of rain, we stare at a calamity caused by our hunger for creature comforts. To satisfy this hunger, huge amount of acid precursors - oxides of sulfur and nitrogen, primarily from fossil fuel burning power plants and automobile emissions, are released into the atmosphere. These gases react with atmospheric water to form sulfuric and nitric acids, making rain water more acidic than what it normally is. The acids eventually fall back on the Earth's surface in either wet form (rain, snow, and fog) or dry form (gas and acidic particles).
Acidity or alkalinity is measured in terms of percent of hydrogen (pH) present in a solution. The pH scale ranges from 0 to 14, with 0 representing most acidic. A pH of 7 is neutral; anything less than 7 is acidic and greater is alkaline. The pH of unpolluted rain water is around 5.7, indicating it is not quite a neutral liquid. The slight acidity is due to the presence of carbonic acid formed from carbon dioxide present in the atmosphere. Water in acid rain has a pH less than 5. The pH scale is logarithmic; a change of 1 corresponds to a change by a factor of 10 in the concentration of hydrogen ion in the solution.
The damage caused by both dry and wet depositions is of growing concern for the environment. In terms of global atmospheric problems, the ramifications of acid precipitation are considered second only to carbon dioxide and greenhouse effect. The problem is non-local because acid precursors and acids deposited in many regions of the world often originate from pollution sources many hundreds of kilometers away. Acidification problem in cold countries becomes "episodic" during brief periods of low pH levels from snowmelt or heavy downpours.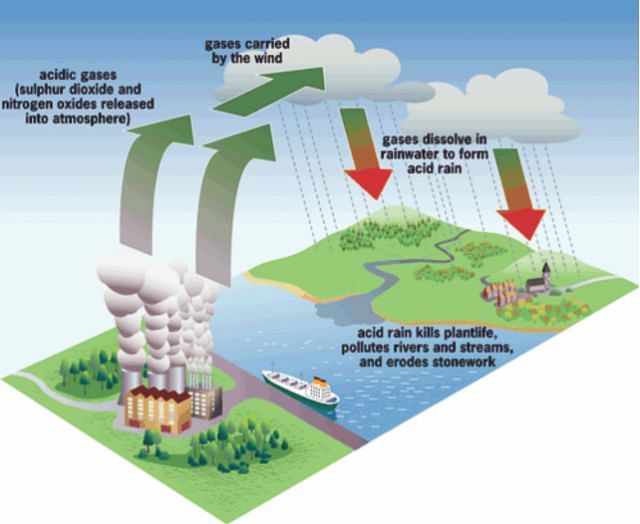 Acid rain can cause extensive damage to buildings, statues, and sculptures which are part of a nation's cultural heritage. Marble is particularly vulnerable, stone is eroded, and bronze is eaten away. The dry deposition is just as harmful as wet one. The dry acidic particles slowly corrode metals. This can have disastrous effect on railroad tracks, airplanes, steel bridges, and pipes.
Acidification of lakes and streams with a pH level below 5 has detrimental effects on aquatic life. Reproduction in fish falters. The newly hatched ones will not survive a pH level below 5.0, or if they do survive, they will be deformed. Amphibians and invertebrates suffer similarly, with the result that highly acidic lakes have little marine life. Aquatic plants are also adversely affected by acidity.
A below normal pH will release aluminum and magnesium from the soil surrounding a lake, leading to clogging of fish gills and gradual suffocation. Birds eating aquatic insects living in acidified waters have elevated levels of aluminum in their bones. The aluminum interferes with normal calcium deposition, resulting in defective eggshells and fewer offspring.
Acid rain also damages vegetation, especially high-altitude trees. They damage crops and plants by altering the soil. Acid inhibits photosynthesis, a process by which plants produce carbohydrates and other important chemicals. Essential elements from the soil may be leached, resulting in lower yield and reduced agricultural output.
Both wet and dry depositions are harmful to human health. It has been established that lung disorders such as asthma and bronchitis are related to concentration of acid in the atmosphere. Long exposure to acid rain could burn skin
At times it seems we have completely lost touch with the magnitude of the problems we created for our environment. It is under attack from us, from insidious nibbling to outright onslaught. We have to unburden ourselves from the frontier mentality that we own this planet. We don't. According to Native American Chief Seattle, it belongs to our children and we borrowed it from them.
The writer is a Professor in the Department of Physics & Engineering Physics, Fordham University, New York.