'Counselling for Sabbir, break for Soumya'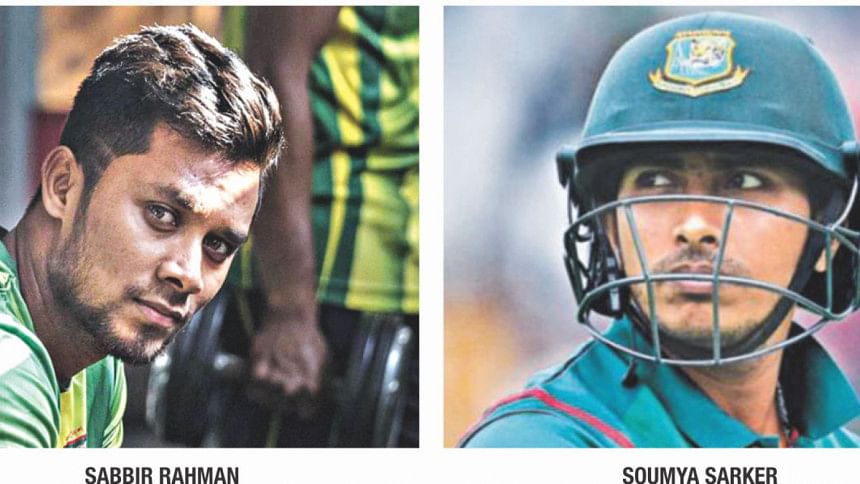 Things could have been much better for Bangladesh cricket at this moment had two talented cricketers -- Sabbir Rahman and Soumya Sarker --delivered as per their potentials.
It was a story of the Big Five as the Tigers celebrated the recent ODI and T20I series successes against the West Indies, despite the fact that young pacer Mustafizur Rahman started to rediscover his form and Liton Das, Nazmul Islam and Abu Hider showed some glimpses of hope.
However, among all those positives the biggest disappointment was associated with the failures of Sabbir and Soumya, who were expected to take leading roles in the team after spending the most time in international cricket after the senior campaigners.
Nazmul Abedin Fahim, the former game development manager who is currently in charge of the Bangladesh Cricket Board's (BCB) Women's Wing, believed that these two highly talented players have the potential to bring balance to the side but they desperately need some good analysis of their performances and take some initiatives accordingly to regain their rhythm.
"Soumya can take one step back... I mean the management can give him a break from international cricket for a while and take proper care [of him] in the domestic circuit and A team. On the other hand, Sabbir requires some proper counselling so he can find balance in his on-and-off-field performances," suggested Fahim, who is a mentor to many stars and young cricketers in the country.
"It would be a big loss for our cricket if they get lost from the scene because we desperately need these kinds of talented players -- not only will the board's long investment will go in vain but the reality is that we don't have available cricketers of their calibre," he added.
It was an unpleasant sight for Fahim to see the 26-year old Sabbir -- who has so far played 11 Tests, 54 ODIs and 41 T20Is since making his international debut in February 2014 -- still struggling to understand what it means to play with responsibility.
"I don't think Sabbir has any big problem with his technique. His problem lies with his tactics. He is not organised either on or off the field as he lives with a false aggression. He is such a good player who has got the ability to quickly change gears while batting but he was far away from implementing it. See, cricket is such a game where off the field affairs will also reflect in your performance, so he should work with tactical issues if he wants to overcome this situation," advised Fahim.
"If you think about Bangladesh's perfect opening pair then it is the duo of Tamim and Soumya who can give it to you. If you expect long innings from Tamim then you need someone, a good stroke-maker, on the other end. Tell me who can be a better choice than Soumya? What was expected was that in five innings, Tamim would deliver in three and Soumya in two but things went wrong because of Soumya's failure.
"Soumya had a brilliant start to international cricket but suddenly he lost everything and failed to perform at any level. He actually lost his balance in his batting because he confused his style of batting. The good connection of bat with ball was his strength but after failing in few matches where his weakness was exposed by opponents, he tried many things which ultimately did not work. He should go back to his strength and he can only do it by taking a break," explained Fahim.
In the end Fahim also believed that there was a big role for the people who are working behind the scenes.
"The people around them must give them the right advice and guidelines otherwise you will not get a good outcome."