Burgers and the pursuit of happiness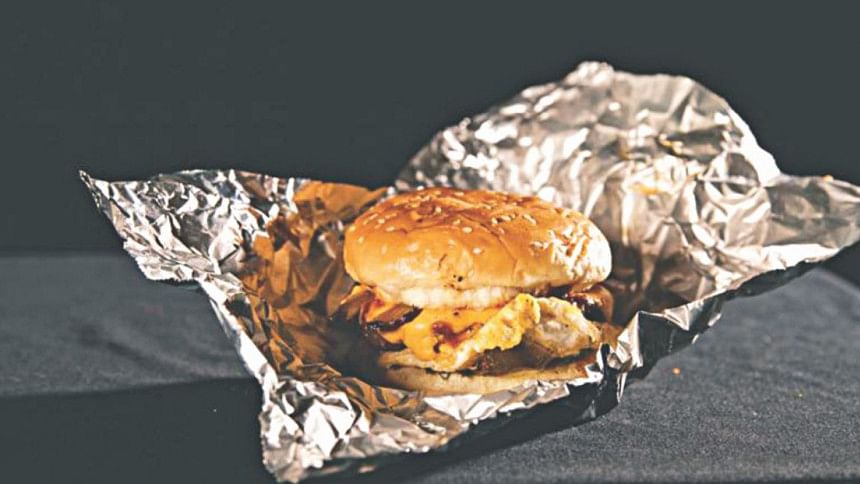 Let's just agree that everyone has a favourite burger. Some like the classic BLT (for us its beef and not bacon), others (read: plebs) like their burger with truckloads of sauce and meat sans veggies.
Personally, I have a very diverse palette and therefore, bring me anything that tastes good and I'll gobble it up. For people who don't have such reservations, here's a description of some of the most popular burgers in town, so you know what to look for and where to go the next time you crave a burger.
TAKEOUT
Arguably, when at its prime, Takeout had the most loved burger in Dhaka. The Beef Cheese Delight had just the right amount of cheddar oozing from between the thick patty, with a good amount of tomatoes and lettuce to keep things fresh. The patty itself was perfectly ground beef that just fell apart in your mouth and along with their signature sauce, it was truly a Delight. Combine that with their still awesome thin cut chilly fries and delicious Sriracha mayo and you have one of the best burgers and fries combinations.
I'd be amiss not to mention Takeout's other burgers that I love just as much as the Beef Cheese Delight. Their Chicken Supreme with Beef Bacon is one of the superior chicken burgers in town, and if you are feeling a little adventurous, try their Mushroom Caramel Burger. When the sticky-sweet yet savoury mushrooms hit the top of your palette, you won't regret it.
BURGER KING
Now a lot of people have misgivings about this franchise. I've heard it all from "It's a dry burger" to "It's not as good as its foreign outlets". For the first argument, I'd say some credit must be given to our other burger joints that soak their burgers in sauces, so far so that we can no longer appreciate a perfectly normal amount of sauce on a burger. As for the second argument, there might be some truth to it, but I've seen foreigners enjoy the burgers just as much, and can therefore confidently say, the difference is quite negligible.
Burger King, to me, has the best burger bun out there. They are the some of the only buns that don't turn soggy by the end of a meal, and are light and fluffy allowing me to not feel like I can't move for a month after I've finished a burger.
The recipe for the Whopper, and all other burgers at BK, clearly reflect the thought process that went behind creating them. They weren't just thrown together by some amateur who thought bread + mayo + meat = burger. Burger King has balance; they have the perfect amount of tomatoes and lettuce, but the real brilliance of the burgers is in the pickles. Oh lord, the pickles! It's like a harmony of sweet, savoury, and sourness every time you get a bite that includes a wicked little pickle in it. 
The thick cut fries are quite good, though definitely not the best in town. Their newly added curly fries didn't really live up to my expectations but were still pretty good. However, where Burger King let's me down a bit is their sauces. The chilli sauce is quite the abomination, and the ketchup, although a great sauce can't salvage the disaster that is its counterpart.
PREETOM
Toasted bun, half-pound beef patty, creamy herb mayonnaise, a nice thick slice of cheese, and crispy beef bacon – Preetom's signature half pounder is a classic representation of the Bangladeshi preference in burgers. The burger is superbly juicy, and every bite releases a stream of the luscious medley of their various sauces in your mouth. Opened in early 2014, Preetom has been around for quite a while now; its quality of food and service has been consistent throughout, and that, itself, says enough about this burger joint.  
BURGER LAB
A popular haunt for university students in Bashundhara, this restaurant gained popularity for their self-proclaimed "Messy Burgers". The Old School, Prototypes, and Radiation Hybrid are all standard burgers, with the last one being somewhat more than just standard with its "maximum everything" ideology. However, the real crown in the jewel of Burger Lab is the Steak Inside. Labelled as "People's Champ" on their menu, this burger is filled with two large perfectly grilled chicken breast fillets dunked in barbeque sauce, on top of which they add a house special volcano sauce, topped with boatloads of cheese sauce. To say the least, the title "messy burger" is quite an understatement when it comes to the Steak Inside. This burger will drip continuously from the first bite till the last (if you can even make it that far). For this one, the creators must have taken the concept of balance, wrapped it in their sauce-filled aluminium foil, and flung it across the ocean. However, where all other burgers that do so fail, this non-formula works in favour of the Steak Inside, which shines through in all its messy glory. 
The only downfall is that by the end, the bun, meat and sauce are quite indistinguishable from each other, because that level of sauce inevitably makes the burger soggy halfway through.
An absolute must-have alongside this burger is the super thin-cut Burger Lab French fries. The hot creamy chilli sauce that accompanies the fries is a true masterpiece, and I'd be happy to take an entire bottle of that home if they'd just let me. 
AMERICAN BURGER
American Burger's burger – and I say "burger" not "burgers" because who in the world tries anything but their OG beef cheese burger? – has been a crowd pleaser for over a decade now. Their special smoky beef patty, which is perfectly crumbly, makes for the cleanest, most satisfying bite. The buns are toasted to perfection, preventing them becoming soggy even at the end, and maintaining the integrity of the burger throughout. The amount in the burger is enough for a heavy snack, but you'll probably want another if you're looking for a real meal, and you will be ordering it without reservations. It's a straight-forward, no-nonsense delicious affair, and there's really no way to overstate the perfection of this burger.
In all my rambling about the different burgers, you may have noticed I mentioned nothing about prices. Look up the readily-available menus online if you will, but unless outrageously priced, a burger is too sacred to be judged by the tag placed on it. While you come up with a counter-argument to that, I'm going to go get myself one of those burgers. Actually, make that two.
Rabita Saleh is a perfectionist/workaholic. Email feedback to this generally boring person at [email protected]