Verdict in case against Reuters journalists postponed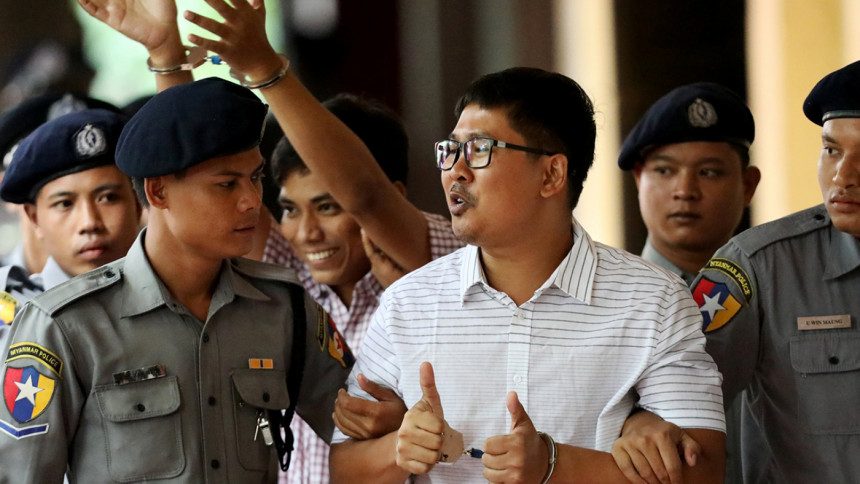 The verdict in Myanmar's prosecution of two Reuters reporters accused of breaching the country's Official Secrets Act was postponed on Monday until September 3 because the judge overseeing the case is sick, a court official said.
Scores of reporters and diplomats had gathered at the Yangon court to hear the verdict on journalists Wa Lone, 32, and Kyaw Soe Oo, 28, the culmination of eight months of hearings in a landmark case that has come to be seen as a test of progress towards democracy in the Southeast Asian country.
But the proceedings lasted just a few minutes, long enough for a judge standing in for Judge Ye Lwin, who has overseen the case, to announce that a ruling would be made next week.
"The judge is in poor health, so I am here to announce that the verdict is postponed to the third," said Judge Khin Maung Maung.
Defence lawyer Khin Maung Zaw told reporters that the stand-in judge had said the verdict was ready but it had to be pronounced by the judge assigned to the case.
Wa Lone smiled broadly and made a thumbs-up sign with his hands in cuffs as he walked into the court, with Kyaw Soe Oo just behind him.
"We are not afraid or shaken. The truth is on our side. Whatever the situation is, we will not be shaken. They cannot make us weak," Wa Lone told reporters after the brief hearing.
The Reuters reporters are accused of breaching the colonial-era Official Secrets Act by collecting documents relating to the country's security forces.
They told the court during their trial that two police officials handed them papers at a north Yangon restaurant moments before other officers arrested them last December.
One police witness testified the restaurant meeting was a set-up to entrap the journalists to block or punish them for their reporting of a mass killing of Rohingya Muslims.
The climax of the reporters' case comes amid building pressure on the administration of Nobel laureate Aung San Suu Kyi over a security crackdown sparked by militant attacks in August 2017.
More than 700,000 stateless Rohingya Muslims fled across western Myanmar's border with Bangladesh, according to United Nations' agencies.
The Reuters reporters were arrested on Dec. 12 while investigating the killing of 10 Rohingya and other abuses involving soldiers and police in Inn Din, a village in Rakhine state.
Myanmar has denied allegations of killings, rapes and arson made by refugees against its security forces, saying it conducted a legitimate counterinsurgency operation against Muslim militants.
But the military acknowledged the killing of the 10 Rohingya men and boys at Inn Din after arresting the Reuters reporters.