UN urges Myanmar to free Reuters reporters 'immediately'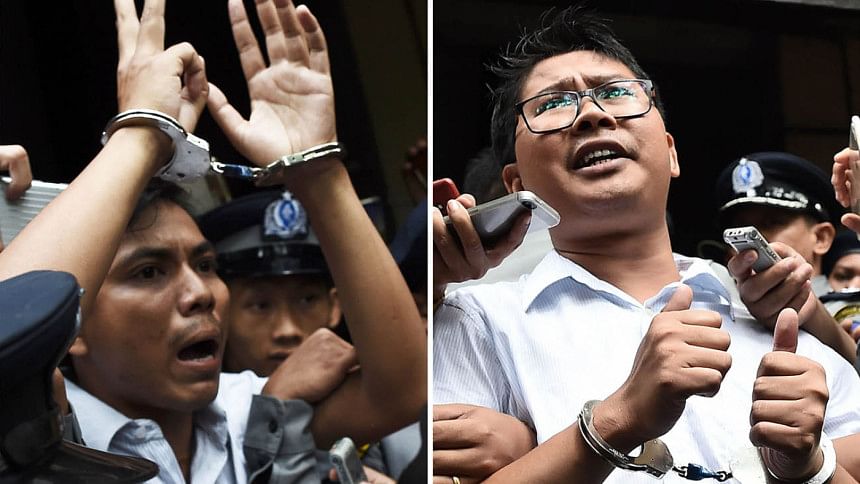 New UN rights chief Michelle Bachelet said Monday she was "shocked" by Myanmar's jailing of two Reuters journalists for seven years and called for their immediate release.
"I was shocked," the former Chilean president told reporters on her first day as UN High Commissioner for Human Rights. "The trial was a travesty of justice."
"I urge Myanmar to immediately and unconditionally release Kyaw Soe Oo and Thet Oo Maung," she said in a statement.
Wa Lone, 32, and Kyaw Soe Oo, 28, who have been held in Yangon's Insein prison since their arrest in December, were charged with breaching Myanmar's state secrets law while reporting on a massacre of Rohingya Muslims.
The case has sparked an outcry among the international community as an attempt to muzzle reporting on last year's crackdown by Myanmar's security forces on the Muslim Rohingya minority in Rakhine state.
Army-led "clearance operations" drove 700,000 Rohingya into Bangladesh, carrying with them widespread accounts of atrocities -- rape, murder and arson -- by Myanmar police and troops.
The reporters denied the charges, insisting they were set up while exposing the extrajudicial killing of 10 Rohingya Muslims in the Rakhine village of Inn Din in September last year.
"Their coverage of the Inn Din massacre by the military -- for which the military subsequently admitted responsibility - was clearly in the public interest as it may otherwise never have come to light," Bachelet said.
"Their conviction follows a legal process that clearly breached international standards," she said.
"It sends a message to all journalists in Myanmar that they cannot operate fearlessly, but must rather make a choice to either self-censor or risk prosecution.
"I call for their conviction to be quashed and for them to be released, along with all other journalists currently in detention for their legitimate exercise of the right to freedom of expression."