Biryani Bonanza
Biryani –even the word sounds so delicious and exotic–promises a royal treat of highly fragrant basmati rice and richly spiced succulent meat, dish that is fit for royalty. Though the word "biryani" which is derived from the word "biryan" has its root in Persia, the dish is known to originate in India during the Mughal rule.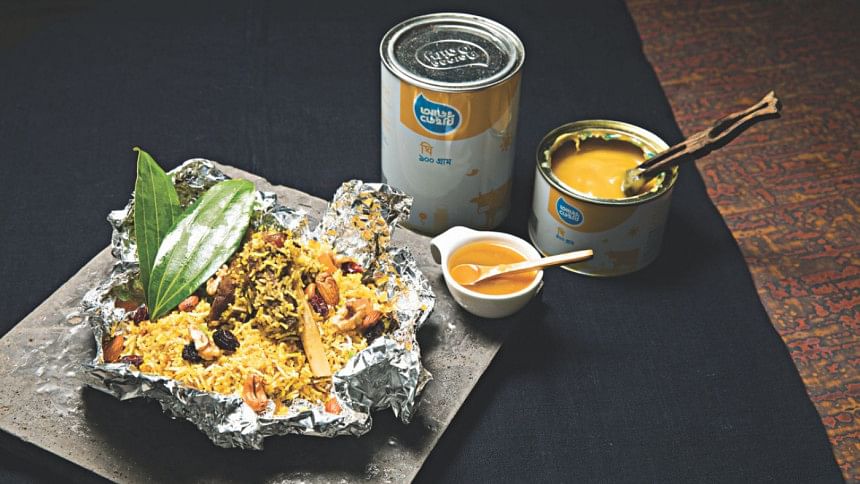 It is believed that Mughals were the first to introduce biryani in North India, whereas South India was exposed to its brilliance through the Arabs.
Biryani flourished in some of the notable Muslim centres throughout India, including Lucknow, Old Delhi, and Hyderabad, to name a few, after which, it was gradually embraced by all.
It doesn't matter what time of the day it is, the very mention of the word is enough to make you hungry. For those who love rice dishes, biryani is like heaven and even those who don't fancy rice all that much, make an exception for biryani. If you go gaga over biryani, then these recipes, featuring Aarong's Dairy Ghee, are for you.
Hyderabadi Biryani
Hyderabadi Biryani originated as a blend of Mughal and Iranian cuisine in the kitchen of the Nizams, rulers of the historic and prosperous Hyderabad state. Hyderabadi Biryani is a staple of Indian cuisine. Hyderabadi Biryani is of two types, the raw biryani and the cooked biryani. The raw biryani is prepared with meat marinated with spices overnight and then soaked in yoghurt before cooking. The meat is sandwiched between layers of fragrant long-grained basmati rice and cooked on dum, after sealing the vessel with dough. In the cooked biryani, the meat is marinated for a shorter time, and cooked before being layered with rice and cooked in a dough-sealed vessel. In cooked biryani, the ingredients are cooked before baking. The preferred meat is goat, but chicken or other types of meat are also used in some variations.
Ingredients
1½kg mutton (mix of chops, marrowbone, and shoulder pieces)
700g basmati rice
2 bay leaves
5 green cardamoms
30 black peppercorns
3 inch cinnamon stick
1 tbsp oil, for deep frying
5 large onions, sliced
½ tsp caraway seeds
10 cloves
1 tbsp ginger paste
1 tbsp garlic paste
1 tbsp red chilli powder
1 cup yoghurt
2 tbsp fresh coriander leaves
2 tbsp fresh mint leaves
4 tbsp Aarong Dairy Ghee
2 black cardamom
A few strands of saffron mixed in ¼ cup milk
Salt to taste
Method
Heat 5-6 cups of water in a deep pan. Add drained rice, salt, bay leaves, two green cardamoms, 7 to 8 black peppercorns, one cinnamon stick and cook till three-fourths done. Drain and set aside. Heat oil in a pan and deep fry half of the onion slices till golden. Drain and place on an absorbent paper. Grind caraway seeds, one cinnamon stick, the remaining black peppercorns, cloves, and cardamoms to a fine powder and set aside. Take mutton pieces in a bowl, add ginger-garlic paste, salt, spices powder, red chilli powder, half of the fried onion, yoghurt, coriander leaves, half of the mint leaves, and one tablespoon oil and mix well. Let it marinate for about 3 hours in the refrigerator. Heat 2 tablespoons of Aarong Dairy Ghee in a pan, remaining cinnamon and black cardamoms and sauté till fragrant. Add remaining onions and sauté till light golden. Add marinated mutton, stir and cook on high heat for 3 to 4 minutes. Cover, reduce heat and cook till almost done. Heat the remaining Aarong Dairy Ghee in a thick bottomed pan. Spread half the rice in a layer. Spread the mutton over the rice. Sprinkle torn mint leaves, spread the remaining rice, and sprinkle saffron milk. Cover and let cook in the dum method. Serve hot with salad or raita of your choice.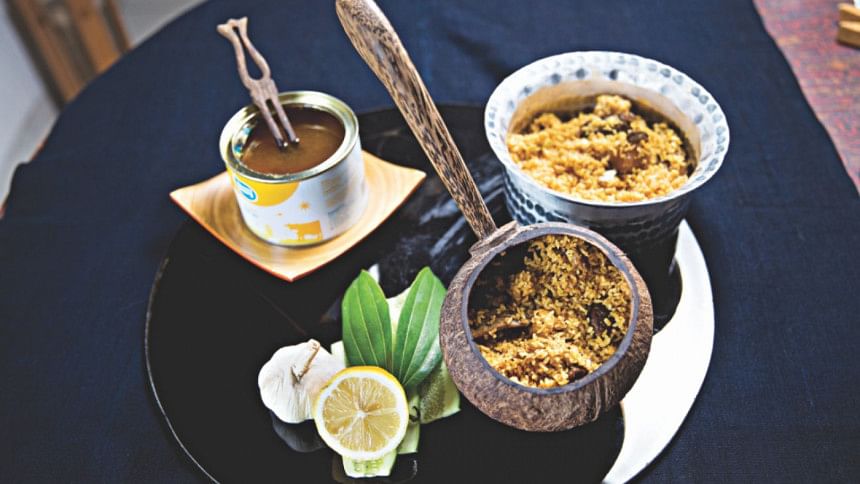 Mutton Yakhni Polao
Ingredients
For the mutton
1kg mutton, cut into pieces
2 tbsp coriander seeds
1 onion chopped
2 inch pieces of ginger
12 cloves of garlic
2 bay leaves
5 green cardamoms
2 cinnamon stick
6 cloves
For the rice
2 cup basmati rice
4 cup mutton stock
4 tbsp Aarong Dairy Ghee
2 bay leaves, 4 cloves
2 cinnamon sticks, 3 green cardamoms
7 onions, thinly sliced lengthwise
2 tbsp ground ginger
3 tbsp ground garlic
½ grated nutmeg
½ tsp cinnamon powder
Salt to taste
Method
For the mutton, make a small, cotton cloth bundle with all the whole garam masalas, and onion and cook it with the mutton. Add enough water. Cook till done.
For the polao, heat Aarong Dairy Ghee in a heavy bottomed pan. Add the whole spices to it. Once they start spluttering, add the onions, and fry till they turn golden-brown in colour. Add ginger, garlic and stir for some time. Add nutmeg and cinnamon powder and mix well. Mix in the cooked mutton and the rice. Sprinkle salt over it and mix well. Add the mutton stock and mix well. Cook for 5 minutes. Then cover it with a heavy lid to prevent the steam from escaping. Cook on low heat for about 15-20 minutes. When it is done, serve hot with raita or chutney.
Food prepared by Khazana