3 Months of Anti-narcotics Drive: Outcome not as expected
Godfathers remain untouched, dealers adjusting in a changed reality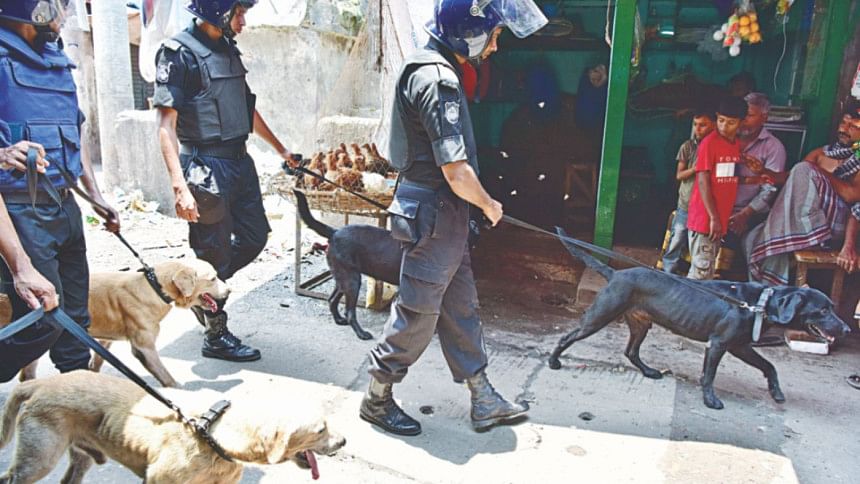 It has been three months since the nationwide war on drugs began, but the godfathers or their patrons still remain untouched while the dealers are selling narcotics discreetly, adopting new strategies.
Though open sales of narcotics have largely stopped, sources in law enforcement agencies and even drug dealers say unless the big fishes netted, the containment will be temporary.
Since the Rab launched a special crackdown on May 4 and police began their own anti-narco operations on May 18, around 42,000 people have been arrested while at least 213 got killed in the so called shootouts.
Law enforcers say the arrestees were suspected dealers, mules or addicts while those killed in the "gunfights" were dealers or peddlers. Besides, around 28,000 cases were filed across the country and over 45 lakh yaba pills seized during the drives.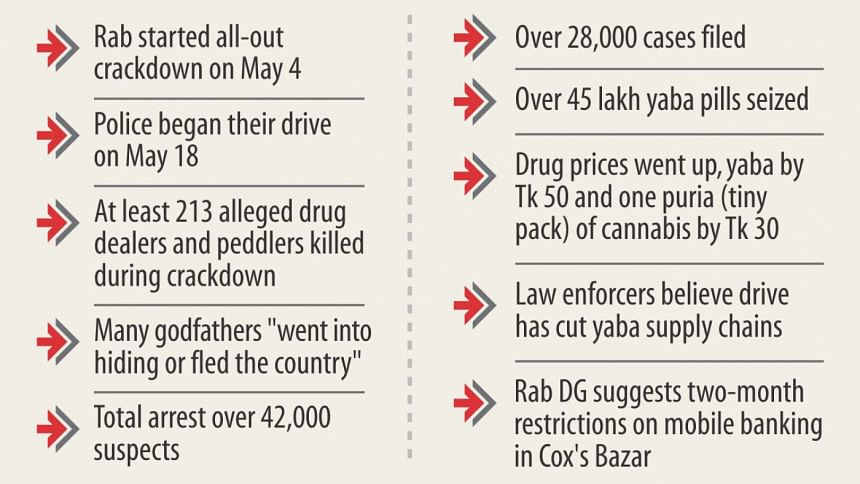 But the godfathers and their patrons -- including a ruling party lawmaker of Cox's Bazar and his family members, a lawmaker of Khulna, some other political leaders and a few hundred rogue policemen -- are yet to be brought to book though they have been named in intelligence reports or the list prepared by the Prime Minister's Office.
Talking to The Daily Star recently, a top home ministry official said, "The government will gradually take actions against those responsible, including the lawmakers whose names appeared on the list [of PMO], but it wants to go tough on them after the national election."
Rab and police officials maintain that many godfathers had either gone into hiding or fled the country.
THE OUTCOME? 
On July 19, a Rab press release said drug lords were on the run and the open sale of narcotics stopped because of the drives, but yaba and cannabis were still being sold through "mobile phone service".
Officials add that the supply chains of narcotics have been cut.  
Reports from different districts suggest the sale of drugs is still going on -- from different low-key selling spots and mostly on a smaller scale.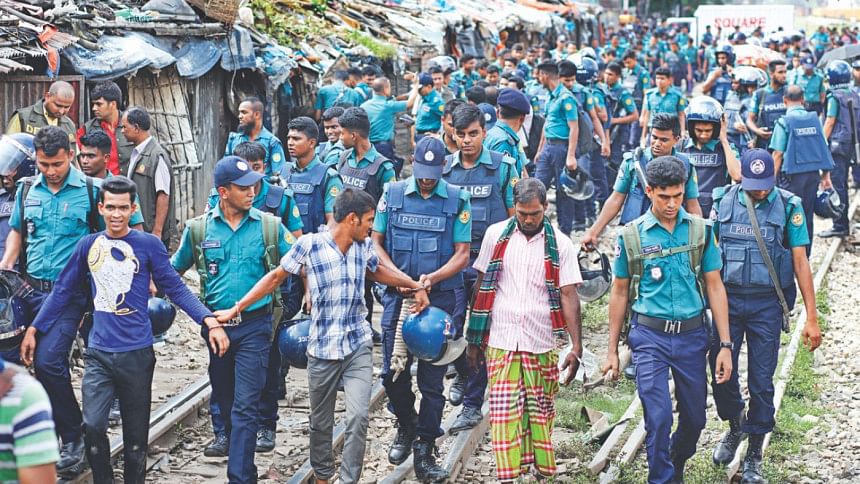 The dealers are selling drugs, particularly yaba, to trusted customers only, while the known places where addicts used to take drugs have been dismantled.
Visiting some key spots like Mohammadpur Geneva Camp, Korail slum in Banani, Jheelpar slum in Mirpur and Karwan Bazar Railway slum in the capital, these correspondents found that the open sale of drugs reduced significantly while the prices went up.
A small pack (puria) of cannabis was selling for Tk 50 which was earlier Tk 20. The price of a yaba pill increased by Tk 50 and it was available at Tk 300.
"If you have money in your pocket, getting drugs is not a problem," said a user, wishing anonymity. 
Drug dealers proving to be flexible and innovative are adjusting with the current situation and intensifying retail deal-making on social media. Facebook is being used for placing orders and mobile banking services for payments.
In Chittagong, peddlers have changed their regular spots and become more secretive. Known dealers have fled but their cohorts are active, locals say.
In Jhalakathi, some drug lords have come out of hiding while some arrested peddlers are at it again after obtaining bail.
In Dinajpur, most of the drug dealers are constantly on the move and doing business only with trusted addicts. In May, drugs were hard to come by but now they are available at high prices, said several users.
In the district, cannabis prices shot up to Tk 100 per puria from Tk 20 of early May and a good quality yaba pill to Tk 500 from Tk 200.
Our correspondent in Comilla reported that the illicit business never stopped in the district. Drug dealers who had fled have started returning to the city.
Known drug dealers are also resurfacing in Narayanganj.
Besides, recent interceptions of drug consignments indicate that dealers have become innovative in shipping the contraband items. Yaba pills have been found inside the   shock absorbers of bikes and hidden chambers of lorries, buses and fishing boats.
Rab Director General Benazir Ahmed on July 22 sought two months' restrictions on mobile banking in Cox's Bazar, a district considered the gateway for yaba from Myanmar into Bangladesh.
He claimed that a huge amount of money believed to be payments for drugs was being sent to the district via mobile banking.
The Rab boss said they wanted to see the impact of the two-month restriction on drug trade.
[Our correspondents in Chittagong, Rajshahi, Narayanganj, Dinajpur, Comilla, Jhalakathi, Nilphamari, Mymensingh, Kushtia, Bagerhat and Khulna contributed to this report]