'Gunfights': 2 'drug dealers' shot dead
Over 2 lakh yaba pills seized in 3 districts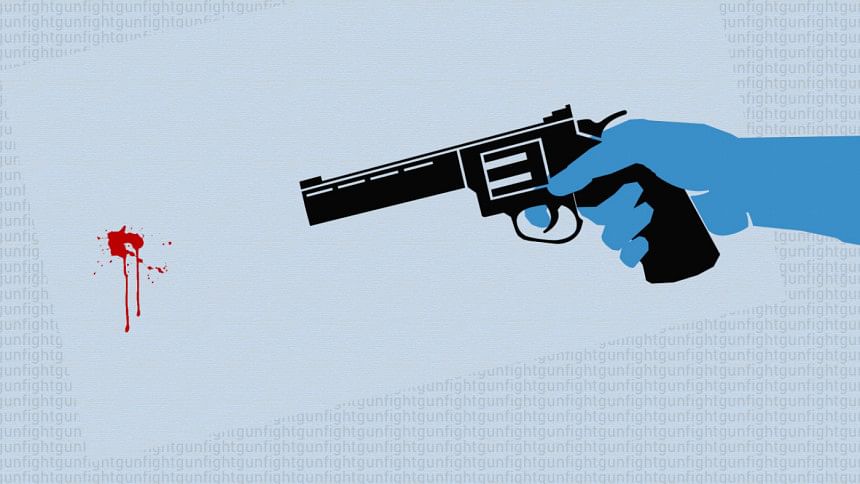 Two suspected drug dealers were killed in separate "gunfights" in Cumilla and Jhenidah early yesterday.
Besides, law enforcers recovered more than 2,00,000 yaba pills from Cox's Bazar and Chandpur.
In Cumilla, a suspected drug dealer was killed in a "gunfight" with members of Border Guard Bangladesh around 4:00am yesterday.
The dead is Abdullah Al Payel, of Cumilla's Satora Champoknagar area.
A BGB team, led by Habildar Shah Alam, conducted an anti-narcotic drive in the district's Golabari village on information that a group of drug dealers was gathering there, Lt Col Abu Mohammad Mohiuddin, commander of BGB Battalion-10, claimed.
Sensing BGB presence, criminals opened fire, forcing them to retaliate. During the "gunfight", Abdullah sustained bullet injuries. He was rushed to Cumilla Medical College Hospital where doctors declared him dead, the BGB official added.
BGB also claimed to have seized 2,000 yaba pills from the spot.
Abu Salam Mia, officer-in-charge of Kotwali Model Police Station, said Abdullah was a listed drug smuggler.
He was wanted in multiple cases filed with different police stations in Cumilla, the OC said, adding that the body was sent to Cumilla Medical College morgue for autopsy.
Meanwhile, police recovered a body from Jhenidah's Kotchandpur upazila around 3:00am yesterday.
The dead is Dablu  Hossain, 32, of Rail Station Para in the upazila. He stood accused in at least 15 cases including murder and drug.
Mirza Salah Uddin, assistant superintendent of Kotchandpur police, claimed they conducted a raid in the upazila's Kagmari Water Body area on information that two groups of drug peddlers were engaged in a "gunfight" there.
Sensing police presence, criminals fled the scene. Later, police found the body of Dablu while searching the spot, he added.
The law enforcers also claimed to have recovered a gun, one bullet and 25 bottles of Phensedyl from the spot.
The body was sent to Jhenidah Sadar Hospital morgue for autopsy.
In Cox's Bazar, BGB men recovered two lakh yaba pills, worth around Tk 6 crore, from a boat on the Naf river in the district's Teknaf upazila.
No one was arrested in this connection.
Lt Col Shariful Islam Jamaddar, commander of BGB Battalion-2, said a patrol team of BGB took position at Jhimongkhali Canal around 4:00am on information that a large consignment of drugs was about to be smuggled into the country from there.
Seeing a boat entering the canal, BGB men signalled it to stop but the passengers jumped off the boat and swam into Myanmar water, the BGB official claimed.
Later, BGB found two lakh yaba pills inside the boat. The contraband items were kept at the BGB headquarters. Those would be destroyed, Lt Col Shariful added.
Meanwhile in Chandpur, members of Rab-11 arrested a Rohingya refugee with 10,200 piece yaba pills during a drive at a residential hotel in Pal Bazar area in the town early yesterday.
The arrestee is Abdul Motaleb, 20, inhabitant of Teknaf's Pachuripara Rohingya camp.
Md Kalam, sub-inspector of Rab-11, said they handed over Abdul to Chandpur Sadar Model Police Station after primary interrogation.
In Joupurhat, Rab members detained two drug peddlers with 1,960 yaba pills in separate raids in Panchbibi upazila since Thursday.
The arrestees are Masud Hossain, 38, of Panchbibi upazila and Atiqur Rahman, 22, of Gobindaganj upazila in Gaibandha district.
Azmal Hossain, commanding officer of Joypurhat Rab's Crime Prevention Camp-3, said they raided at Atapara village in Panchbibi around 2:40pm yesterday and arrested Masud Hossain with 1,380 yaba pills.
Earlier, another Rab team arrested Atiqur Rahman with 580 yaba pills from the same upazila on Thursday night.
Both arrestees landed in jail after facing a Joypurhat court.