Constable turns yaba peddler
Rab detains him with over 10,100 crazy pills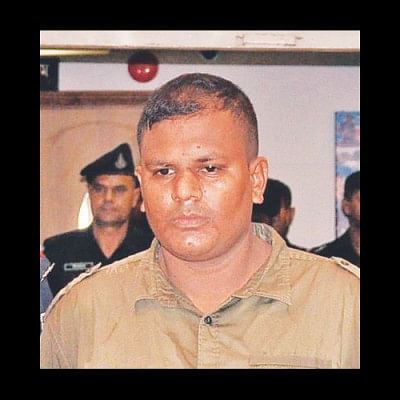 Mahfuzur Rahman, 31, was a constable in Khulna when he got addicted to yaba and the crazy drug made him beat up his family members and vandalise houses. He was even sued by his father that put him in jail, according to Rab.
His 28 days in jail made him worse. He met a drug dealer there and became a drug mule in policeman's disguise when he got out, said Rapid Action Battalion at a press conference yesterday.
A Rab team arrested the "sacked" constable of Khulna Metropolitan Police (KMP) from a coach in Arambagh around 10:00pm Tuesday when he reached Dhaka from Cox's Bazar with 10,100 yaba pills, Lt Col Ashique Billah, commanding officer of Rab-2, told the press briefing.
"Mahfuz was in uniform with fake assistant sub-inspector [ASI] rank badge," the Rab official added.
When asked by Rab-2 Company Commander Muhammad Mohiuddin Faruqe on the bus, Mahfuz claimed that he was posted at the police headquarters and that he had gone to Chattogram for a court hearing.
But the Rab official found that his police ID did not match his rank on the uniform which made the company commander suspicious. When Rab officials wanted to search his bag, Mahfuz showed another ID card that has him mentioned as a constable.
"Rab searched his bag in presence of local police and found the yaba pills and Tk 31,800," said the Rab CO.
Mahfuz joined Bangladesh police as a constable in 2011 and was posted at Sonadanga Police Station under KMP. He was suspended in 2016 for being accused in a criminal case filed by his father, Rab said.
Rab said Mahfuz used to go to Cox's Bazar and Teknaf twice or thrice a month in plainclothes. He would contact the yaba dealer he met in jail over phone. "He [Mahfuz] would get 20,000 to 30,000 pills each time and transport those to Khulna via Dhaka wearing police uniform to dodge law enforcers," the Rab official said, adding that Mahfuz transported pills this way at least six times before.
He was paid Tk 20,000 to Tk 50,000 for each trip he made.
Rab did not disclose the name of the yaba dealer in question.
During primary interrogation, Mahfuz admitted that he got involved in the narcotics trade after "losing his job".
Momtazul Haq, officer-in-charge of Sonadanga Police Station, said he did not know about Mahfuz and could not recall any incidents of a constable at his police station being sacked.
In recent times, members of different law enforcement agencies were arrested for their involvement in yaba trafficking.