2 found dead, another killed in 'gunfight'
Officials say they were criminals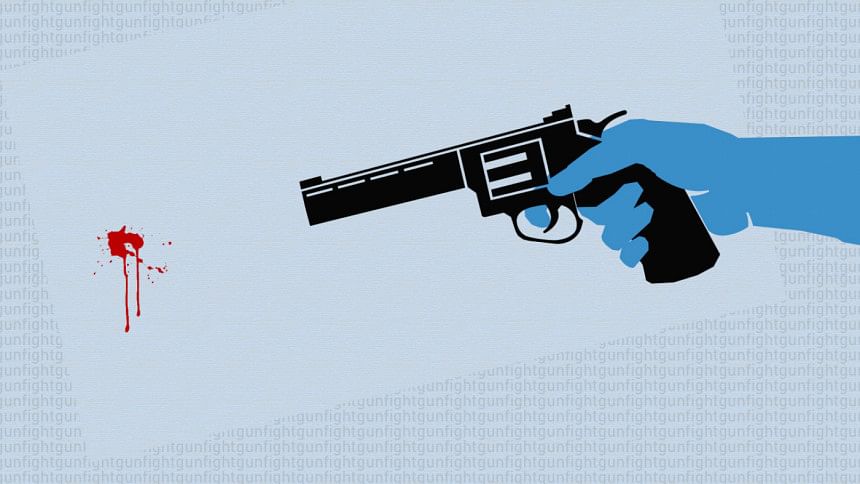 Two alleged criminals were found dead in Chuadanga and Jhenidah yesterday, while a suspected drug trader was killed in a "gunfight" with members of Border Guard Bangladesh in Cox's Bazar.
Our Kushtia correspondent reported that police recovered the bullet-hit bodies of two victims, who stood accused in criminal cases, from Chuadanga's Alamdanga upazila and Jhenidah's Moheshpur upazila.
The deceased are Imran Hossain, 27, of Uthli village in Chuadanga's Jibonnagar upazila, and Lipu Hossain, 32, of Bajumadi village in Alamdanga upazila.
Abu Russel, assistant superintendent of Chuadanga police, said locals informed Jibonnagar police after finding the body of Imran on Dingekhali field. Police rushed to the spot and recovered the body about 10:30am.
The ASP said Imran stood accused in 14 cases, including rape, drugs and robbery. His rivals might have killed him, the police official added.
Police recovered the body of Lipu from Kanaidangi field, said Rashedul Alam, officer-in-charge of Moheshpur Police Station.
Lipu was accused in 11 cases, including rape and robbery.
ASP Russel said both Imran and Lipu were members of the same gang which robs people.
The Daily Star could not contact the victims' families.
In another incident, a suspected drug trader was killed in a "shootout" with BGB members in Deil village of Cox's Bazar's Teknaf upazila early yesterday, reports our district correspondent.
The victim is Nurul Islam, 28, of Teknaf municipality.
Acting on a tip-off, a team of BGB-2 conducted a drive in Deil village around 4:00am, said Shariful Islam Chamakdar, acting commanding officer of BGB-2.
Sensing the presence of BGB members, the criminals opened fire. The BGB members returned fire, triggering the "gunfight". Nurul was killed during the "gun battle", he said.
The BGB members claimed to have recovered 7,000 yaba pills and two sharp weapons from the spot.