Two 'drug dealers' killed in 'gunfights'
Bullet-hit body found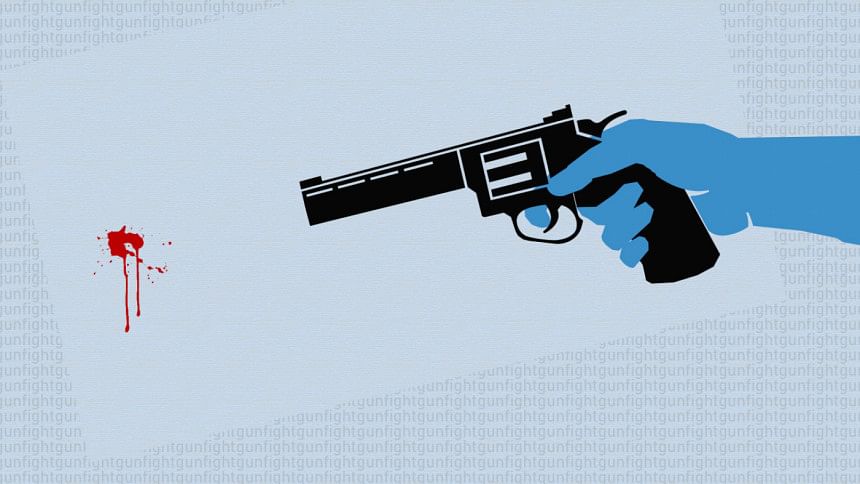 A suspected drug peddler was killed in a "gunfight" with police in Sirajganj, and another one in what police claimed was an encounter between two groups of drug peddlers in Cox's Bazar, while, In Chapainawabganj, a body was recovered by police early yesterday.
The dead have been identified as Mostafa Kamal, 25, Shahab Uddin, 32, and Bisharat Ali, 23.
In Sirajganj, Ullapara Police Starion Officer-in-Charge (OC) Dewan Kawshik Ahmed said on information about a group of peddlers taking position at Ghoshgati for drug trade, a police team went to raid the area around 2:00am.
Sensing the presence of law enforcers, the criminals opened fire, to which the police retaliated. This prompted a "gunfight" that lasted about 15 minutes, he claimed.
Mostafa sustained bullet injuries in the "gunfight" and died on the spot, OC Kawshik said, adding that police arrested five suspected drug peddlers from the spot.
He was accused in 11 drug cases, police claimed.
The OC further claimed that 97 yaba pills and 20 bottles of Phensidyl were seized from the spot.
The arrestees are Sanjib Kumar Saha, 25, Sadhan Chandra Saha, 20, Sony Ahmed, 35, Selim Reza, 24, and Shafikul Islam, 20. A local court sent them to jail yesterday.
In Cox's Bazar, Teknaf Model Police Station's Inspector (operation) Rakibul Islam Khan said on information about a gunfight between two groups of drug dealers, a police team reached Kanjorpara area early yesterday.
Sensing police presence, the armed criminals fled the area, he claimed.
Police recovered the bullet-hit body of Shahab from the area around 5:00am, he said, adding that they also seized two firearms, seven bullets, nine bullet shells and 2,400 yaba pills from the spot.
Police filed arms and drugs related cases over the incident, he said, adding Shahab was a listed drug dealer and an accused in a case.
In Chapainawabganj, police recovered a bullet-hit body from Tarapur village of Shibganj upazila yesterday morning.
The victim, Bisharat, was a resident of Tarapur-Chokrapur village in Shibganj, said Sub-Inspector (SI) Mukul Chandra of Shibganj Police Station.
Locals said they spotted the body in a paddy field around 7:30am, he added.
Shibganj police later recovered the body and sent it to Sadar Hospital morgue for autopsy.
The body bore injury mark on the shoulder which looked like a bullet wound, SI Mukul said.
BGB Battalion-53 Commander Lt Col Sajjad Sarwar said the area where the body was found was about two kilometres from the zero line.
BGB spoke to Indian Border Security Force in this regard, but it dismissed its involvement in any such incident, he said, adding that they were investigating it.
[Our Pabna, Cox's Bazar and Chapainawabganj correspondents contributed to this report]