SAVAR BUILDING COLLAPSE
Death toll now 371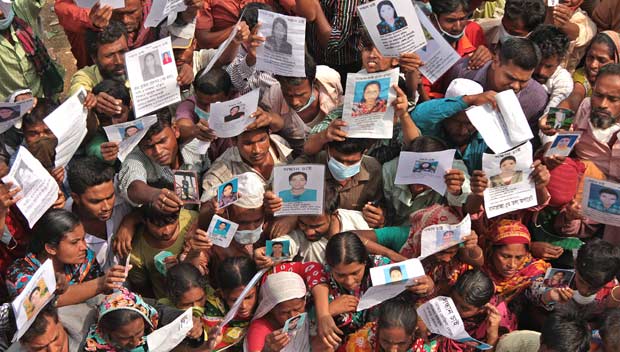 Relatives of the Savar tragedy victims hold the photos of their dear ones who still remain missing for the fifth day on Sunday. Photo: STAR
The death toll from the Savar building collapse has risen to 371 as rescue workers recovered 25 more bodies from beneath the rubble of the nine-storey building on Sunday.
Md Zillur Rahman Chowdhury, additional deputy commissioner of Dhaka district, confirmed the death toll.
Of the total, 313 bodies were handed over to their relatives, 54 were sent to Dhaka Medical College Hospital and Mitford Hospital and two others were kept at Savar Adharchandra High School, Zillur said.
The rescue workers have rescued four survivors from the third floor of the shattered building in the afternoon.
So far, total 2,440 people trapped inside the collapsed building have been rescued.
Meanwhile, the rescue workers have traced nine people alive in the rubble. They were trying to pull out the survivors alive till filing of this report in the afternoon.
Frantic efforts are continuing to rescue survivors from inside the collapsed building in Savar.
Heavy equipments have been move to the site as a preparation to remove massive piles of rubble with heavy machinery.
Rana Plaza, the nine-storey building housing half a dozen readymade garment factories on its top floors, caved in on Wednesday after factory owners forced several thousand workers to come to work despite the cracks developed in its pillars the previous day.