EVM steam off
PM speaks against hasty use of voting machines in national elections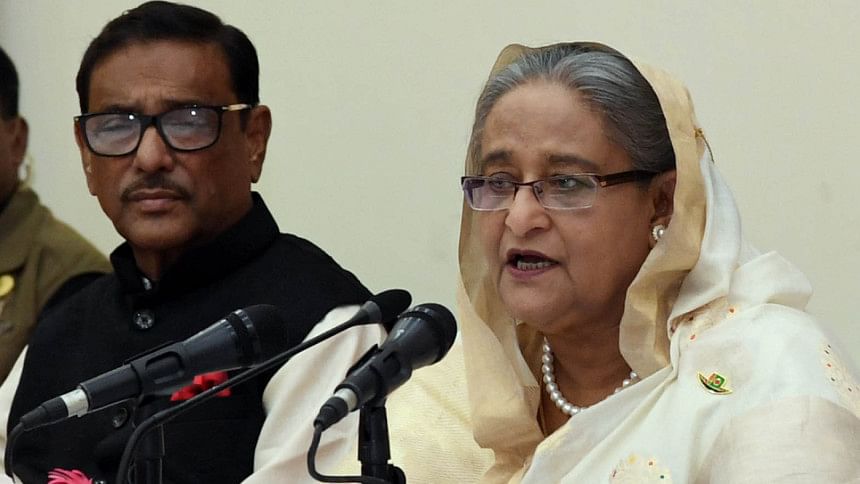 Prime Minister Sheikh Hasina yesterday said EVMs should not be imposed hurriedly as the machines need to be introduced on a limited scale in national elections.
"Many countries have the EVM system. I was always and am still in favour of it. Yes, it's right that it shouldn't be imposed hastily as it's a matter of practice. We'll have to examine it," she said while addressing a press conference at the Gono Bhaban.
The press conference was arranged to brief the media about the outcomes of her just-concluded visit to Nepal for attending the 4th Bimstec summit.
The prime minister said the introduction of electronic voting machine (EVM) is part of the government's "Digital Bangladesh" vision as it is a new technology.  
"Well, let it [EVM] be used in some places. Let people examine gradually whether there's any system loss here," she said, adding that if any system loss is found, the use of EVM will be cancelled.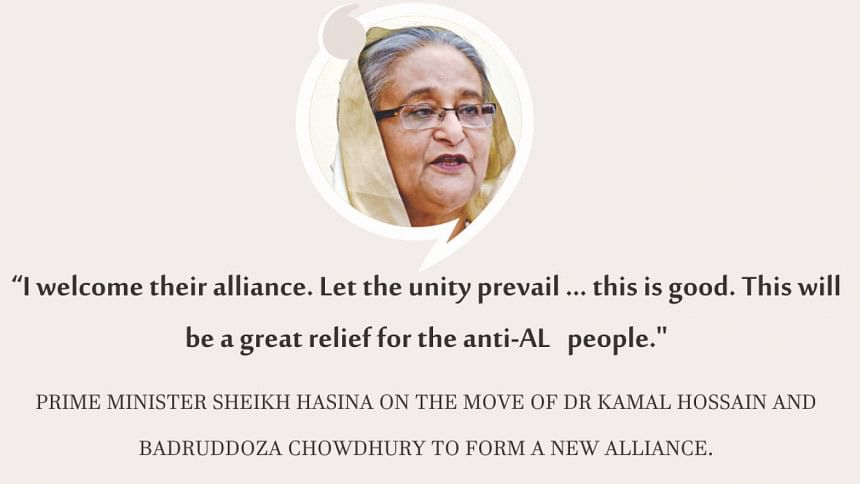 "These are not the final words. There's nothing to raise so much objections here. Let's start using the technology on a limited scale." 
Noting that the BNP is very much vocal against EVM, she said the party does not want the system as it will not be able to apply their vote-rigging technique with the machines in place.
"They know a good rigging technique…. we're yet to discover it," she said, adding that even election observers could not find out their technique. 
ELECTION WILL BE FAIR
Hasina said there is no doubt that the next general election, slated to be held in December, will be free and fair. "We're not here to rig votes," she said.
"We're working for people. If people vote for us, we'll be in power again, otherwise not. I repeatedly said it. I mean what I say."
The prime minister said the election must be held on time and no one can stop it from taking place. "No one has the capability to foil the election."  
Hasina also welcomed the move of Gonoforum President Dr Kamal Hossain, Bikalpa Dhara Bangladesh President Prof AQM Badruddoza Chowdhury and others to form an alliance, and said it will give the anti-Awami League people a new platform to stand on.
"I welcome their alliance. Let the unity prevail… this is good. This will be a great relief for the anti-Awami League people.
"There're two parties in Bangladesh -- Awami League and anti-Awami League. The anti-Awami League people will have to have somewhere to go."
Recently, Dr Kamal, Badruddoza Chowdhury, Mahmudur Rahman Manna, ASM Abdur Rob and Kader Siddique agreed to forge a national unity ahead of the general election, writes UNB.
Hasina, also the Awami League chief, said the new combine will be a good one at least. "We'll contest the election. I hope they'll also take part in the polls."
She said there should be an alternative in the country. "I convey my good wishes to them."
Replying to a query, the prime minister questioned whether Dr Kamal Hossain and his associates really want the election.
"There's a section of people in Bangladesh who are always sitting there thinking if there's any unconstitutional and unelected government, they'll get the flag… they'll get some importance."
Referring to Dr Kamal's recent remarks that there will be no election in the country, she said it means they are waiting for this, UNB added. 
"If anything happens in our country, all look at Uttarpara. This is the reality. Anything might happen. My father was killed and there were attempts to kill me in broad daylight."
The AL chief said Dr Kamal and his "companies" do not want healthy democracy. "They utter the word democracy but want to go to power in an undemocratic way."
The prime minister said if anyone wants anything from her, he or she has to go for movement to realise it.
"I won't give away anything without a movement. Mr Kamal and his associates have to go for a movement," she said, adding that if they become successful in their movement and if anyone comes from Uttarpara, they will attain success.
ON DEMAND FOR KHALEDA'S RELEASE
About BNP's demand for the release of party chief Khaleda Zia, Hasina said, "The government has nothing to do with it … she [Khaleda] has either to go to court or seek clemency from the president."
On Saturday, BNP leaders at a rally in front of the party's Nayapaltan central office demanded the government release Khaleda to ensure the party's participation in the next polls. 
The prime minister said she will neither take any step for bringing BNP to the elections nor obstruct it from joining the polls.
"They [BNP leaders] are saying they won't join the polls. It's their internal party decision whether BNP will take part in it or boycott it. We neither need to invite them nor obstruct them."
Recalling that the gate of BNP chairperson's office was shut when she went to meet Khaleda after the death of her son, Hasina said: "On that day, I decided not to sit with them at all. There's no question of holding discussions with them, no matter who says what, as I have a sense of self-esteem."
The PM said her government should have arrested Khaleda when her party was killing people in arson attacks. "But I didn't arrest her at that time. I had demonstrated tolerance."
Regarding the unelected polls-time government or caretaker government, the prime minister said Bangladesh has a bad experience about it. "Once they sit in power, they don't want to leave; we had this experience in our country."
The PM said Bangladesh will follow the system practised in India and Britain.
"Only during a mid-term election, parliament is dissolved and the election is held within 90 days of the dissolution of parliament."
Hasina said this system had been incorporated in the 1972 constitution of the country and it has been reincorporated in the charter after a High Court verdict.
As per the constitution, the election will be held three months before completion of the five-year term, she said.
In the constitution, Hasina said, it has been made mandatory to sit in sessions of parliament after every 60 days except the three-month period of the election time.
"Parliament will be there, but not functional. This has been done to ensure there is no vacuum during the transition period from one government to another," she said.
MYANMAR AND ROHINGYA ISSUE
The prime minister said Myanmar has done a terrible thing by resorting to falsehood releasing fake photos over Rohingya issue.
"They've tarnished their own image with this. They've destroyed their position at international stage."
She said the same propaganda with fake photos was also carried out by BNP-Jamaat in 2013, 2014 and 2015 in Bangladesh. "My question is whether they [Myanmar] learnt the tactic from our BNP-Jamaat."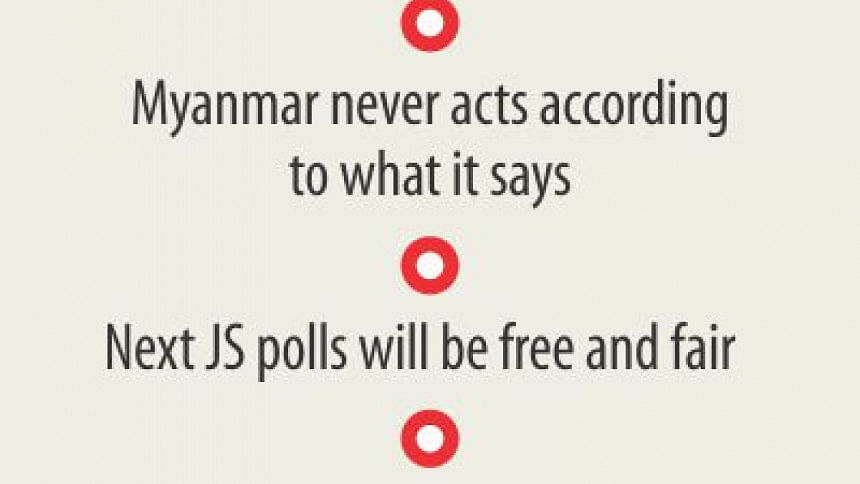 During the Bimstec summit in Nepal, Hasina said, she had talks with the Myanmar president over Rohingya issue and the repatriation agreement signed between the two countries.
Hasina said the Myanmar president told her that they are ready to take back those who want to go back to Myanmar.
Myanmar never denies anything and says it will take back the Rohingyas, noted Hasina. "But the reality is it doesn't act accordingly."
The prime minister also said she never wants confrontational situation with the neighbouring country.
Responding to a question about the new government in Pakistan under the leadership of former cricketer Imran Khan, Hasina said he hit many sixes in the field, now it is time to see whether he can hit those sixes remaining in power.
"We'll be glad …. He's a player, he has the sportsmanship spirit, if he seeks cooperation, we'll extend that. We'll do that keeping in mind the general people of that country," Hasina said.
Replying to another question, she said the government has brought the killers of Bangabandhu under the purview of law.  "But, the investigation to detect the conspiracy and conspirators was not done… "
BIMSTEC SUMMIT
Hasina also talked about the Bimstec Summit in Nepal, saying all quarters have highly praised her participation as well as Bangladesh's role in the summit, reports BSS.
"In overall consideration, the 4th Summit of the Bay of Bengal Initiative for Multi-Sectoral Technical and Economic Cooperation and other related meetings held before it were very important for Bangladesh," she said, reading out a written statement at the press conference.
The PM visited Nepal on August 30 and 31 to attend the two-day summit of Bimstec, a seven-nation economic bloc of South Asia and Southeast Asia.
Hasina said this year's Bimstec Summit was very crucial as the seven-nation regional grouping has already completed 21 years.
The prime minister said she delivered her address in the opening session of the summit on August 30 after the welcome address of the Nepalese premier.
She said in her address she called upon the Bimstec nations to jointly face poverty, climate change impact, terrorism and other problems.