Market on railway land
The alleged grabbers are of ruling party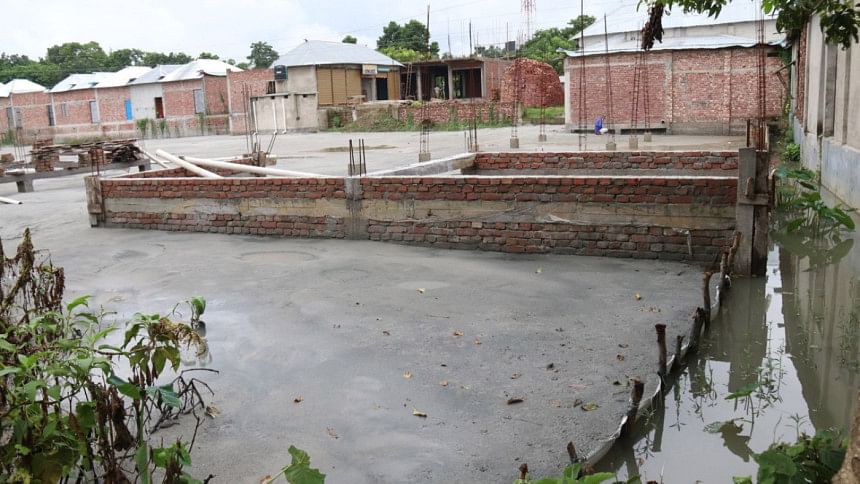 An influential quarter belonging to the ruling Awami League (AL) has continued illegal construction of a market on leased Bangladesh Railway (BR) land near Satair Railway Station in Boalmari upazila of the district.
Ghospur Union Parishad (UP) Chairman SM Faruk Hossain, also treasurer of Boalmari upazila AL, in cooperation with Ghospur union AL President Robindranth Saha, Ghospur UP member Khalilur Rahman, Sukur Mollik and Billal Mia of the area have started constructing the market on 1.44 acres of BR land.
A resident of Pikehati village in the union Kazi Abdur Razzak took lease of 1.23 acres of land for agricultural use and another additional 21 decimals for fish farming beside Satair Bazar in the year 2000.
Razzak, however, transferred the lease documents in the name of the ruling party men on November 13, 2017, for the development of the area.
"The chairman asked me to hand over the land to him so that they can build a market over there for the development of the locality," Razzak said.
During a recent visit to the area this correspondent found that the occupiers filled up the agricultural land and the water body and are erecting concrete structure of a market for commercial use without informing the BR authorities.
While talking to The Daily Star, one of the occupiers Robindranath Saha said, "The present government is working for the development of the country and we are only participating in that work."
Ghospur UP member Khalilur Rahman said, "Although, about 60 percent area of Satair Bazar is under Ghospur union, Satair Union Parishad alone takes the lease money every year. That is why we are building another market on the railway land."
Sidur Rahman, president of Satair Bazar managing committee, said, "The occupiers are constructing the market in a bid to grab the land."
"I have applied to railway authorities seeking permission for using the land on commercial basis but I did not get the approval yet," Ghospur UP Chairman Faruk said, adding that he is doing this for greater interest of local people.
Younus Ali, divisional estate officer of BR in Pakshey, said, "There is no provision of changing the status of any railway land."