Bangladesh plans to import 9,000MW power from Nepal
Says Nasrul Hamid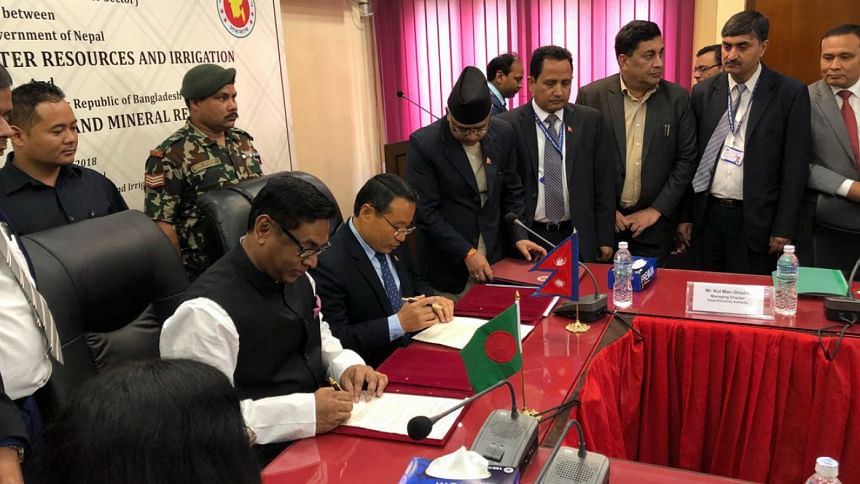 State Minister for Power, Energy and Mineral Resources Nasrul Hamid yesterday said Bangladesh has a plan to import 9,000 megawatts (MW) of electricity from Nepal to mitigate the increasing demand of electricity by 2040.
The state minister was addressing a memorandum of understanding (MoU) signing deal over the cooperation in power sector between Bangladesh and Nepal in Kathmandu.
"There is an enormous possibility of generating hydro-electricity in Nepal," he said, adding that to explore this possibility, Bangladesh wants to import hydro-power from Nepal under regional cooperation.
Bangladesh is now importing 660MW of electricity from India, said the state minister, adding that import process of 500MW from the neighbouring country has also nearly been finalised.
This deal will prepare a platform for the power sector which would increase cooperation in power exchange,
 power trading, greed line connection, hydro-power development and renewable energy extension, the minister said.
Even this sort of cooperation will also be benefited for both the countries, he said, adding that the deal will encourage the people and the private sector of the two countries on the power sector.
State Minister for Power, Energy and Mineral Resources Nasrul Hamid signed the MoU on behalf of Bangladesh while his Nepalese counterpart Energy, Water Resources and Irrigation Affairs Minister Barshaman Pun Ananta signed it on Nepal's behalf.
"Nepal has taken Bangladesh as a model for development of the electricity," said the Nepalese minister.
Nasrul Hamid also invited the Nepalese delegation including the Nepalese energy, water resource and irrigation affairs minister to visit Bangladesh for joining the "Power and Energy Week"-2018 which will be observed from September 6 to 8.
Meanwhile, Nasrul made a courtesy call on Nepalese Prime Minister Khadga Prasad Oli at his office in Kathmandu.
Bangladesh Ambassador in Nepal Mashfi Binte Shams, Joint Secretary of the Power Division Fayezul Amin, among others, were present.