It will curtail free speech
Journalists, authors, rights activists voice concern over proposed Digital Security Act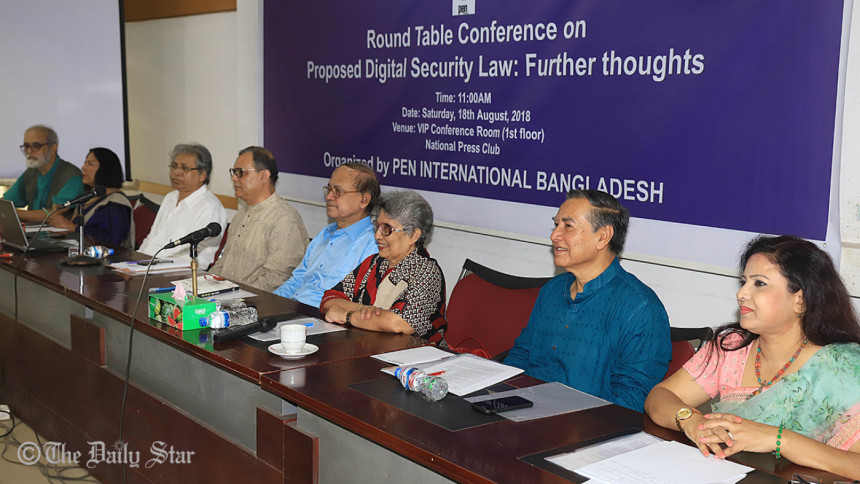 Stressing the need for a law amid growing concerns over the country's rapidly flourishing information technology sector, journalists, authors and rights activists yesterday said that if the proposed digital security bill was passed with its current content, it will severely curtail freedom of the press and expression. 
Once passed in parliament, the law could also be misused to shrink people's freedom of thoughts and their right to express opinions on different mediums, including on digital platforms, they said.
They were addressing a roundtable on "Proposed Digital Security Law: Further Thoughts" arranged by the Bangladesh chapter of PEN International, a global association of writers, at the Jatiya Press Club.
The Digital Security Bill, 2018, was placed in parliament on April 9 amid growing concerns from journalists and rights activists.
The Parliamentary Standing Committee on Post, Telecom and ICT was later given time to scrutinise the bill and place its report before the House. 
On May 22, the Editors' Council, a platform of editors of the country's national dailies, the Bangladesh Federal Union of Journalists (BFUJ) and the Association of Television Channel Owners (ATCO) in their maiden meeting with the parliamentary standing committee voiced concerns about sections 8, 21, 25, 28, 29, 31, 32, and 43 of the proposed law.
They also unanimously said several sections in the proposed law had ambiguity and loopholes, which should be addressed. Otherwise, there will be ample scope for its misuse.
On July 4, the parliamentary committee at a meeting with journalist leaders submitted an 11-point change in the bill for their consideration.
At yesterday's discussion, BFUJ President Manjurul Ahsan Bulbul said they learned that amendments would be brought to 11 clauses of the act, including changing its title and reducing "excessive punishments" for offences under some sections.
He said they voiced concerns over the proposed act mostly to protect journalists until now because they were the "most affected" group by the controversial section 57 of the Information and Communication Technology Act.
One major concern of journalists is about section 32 of the proposed digital security act because it retains "elements of section 57 of the ICT act," he added.
However, the parliamentary committee has given assurances that the clause will not remain as it is now, said Bulbul, also chief executive officer of Ekushey Television.
Once passed, the proposed act can be a great threat to creative writers, especially poets, because when they write something they care little about laws, said Mohammad Nurul Huda, an eminent poet.
"Poets are 'licensed' to tell lies. A poet is a person who, through his or her imagination, brings to the fore an issue that may seem non-existent in the society.
"[English poet] ST Coleridge termed it as 'creative imagination' which can be established as lie sometimes. This aspect [of poets] has to be well-protected," said Huda, also chief adviser of PEN International Bangladesh.
He also stressed the need for maintaining self-discipline while writing something on social media and other digital platforms.
Editors' Council General Secretary and Editor and Publisher of The Daily Star Mahfuz Anam said thanks to information technology a new medium called social media has emerged where one can express opinions easily.
However, there is a risk of expressing instantaneous opinions riddled with faults on Facebook or Twitter, whereas one has the scope to scrutinise or rethink before saying something, say, in a demonstration.
"In such circumstances, we have the choice to be responsible. The state or the individual can be responsible in this regard.
"But when the state tries to stop it through formulating laws, basic rights to freedom [of expression] is hampered," he added.
Mahfuz Anam also said the possibility of spreading rumors was higher in a society where freedom of expression is being shrunk.
Presenting the keynote paper, SI Siddiqui, a legal economist, said the proposed law was apparently drafted to protect the national interest "from possible acts of citizens". 
However, it has mixed up the security of individual and the nation, he said.
Jatiya Press Club President Shafiqur Rahman said a law was necessary amid growing concerns over the misuse of digital platforms, but the law should not be misused to gag the media.