Country's entire gas to be exhausted in 8-9 yrs: Nasrul
Nat'l Energy Security Day Thursday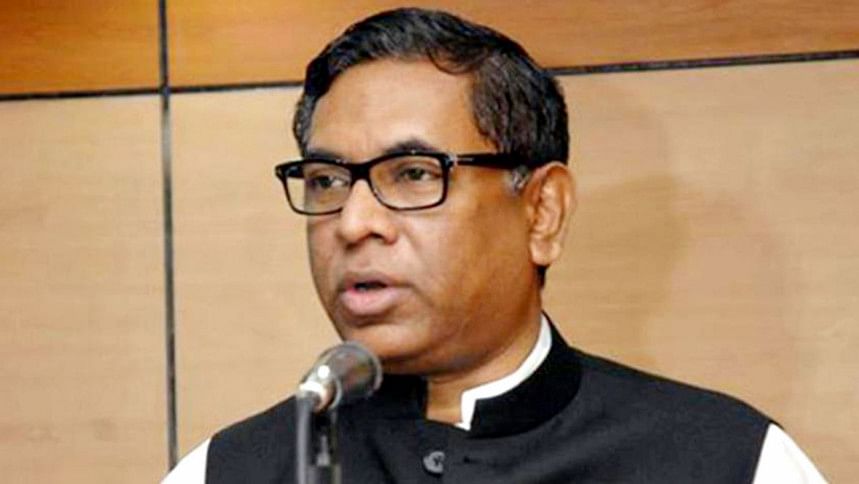 State Minister for Power and Energy Nasrul Hamid today said the country's gas fields have already started depleting as forecast and the entire gas will be exhausted within the next 8-9 years.

He made the remarks while addressing a press briefing at the Power and Energy Ministry's conference room to unveil the programmes marking the `National Energy Security Day` to be observed on Thursday.

The Energy Division and its subsidiary bodies chalked out elaborate programmes to observe the day to commemorate the historic decision taken by Father of the Nation Bangabandhu Sheikh Mujibur Rahman to take over operation of five gas fields from Shell Oil at a cost of 4.5 million pound on August 9, 1975.

The National Energy Security Day programmes include bringing out rallies, carrying out a campaign through mobile phone SMS for the economic use of energy and holding a seminar by Petrobangla.

Nasrul Hamid informed that one or two gas fields have already got depleted and others are in the process of depletion.

"All the fields in the country will face complete depletion within 8-9 years because we don't have any new discovery in recent years. This happened in many countries as a natural course," he told reporters.

At present, the country has a total of 23 gas fields at different locations which produce about 2,700 million cubic feet of gas per day (mmcfd) against the demand of 3,700 mmcfd, leaving a shortage of 1,000 mmcfd.

The State Minister noted that the government has undertaken a programme to drill 108 wells at different gas fields to increase the gas production.

So far, drilling works for only eight wells have awarded to different contractors, but the result is not very positive as each of these wells yields 15-20 mmcfd gas which is not cost effective.

He said the plan for drilling the rest 100 wells are now being revisited as contractors are asking for $30 million which is costly.

Nasrul Hamid said the global energy market scenario is changing fast and new dynamics are coming up with new ideas. "So, we've to take decisions very cautiously. The government is now trying to import LNG to meet the energy demand."

Responding to a question, Nasrul said the LNG will push up the gas prices. "But, I hope, the energy regulatory body will not take any ridiculous decision about gas price hike which will go beyond the affordable capacity of the people," he said.